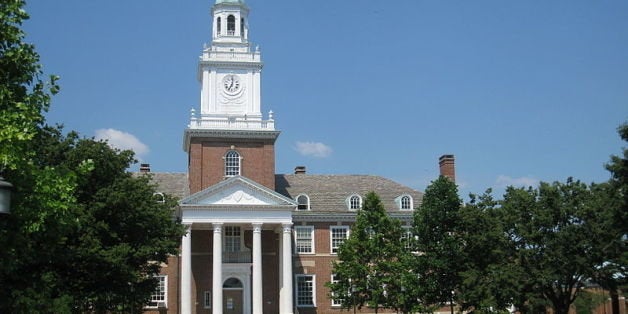 Johns Hopkins University said Friday it will commission an independent review of the school's response to an alleged fraternity house gang rape, which students have charged in a federal complaint violated a campus security law.
Johns Hopkins administrators knew Baltimore police were investigating the reported gang rape at the Pi Kappa Alpha fraternity in March 2013, but decided against informing the campus, The Huffington Post reported Thursday. Students have accused the university in a federal complaint filed in February of violating the Clery Act, a federal law that mandates the reporting of certain campus crime and security issues, by failing to issue a warning as students continued attending parties at the fraternity.
"The university was aware of an allegation of sexual assault that was made in March 2013," the school said in an announcement to the campus Friday. "The decision not to notify the university community in that case was made after considering relevant facts and legal requirements, and in consultation with the Baltimore police department, which was leading the investigation. After the incident, campus security continued to communicate with law enforcement authorities."
Johns Hopkins President Ronald J. Daniels has ordered an independent review of the school's handling of incidents described in the complaint, the university said. "The university is committed to scrupulous self-examination, and the review will begin immediately," the school's statement said.
The university's statement said its new efforts to address sexual violence include expanded training programs for students and employees, a 24-hour "safeline" for victims of sexual assault staffed by trained counselors, and plans for a website on sexual violence prevention.
Related
Popular in the Community