Johns Hopkins University knew a fraternity was being investigated by police for a reported gang rape and never publicly alerted the campus community to the incident or the inquiry, according to documents obtained by The Huffington Post.
In spring 2013, Baltimore police investigated several members of the fraternity Pi Kappa Alpha, or PIKE, for an alleged drug-facilitated gang rape of a Towson University student at the fraternity's house that March.
In a federal complaint, students allege the university failed to meet its obligations to alert the community to the investigation. And although the university suspended the fraternity's social activities while the investigation was ongoing, the claim alleges, the school also failed to act when it was informed that PIKE was still holding parties.
"We are deeply concerned about the culture at JHU as both ourselves, and several survivors, feel unable to fully disclose our names or experiences publicly for fear of retaliation," the students wrote in the complaint submitted to the U.S. Department of Education. "Despite this, we have filed this complaint to ensure current and future JHU students are safe on our campus."
The students say they heard of the alleged gang rape some weeks after it had been reported to police. The school had not disclosed the alleged rape on its security incident reports, and the students made inquiries with the Student Life office as to why the university hadn't told the campus about the incident or the police investigation. Dean of Student Life Susan Boswell indicated in an email to one student on June 5 that she believed that in not notifying the community there had been a violation of the Clery Act, which requires universities to disclose information about crimes committed on campus.

Boswell has since been promoted this year to special adviser to the vice provost for student affairs. In this role, Boswell is to focus on addressing sexual violence and gender equity on campus.
According to confidential emails provided to HuffPost by advocates working with the complainants, JHU Title IX coordinator Allison Boyle sent an email on the morning of June 27 to several administrators, raising concerns about not having notified the community in the 90 days since the gang rape had been reported.
As several administrators discussed possible language for a Clery notification email, Dennis O'Shea, executive director of communications at JHU, wrote, "My concern is the criticism we will take for not acting (and for not already having acted) if we acknowledge that there are allegations out there."
JHU Provost Robert Lieberman raised a similar concern, writing, "Seems to me we will need an answer to the question of timing: why are we issuing this statement now as opposed to weeks or months ago?"
By the end of the day, Boyle emailed to say she had learned from Baltimore prosecutors that their office was declining to prosecute due to insufficient evidence. Since the university would now begin its own investigation, Boyle declared that no notification email was necessary.
In response to inquiries from The Huffington Post, the university offered the following statement:
At the Johns Hopkins University, the welfare of our community is of the utmost concern, and we are committed to ensuring a safe and healthy campus environment. We have policies and practices in place to ensure compliance with the Clery Act and to provide support and services to students who are victims of sexual violence or other crimes. We provide public notice to our community of serious or ongoing threats, and we offer students confidential counseling and resources, including information about a student's option to pursue either or both criminal prosecution or internal disciplinary action. We also continuously review and reflect upon the effectiveness of our efforts to address sexual violence, and recently established a Sexual Violence Working Group comprising faculty, students and staff to examine current efforts and recommend new initiatives to counter sexual violence.
"The university's most egregious error was its failure to even indicate that PIKE might not be a safe place to hang out," said one student complainant, who requested anonymity to protect against retaliation. "Students were socializing there for almost a year after the incident."
The Johns Hopkins chapter of PIKE did not respond to a request for comment.
In addition to not notifying the campus of the alleged sexual assault at PIKE, one student's testimonial in the complaint, under the name Jane Doe, accuses Boswell of dissuading her from formally reporting a sexual assault. She alleges that Boswell told her the best she could expect was to change classes or switch dorms, "but that no student has ever been expelled over sexual assault or had any sort of annotation on their transcript."
If she did proceed with a disciplinary hearing, Doe said Boswell told her, she'd waive her right to report the assault to the Baltimore City Police. Such a statement is not true and would violate the gender equity law Title IX.
Doe said that after her assault, she made two suicide attempts and had "major depression, panic attacks, compulsive self-harm, and an anxiety disorder."
Another student, who knew Doe and worked with survivors on campus but also requested anonymity, conceded the university has improved in the past couple of years.
"They have finally gotten together a bystander-intervention training program, though it is in its infancy, and its empirical efficacy questionable, but they did ultimately start a program," the student said.
The Education Department confirmed it received a Clery complaint on Feb. 18, 2014. However, an error by the customer service team prevented the Office for Civil Rights from receiving the Title IX complaint until mid-April. The office has not determined whether it will open an investigation at the school.
This week Johns Hopkins was one of three universities selected by the White House to conduct a study of sexual assault, with the university's School of Nursing specifically tasked with examining violence between student intimate partners, including those in LGBTQ relationships.
Related
Before You Go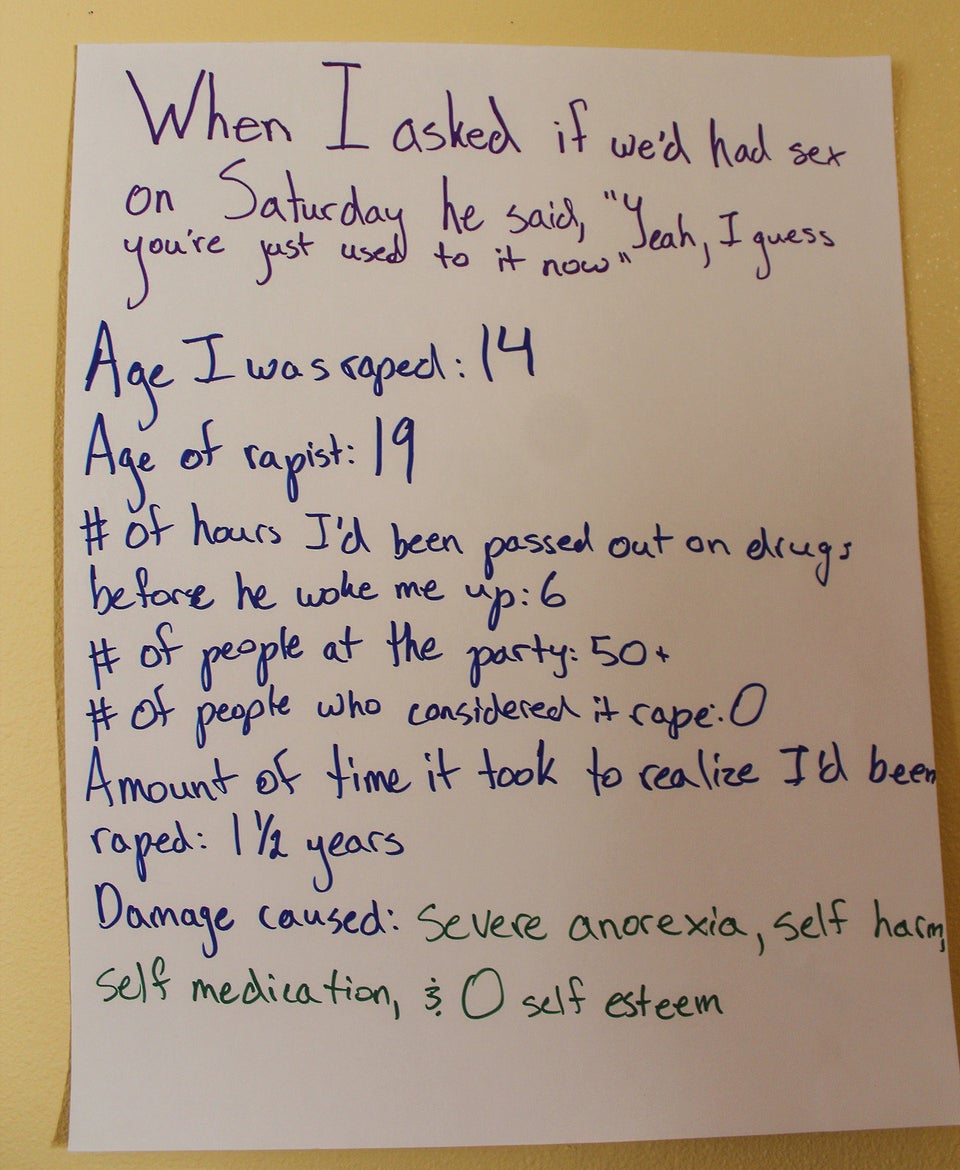 Images From 'Surviving In Numbers' -- A Project Highlighting Sexual Assault Survivors' Experiences
Popular in the Community