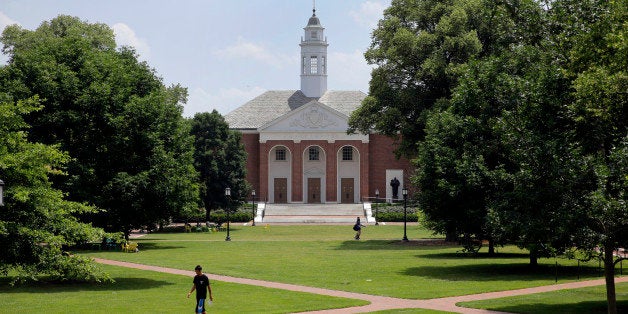 Johns Hopkins University made a mistake when it failed to tell the campus that local police were investigating an alleged gang rape at a fraternity, the school's president, Ronald J. Daniels, told students Wednesday evening.
JHU administrators knew for weeks in spring 2013 that Baltimore police were investigating the report of a sexual assault the Pi Kappa Alpha, or Pike, fraternity. However, as students continued to attend parties at Pike, most did not know about the investigation until The Huffington Post reported in May 2014 that officials had deliberated via email about whether to notify the campus, and ultimately decided against it.
"The University's handling of the Pike house incident was the subject of an independent assessment commissioned last spring," Daniels wrote in an email sent Wednesday announcing the release of the latest Clery report, an annual compilation of crime statistics required by federal law. "We have concluded that the University should have recorded the incident in our Daily Crime Log and should have issued a timely warning to the community soon after the incident occurred. The University's failure to have done so is unacceptable, and we are determined that this kind of mistake not happen again."
The Pike fraternity was suspended this summer for "underage drinking and the provision of alcohol to minors, unsafe behavior, failure to comply with university and police directives, and disturbance of neighbors" during a party in April 2014. Its suspension is unrelated to the alleged sexual assault reported in March 2013.
Laura Dunn, founder of the nonprofit SurvJustice, which helped file the Clery complaint over the handling of the incident, said she's happy to see Johns Hopkins taking steps toward changing the administrative culture. Dunn said the university "for far too long has allowed sexual violence to go unchecked."
"While Hopkins moves forward with its changes, however, several survivors have reached out to SurvJustice since the complaint was opened," Dunn added. "Pike was not the only mistake and Hopkins should seek to take ownership for all the mishandling of previous cases."
Johns Hopkins said it's working to improve its handling of crime on campus, such as creating a dedicated Clery Compliance Administrator, "strengthening policies and procedures for the issuance of timely warnings and other security notifications," and creating a rapid response team to decide when such warnings should be sent.
As for its sexual assault procedures, JHU said it has activated a university-wide sexual assault hotline and created a sexual violence advisory standing committee of students, faculty and staff.
"These initial actions reflect the imperative we place on addressing sexual violence across our campuses," Daniels said in his email. "There is more work to be done, and we know well that solutions to such a persistent challenge will have a lasting impact only if they reflect the voices and perspectives of our community, and most especially our students."
Support HuffPost
The Stakes Have Never Been Higher
Related
Popular in the Community