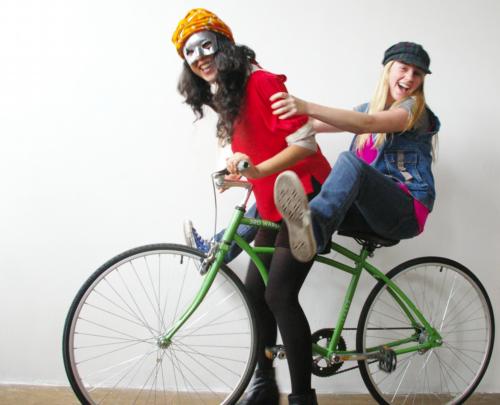 3rd Ward, an artist co-op in Williamsburg, Brooklyn, recently instituted an innovative membership perk. If you join now, for as low as $39.99 a month, you receive a brand spanking new apple-green bike, inscribed with the 3rd Ward logo. Also a free subscription to Time Out New York, free or discounted classes, admission to 3rd Ward events, access to a huge network of creative and successful professionals, and unlimited use of co-working space.
Sounds kind of like an infomercial.
Except that in this scenario, you have a 20,000 square foot warehouse with four photo studios, a professional wood & metal shop, a fully loaded digital media lab, and shared & private office space at your disposal. You can take advantage of an interdisciplinary art education program, film screenings, culinary events, lectures, parties and so on. You're surrounded by a network of like-minded artists in all creative fields, from the plastic arts, sculpture,and metal-working to photography, film, sound, fashion, and digital media. And, of course, you get the green bicycle.(http://www.3rdward.com)
Opened in May 2006, director Jason Goodman describes his endeavor as
"the solution to the complex urban problems faced by freelancers in NYC. We provide facilities and community to nurture creative careers and to make the impossible possible. For the first time, the overlapping economies and marketplaces that make up the creative industry are all under one roof, ours."
The free bike campaign was recently launched at a block party and attended by New York senator, Chuck Schumer, who accepted his green bike as an honorary 3rd Ward member. Bicycles have a history of bringing about social change, from the emancipation of women and blue collar workers in the early 20th century to contemporary rental bike systems in European capitals.
"These bikes are just one step further in our commitment to enriching the lives of our members and improving the community at large. Everything we do is designed to enhance the way people work, live and play in an urban environment," says Goodman. "Aside from that, riding a bike means saving money on cab or subway fare - plus they keep you in shape."
This program could not be better timed. The creative fields are suffering from the recession and our minds are reeling with the onslaught of fatalist news coverage. But instead of despairing, we can work together. We can save money by sharing expenses. Cut costs by biking instead of taking pricey gas-guzzling transportation. Adapt. Construct. Create. In the artistic breeding ground of 3rd Ward, ideas are born, hatched, and produced.
Imagine a few hundred artists under one huge roof. Imagine that cesspool of creativity. Visualize a long row of free green bikes parked outside the space. Imagine the reduced carbon emissions and the pennies saved.
Change is not just created. It is actualized.
Calling all HuffPost superfans!
Sign up for membership to become a founding member and help shape HuffPost's next chapter