I admit it: I love being a snappy dresser. My bow ties and brightly colored eyeglass frames are as much a part of me as my height or my voice. Unfortunately, Portland offers very few opportunities to get really dressed up -- to eat wonderful hors d'oeuvres, listen to fabulous music and rub elbows with other folks dressed for the occasion. Fortunately, I get my glamor cravings fulfilled every year at the IGNITE-BRO Fall Gala.
I'm going because I have this fabulous outfit I want to show off. I'm going because I want to help raise money to support equality in Oregon. I'm going because I'll get to sit with my friends Tia Vanich and Gregory Gourdet, incredible supporters of LGBTQ Oregonians -- who just might out dress me. I'm going because I know there's going to be great entertainment and special guest speakers. I'm going because last year, I sat with a friend who won a trip to Hawaii during the live auction and took me along.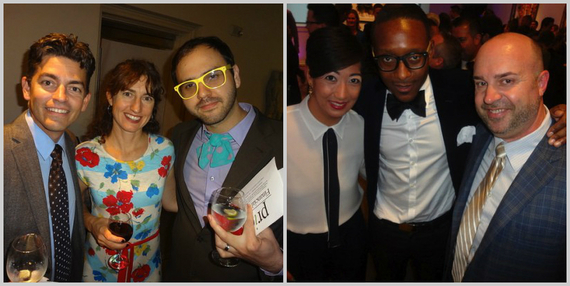 Left to right: Dr. Andrew Mendenhall, Amy Mendenhall, Buster Ross, Tia Vanich, Gregory Gourdet, Robert Goman -- IGNITE 2014. Photos by Byron Beck
That stuff is fun and important, but it's not the reason why why I have to be there. Here's the real reason.
On October 8th, 2014, the week before last year's IGNITE, I asked GoLocalPDX to run a piece I'd written called "Why Oregon Needs to End Reparative Therapy for Homosexuality." In it, I reviewed Oregon's legislative history of trying to ban "reparative therapy," better known as "conversion therapy" or "sexual orientation change efforts" (SOCE). I described the heartache I had experienced while working with survivors of this "therapy" in drug and alcohol treatment. I asked why the bill that would ban conversion therapy seemed to have been forgotten. I wrote:
I've been proud to consider myself an Oregonian. The work of groups like Basic Rights Oregon [has] helped us move to greater equality for everyone. But the work isn't done: we need to protect all minors from harmful and unethical practices. I encourage readers to come out to support Basic Rights Oregon at the organization's 2014 Ignite Gala this Friday night.

Until then, I'll just keep doing group therapy, knowing that the real reason I cry is that the nightmares my patients describe are still legal, and that people profit from them.
Shortly after that piece ran, I testified in support of HB 2307, the bill that Basic Rights Oregon introduced in 2015. That bill is now an Oregon law protecting LGBTQ youth from the harmful practices of "conversion therapy." Many of us are all too familiar tremendous harm that such "therapy" has inflicted on Oregonians, and explain why I was so thrilled to see this bill passed.
SAMHSA stated in a press release, "This important new resource makes it clear that conversion therapy is not an appropriate therapeutic approach based on the evidence, and explores alternative ways to discuss sexual orientation, gender identity and gender expression with young people."
The report is available for free on the samhsa.gov website. As I read it, a sentence jumped off the page: "As of August 2015, four states and the District of Columbia have passed laws banning the practice of conversion therapy for minors, and 21 other states have introduced similar legislation." When I called on BRO last year, it was, and had been, only three states. This work, the work of Basic Rights Oregon, is perhaps more important and influential than many realize.
I don't think the important work being done in support of transgender Oregonians at Oregon Health and Sciences University (OHSU) and at my organization could exist without the work of Basic Rights Oregon. Solving any of these problems -- while mental health practitioners were creating more of them by attempting "conversion therapy" -- was like trying to hold back the ocean.
That's why there is no place I'd rather be on Halloween Eve than at the Fall Gala, celebrating one of the most important years ever for LGBTQ equality in Oregon.
Calling all HuffPost superfans!
Sign up for membership to become a founding member and help shape HuffPost's next chapter