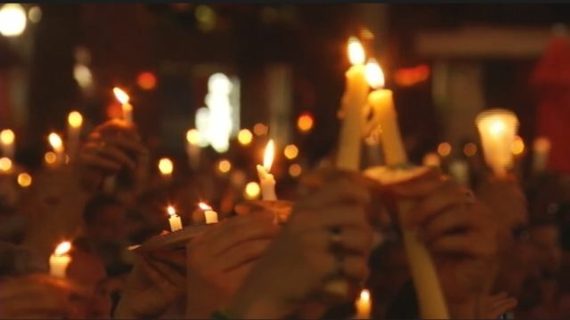 The investigation is still underway into the motive of the killer responsible for the horrific and despicable act of mass violence targeting members of the LGBTQ community in Orlando earlier this month. One disturbing piece to this puzzle we do know is that the killer expressed hostility and animus toward the LGBTQ community. It is a painful reminder that we still have a long way to go to erase hate and bigotry in our communities and our nation. I must do more. American Muslims must do more. Every American must do more.
In the United States of America -- diverse in every imaginable way -- we all share a common bond rooted in the values of life, liberty, and the pursuit of happiness. We are all one family, one community, and one nation.
Some may be surprised to know that LGBTQ and Muslim communities have a history of working together even before the tragic events in Orlando. U.S. Representatives Keith Ellison (D-MN) and Andre Carson (D-IN) -- the only two American Muslim members of Congress -- have a long and proud history of supporting LGBTQ equality.
Both Reps. Ellison and Carson have supported the freedom to marry for same-sex couples. Rep. Ellison has even served as a co-chair of the Congressional LGBT Equality Caucus.
My own organization, Muslim Advocates, was the first American Muslim organization to support federal legislation to protect LGBTQ people against employment discrimination.
Americans today are far more affirming of LGBTQ people than even 10 years ago. That's true, too, for American Muslims.
Does that mean that we have wiped out anti-gay hate and bigotry? The answer is "no".
Far too many LGBTQ Americans of all faith, racial and ethnic backgrounds still suffer from the disease of discrimination. That includes our Muslim LGBTQ family, friends, neighbors and co-workers.
That must end today. The horror of Sunday morning, June 12th in Orlando, Florida, demands that we must continue to evolve.
Each and every American -- including American Muslims -- must look themselves in the mirror and ask, "Will I allow hate and bigotry against LGBTQ people to continue?" The answer must be "no".
All Americans, including American Muslims, must call out and condemn hate against LGBTQ people wherever it may be found: online, in our families and social networks, in our houses of worship, and among our religious, civic and political leaders.
For many American Muslims, this will be easy. After all, we have LGBTQ family, friends and coworkers, too.
For others, it will be more difficult. But difficult must never be confused with impossible. I have boundless faith in the capacity of human beings to grow and evolve.
American Muslims know first-hand how a climate of fear and ignorance contributes to hate crimes and discrimination. That is true whether that fear is directed at a person who is Muslim, LGBTQ, or both Muslim and LGBTQ.
But being conscious of a shared history of discrimination is not enough.
American Muslims must vocally and publicly denounce hateful legislative measures like the bathroom bills that seek to restrict transgender individuals from using restrooms that align with their gender identity. Much like the "anti-Sharia" bills considered in various states in recent years, these efforts are "solutions" in search of a problem. They are hateful and discriminatory attacks masquerading under the guise of public safety, and, and as members of a faith community committed to justice and equality, we must call them out.
The struggles of the LGBTQ and Muslim communities for freedom and equality are inextricably linked. That's why I am calling on American Muslims to focus on what unites us -- a common pursuit of dignity, equality and justice for all people.
In the words of Dr. Martin Luther King, Jr.: "In the end, we will remember not the words of our enemies, but the silence of our friends."
Now is the time for each of us as Americans to stand in solidarity with the LGBTQ community.
And I call on my fellow American Muslims to join me in working hand in hand, shoulder to shoulder, with our LGBTQ family and community, to take a stand against hate and discrimination.
We know love conquers hate. What better way to show our compassion for one another than by joining hands in the struggle for freedom, justice, and equality for all.
Popular in the Community