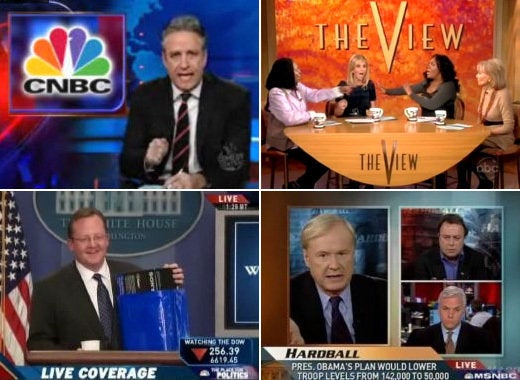 Greetings Huffington Post readers!
My name is Jason Linkins, and I am here to recruit you. As many of you know, I'm the editor of the Huffington Post's Eat The Press, and one of the things we do at Eat The Press every week is a Sunday morning liveblog, where I attempt to distill the week-ending political discussion in an enjoyable way.
Of course, my eyeballs and my TiVo alone can't keep track of everything that gets said on Sundays. Time and again, it's been the readers who have risen to fill that gap. If I'm not able to observe a controversial point being made on CNN because I'm watching NBC, I've learned, happily, that there's always a participant passionate enough to fill me in and make sure that the HuffPost readership gets the news.
Today, we're expanding our media monitoring efforts to cover more networks and more shows, I hope you'll come along for the ride. You can sign up here.
Here's how it works: when you sign-up, you'll be asked to check off the shows that you typically watch (that helps us make sure as many shows as possible are being monitored, and if we know that something notable is going to happen on a show that you watch, we'll give you a heads up).
After that, you've got one assignment: email us at tv@huffingtonpost.com to report anything you've seen that would make a great story on HuffPost. That means everything from cringe-worthy gaffes and error-prone pundits to superb, hard-hitting reporting that deserves another airing.
To repeat, whenever you catch a great moment, send us an email at tv@huffingtonpost.com. Include the name of the show, a description of what happened, and the precise time it happened (not just the time that the show airs). We'll do the rest and credit you with the find.
Over the past year, I've gone from regretting that I have only my two eyeballs to cast on the media to understanding that there is an army of people who care just as passionately about the state of the world that they're willing to keep an eye on it with me. If this sounds like you, please consider participating in our media monitoring project.
Calling all HuffPost superfans!
Sign up for membership to become a founding member and help shape HuffPost's next chapter