Throughout my 30 years at Americans for the Arts, I have seen first-hand the profound impact that the arts have on children's lives. Just the other evening, a YoungArts alumna, singer/bassist Kate Davis, performed before a crowd of national policy leaders, senators, members of Congress, and famous artists, for an event honoring the U.S. National Medal of Arts and Humanities honorees in Washington, D.C. I first met this young lady just a few years ago and she was a high school student who so impressed me that Robert Redford and I invited her to our National Arts Policy Roundtable, where she in turn impressed the leaders of President Obama's President's Committee on the Arts and Humanities. The next thing you know, she is sharing her art and ideas at the White House. Magic can and does happen all the time through the arts and arts education.
As we celebrate the fifth anniversary of the Congressionally designated National Arts in Education Week over the next few days, I want to share just a few of the experiences I have had in the arts with students as I travel the country, with the hope that these will bring to mind experiences of your own that you will share with others.
One of my favorite moments of the day was when I had a chance to chat with a young student and her principal showing off her project in the Blue Room. This young girl explained to me how she thought up, designed, and built a board game displaying her skills in the fine arts and understanding of economy and finance. What a treat it is to sit down with an excelling student showing the economic impact of the arts in the White House no less. Truly a reason for celebration.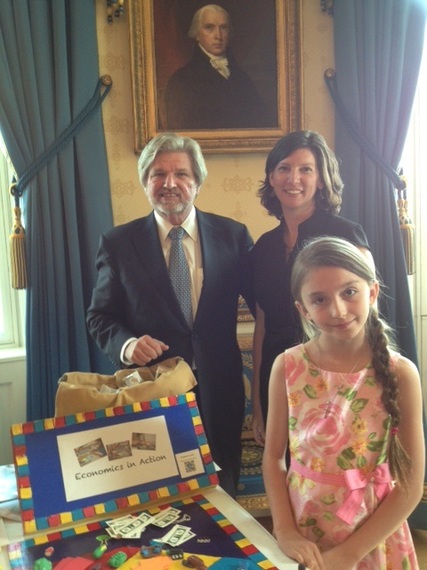 The impressive young student with her homemade arts and economy game, which I stopped by to play.
It's no surprise that both the business sector and Congress have started paying attention to the high correlation between participating in the arts and academic and personal success. Congressional champions such as Elise Stefanik (R-NY) and Suzanne Bonamici (D-OR) have helped form and lead the Congressional STEAM Caucus to bring attention to this work. Similarly, business executives from Boeing, Lockheed Martin, Adobe, and others regularly support this work happening in schools throughout the country.
During our annual convention in Chicago this past summer, I had the opportunity to chat with an educator named Andrew Watson from northern Virginia who used STEAM to transform his classroom. A trained art teacher, he now works in STEM subject classrooms to help student bring the creativity and innovation to their work. It has become a model for best practice in the classroom and we hope to celebrate it and elevate it to be shared widely across the country.
But it's not just educational pedagogies or classroom culture that can be transformed - students transform as well when learning through the arts. My own life was transformed by my eight grade teacher, Sister Mary Andrena of Sisters of St. Joseph, who introduced me to a lifelong love of poetry and literature.
A few years back, I had the opportunity to visit a creative youth development program in San Antonio, Texas called SAY Si. This program works with young people from across the city through the arts to achieve their life's goals. And let me tell you, they do. The alumni have gone on to careers across the workforce spectrum, but they all have a few things in common: empathy, passion, and grit.
I have seen the same traits in the YoungArts students that we have worked with across many of our signature programs over the years. The talent-based scholarship program honors and awards high school students for their prowess in the performing, visual, and literary arts. I often teach an advocacy session for the young artists when I am at their campus in Miami. Even in high school, they know that the arts will help prepare them for anything they wish to pursue. But they also know that to ensure continued support for the arts, they will have to effectively tell the story of how the arts led them to their chosen path.
Regardless of how the arts happen as part of a student's education, I always see one thing consistently: when students learn through the arts, they flourish in school, in work, and in life. This alone is reason to celebrate this week as National Arts in Education Week.
But why celebrate, you might be wondering? Unfortunately, we all know that when school budgets tighten, the arts are the first to go. But when we celebrate, we also bring attention to the decision makers who decide what gets cut. Let's get informed, let's get out there, and let's get some attention.
I invite you to join me in celebrating National Arts in Education Week and look forward to hearing from you on Twitter at #ArtsEdWeek or sharing your celebration story with me at artseducation@artsusa.org. Hearing these stories of celebration lets others know that the arts will have a huge impact on the future of students' lives and on the future of our nation.
Related
Popular in the Community