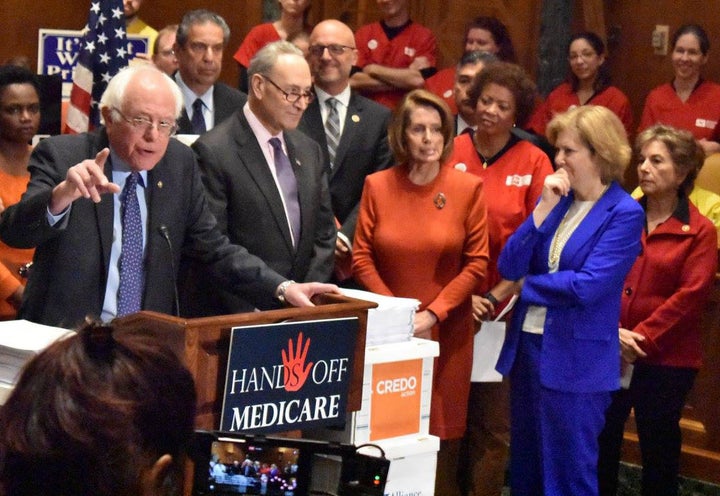 We always knew that Paul Ryan and his allies in Congress wouldn't waste much time in going after Medicare and Medicaid. That's why we've spent the last few months traveling around the country on our Hands Off Medicare and Medicaid tour. But this week, our fight took on a new urgency when Republicans introduced the so-called "American Health Care Act" – henceforth referred to as "Trumpcare."
The bill's given name is Orwellian because instead of providing healthcare, it would take healthcare away from older Americans, the sick, and the poor and use the money to give $525 billion in tax breaks to the super-rich. This includes giving a cool $25 billion handout to the drug corporations that already have record profits from ripping off the American people. As part of that robbery, the bill would destroy Medicaid and raid Medicare of hundreds of billions of dollars.
Raids Medicare of $340 billion for a handout to millionaires and billionaires
Cuts federal funding for Medicaid by $370 billion over the next decade
Increases insurance costs for older Americans 55-64 by $7-8000 a year
Ends Medicaid's new protections for older adults just below Medicare eligibility age by shifting costs of Medicaid expansion to the states
Fundamentally threatens Medicaid's protections for seniors and people with disabilities by taking away its guarantee and placing a per enrollee cap on federal funding
Threatens Medicaid's long-term care protections for seniors and people with disabilities, including those also receiving Medicare
Cuts dedicated Medicare funding by $117.3 billion over the next decade
Removes critical funding for our national healthcare system to create a massive tax break for millionaires and billionaires
Significantly increases all out-of-pocket healthcare costs for older adults just below Medicare eligibility age
Paves the way for future and more drastic cuts to Medicare and Medicaid
The strategy for our tour is simple: find three Republicans Senators to vote no on any bill that cuts Medicare or Medicaid, which this bill does. We are traveling the country identifying and activating call-teams of seniors and allies to drive thousands and thousands of calls into Republican Senate offices demanding they vote no.
Even counting Mike Pence's tie-breaking vote, Republicans can't afford to lose more than two Senators on any piece of legislation (and that's only when they use a special process called reconciliation – otherwise they're vulnerable to a Democratic filibuster unless they have sixty votes.) That's why we're traveling around the country to demand that Republican Senators pledge to vote no on any reconciliation bill that cuts Medicare or Medicaid.
The Senate's reaction to the Trumpcare bill proves why that strategy can work. Already, around a dozen Republican Senators have expressed reluctance to vote for the bill for a variety of reasons. But, we can't count on that. Donald Trump and the Republican leadership in Congress are applying enormous pressure to secure this destructive bill.
We've already visited the home states of three Republicans, Susan Collins in Maine and John McCain and Jeff Flake in Arizona. Our next stop is going to be Las Vegas to rally the constituents of on-the-fence Senator, Dean Heller.
You can join us on Tuesday, March 21 from 12-2 pm at the Jewel Box Theater at the Clark County Library 1401 E. Flamingo Rd, Las Vegas, NV!
But you don't have to wait for us to visit your city to make an impact. Call your Senators right now! And call them tomorrow! And the day after that! Tell them to vote no on this assault on seniors; tell them to vote no on raiding Medicare and Medicaid; tell them to vote no on raising seniors' costs to give handouts to drug corporations. Tell them to vote NO on Trumpcare!
Defeating Trumpcare will be the first step in a larger battle. It won't remove Medicare and Medicaid from Paul Ryan's crosshairs, but it will teach the GOP a critical lesson: If you try to mess with older Americans and Americans with disabilities, we will fight back hard – and we will win.
Below are some of the Senators who, for a variety of reasons, might vote no on Trumpcare. Call them today! And again tomorrow! And the next day! Ask your friends and family in those states to call as well. Don't stop calling, and getting others to call, until the bill is defeated!
Susan Collins (Maine): 202-224-2523, 207-780-3575
Lisa Murkowski (Alaska): 202-224-6665, 907-271-3735
Dean Heller (Nevada): 202-224-6244, 702-388-6605
Rob Portman (Ohio): 202-224-3353, 614-469-6774
Shelley Moore Capito (West Virginia): 202-224-6472, 304-347-5372
Cory Gardner (Colorado): 202-224-5941, 303-391-5777
Lamar Alexander (Tennessee): 202-228-3398, 615-736-5129
Ted Cruz (Texas): 202-224-5922, 512- 916-5834
Jeff Flake (Arizona): 202-224-4521, 602-840-1891
Lindsey Graham (South Carolina): 202-224-5972, 803-933-0112
Mike Lee (Utah): 202-224-5444, 801-524-5933
Thom Tillis (North Carolina): 202-224-6342, 919-856-4630
Deb Fischer (Nebraska): 202-224-6551, 402-391-3411
Pat Toomey (Pennsylvania) : 202-224-4254, 412-803-3501
Rand Paul (Kentucky): 202-224-4343, 270-782-8303
Marco Rubio (Florida): 202-224-3041, 904-398-8586
Tom Cotton (Arkansas): 202-224-2353, 479-751-0879
Bill Cassidy (Louisiana): 202-224-5824, 225-929-7711
Calling all HuffPost superfans!
Sign up for membership to become a founding member and help shape HuffPost's next chapter