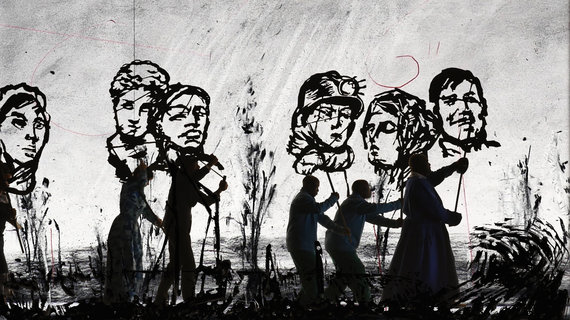 The prolific South African artist, William Kentridge, presents an array of new works at the Marian Goodman Gallery. For his first London-based, solo show in 15 years Kentridge draws upon historical narratives with universal themes. He interweaves rebellion and opposition with hope and survival to create a disconcerting experience where you aren't quite sure if your meant to be enjoying yourself.
It is unsurprising that political upheaval is a predominant focus of Kentridge's oeuvre. He studied Politics and African Studies at university and his lawyer father represented Nelson Mandela. Through art Kentridge visits notable moments in political history and manages to give them recognition in contemporary contexts. He reminds us that social, ethical or constitutional upheavals are a global responsibility. They don't solely concern the nation in which they unravel.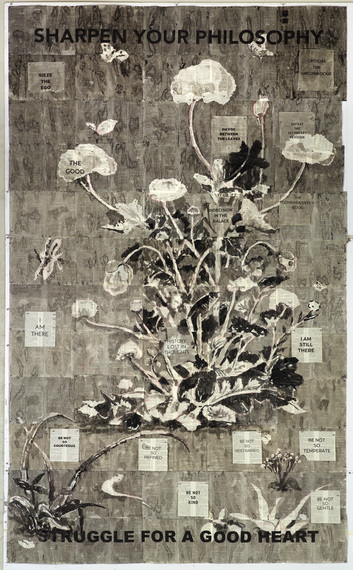 In the lower gallery vast, inky, monochrome works on paper recall flowers, birds and fresh vegetation. They initially enliven the spirit but on deeper scrutiny reveal challenging themes. The colossal canvasses are drenched in rich iconography that juxtaposes the Cultural Revolution and Paris Commune. Sparrows refer to Mao's extermination of 'pests' as a rigorous motion towards modernisation and industrialisation. Pages taken directly from contemporary Chinese literature are grafitied with propaganda slogans; simultaneous signals of solidarity and protest. A sole red flag appears as a potent sign of socialism.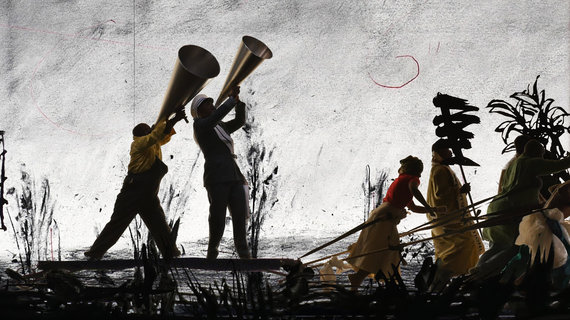 The upper gallery has been transformed by Kentridge's More Sweetly Play the Dance. The immersive dance macabre, spread across eight screens, is arranged so viewers literally feel like they have joined the procession. The combination of draftsmanship and animation is a poetic representation of our collective journey towards the unknown. It is a reminder that our mortality binds us together. The peculiar procession includes priests baring lilies, skeletons on wheeled platforms, bird cages and miner's heads. Ending the line is Kentridge's long-term collaborator and striking dancer Dada Masilo. She is in military guise with conflicting adornments: a threatening rifle and delicate pointe shoes. Somehow Kentridge marries these 'wonderful but absurd' characters together in jaunting, jangling harmony and portrays a clear message that, despite being individual, we are never alone. The message could not have greater potency than within a current climate of mass migration and austerity.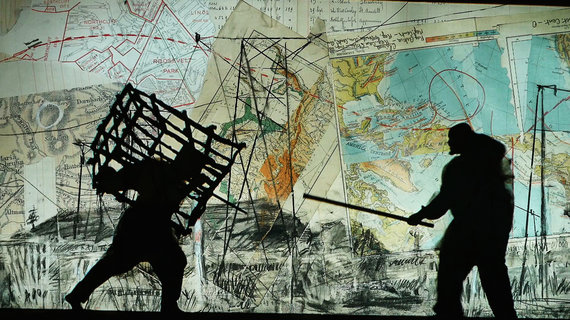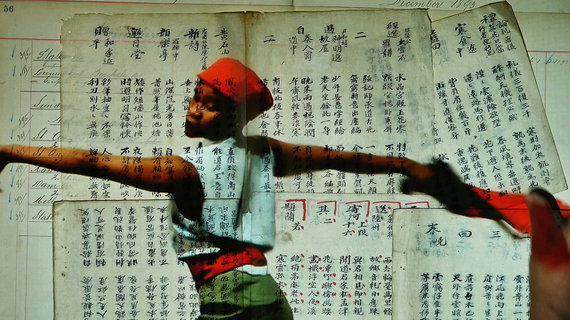 Kentridge's new works make for a show-stopping exhibition that successfully represents the artist's prowess and dexterity. The artist's breath of skill, and talent for story-telling, will secure him a place in the cannon of art history where he will undoubtedly inform and inspire generations to come.

William Kentridge is at the Marian Goodman Gallery until the 24th October
Image Credits:
Copyright: William Kentridge
Courtesy: The artist and Marian Goodman Gallery
Popular in the Community