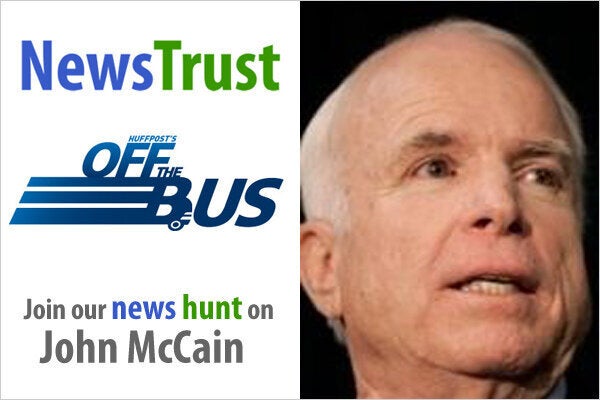 We want to get the real story on the media and McCain, so OffTheBus is partnering with NewsTrust from June 2 - June 8. NewsTrust is a nonprofit social news site devoted to good journalism and its online tools make it really easy for anyone to rate the news based on quality - fairness, sourcing, context and other core principles of good journalism. Throughout the week, OffTheBus and NewsTrust will post your results -- and prominently feature the top stories, sources and reviewers on both sites.
Rate as many articles as you can using NewsTrust's tools. To review a story, simply click on its "Review It" link from this NewsTrust John McCain topic page. The tool will take you directly to the article on the publisher's site, where a second window will appear with NewsTrust's review form. You can give an article a single overall recommendation, or rate it according to other criteria like fairness or context, simply by clicking on the stars for each criteria. Answer as many or as few questions as you like. NewsTrust tools will make it convenient for you to participate -- you can review stories whenever you have the time, whether it's at 3am or 3pm.
Submit stories for review. Once you've had a chance to review a couple stories, we invite you to submit your own articles to NewsTrust using their submission form. To quickly submit stories from anywhere on the web, we recommend you use their handy bookmarklet, which speeds up the submission process and only takes a few seconds to install on your web browser.
GET PROJECT UPDATES: We'll blog review results daily. OffTheBus members participating in this project will receive several project updates from us, too.
The end goal? OffTheBus is planning a series of distributed investigations on Sen. McCain, and this is a great way to get started. We'll educate ourselves on McCain before launching more in-depth investigations. Plus, our media survey should tell us where there's the most work to get done!
Related
Popular in the Community