If you walk around with ear-buds shielding you from the world; if you panic when you can't get reception on your iPhone; if you tweet or post status updates about what you are eating, you need to join the National Day of Unplugging.
The Jewish think-tank Reboot is encouraging young, hyper-connected, and frequently frantic people of all denominations to re-embrace the ancient beauty of a day of rest on March 20.
The day highlights the launch of Reboot's Sabbath Manifesto, a new project with 10 principles to reclaim a weekly time out: Avoid Technology; Connect With Loved Ones; Nurture Your Health; Get Outside; Avoid Commerce; Light Candles; Drink Wine; Eat Bread; Find Silence; Give Back.
The project is the brainchild of Reboot's network of artists, writers, journalists and filmmakers who work in the technology and media sector, and are at the forefront of electronic communication. But they've also begun to realize how pervasive electronic communication is harming their personal relationships; their ability to focus; and their ability to savor the world around them.

An AOL study found that 59 percent of PDA users check e-mail every time a new message alert arrives and 83 percent check e-mail every day on vacation, according to a story by WebMD about technology addiction.
Sabbath Manifesto creator Dan Rollman, founder of the Universal World Record Database (URDB) which collects world records and was recently featured on Late Night with Jimmy Fallon, said that as people fall deeper into the digital world, their attention spans are evaporating. Avoiding technology on a weekly basis isn't a magical solution to the problem but it is a start, he said.

"There's clearly a social problem when we're interacting more with digital interfaces than our fellow human beings. Rich, engaging conversations are harder to come by than they were a few years ago," Rollman said. "Adding a modern Sabbath will ideally reward with the same riches this ritual has provided for centuries -- a chance to catch our breaths, replenish our souls and reconnect with the living, breathing people we love."
While the creators of the Manifesto, including Jill Soloway, executive producer of Showtime's United States of Tara, and Greg Clayman, executive vice president of digital distribution and business development at MTV Networks, acknowledge that technology can bring people together and is vital to today's society, they suggest balance is not just possible, it's essential for a reprieve from today's tech-saturated world.
Those committed include Ken Goldberg, Director of the UC Berkeley Center for New Media.

"Technology is quite seductive but patience is still a virtue," said Goldberg who is a member of the Reboot network. "Patience has never been my strong point, but I'm learning that periods of inaccessibility put the world into context: the alternative is a 'beige' existence where everything is equivalent. As the Rabbis warned in the tale of the Golem, technologies are extremely helpful as long as we remember how to unplug them."
Goldberg and his wife, filmmaker Tiffany Shlain, wrote a poem titled "Yelp" (With Apologies to Allen Ginsberg), for the launch of the Sabbath Manifesto and the National Day of Unplugging, that they have turned into a video.
People around the country, from New York to San Francisco and Los Angeles will be participating. Reboot is encouraging them to report back on their experiences at http://www.sabbathmanifesto.org when they plug back in Saturday night. The goal is to spark an ongoing exchange of ideas that will create rituals and ways of engaging for this generation.
"This will show people how dependent they have become on technology and how compulsive it has become," said Adi Jaffe, a UCLA doctoral student in psychology who also writes the "All About Addiction" blog on the Psychology Today website.

After finding that he was often on his computer or cell phone late into the night and on weekends, the 33-year-old Jaffe recently made a pact with his wife to shut off their cell phones on Friday nights.
Being unaware of that kind of stuff is a problem. If nothing else, the day will make us kind of pause and go, 'Do I want media and technology to play as much of a role as it does?' At least you get people to ask the question," Jaffe said.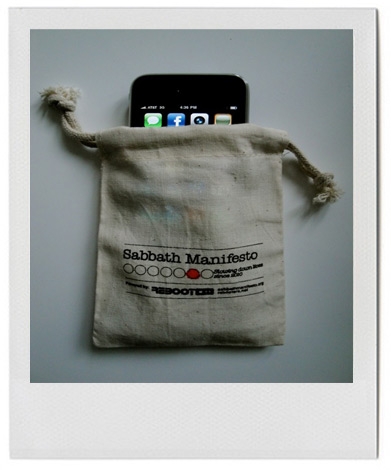 Popular in the Community