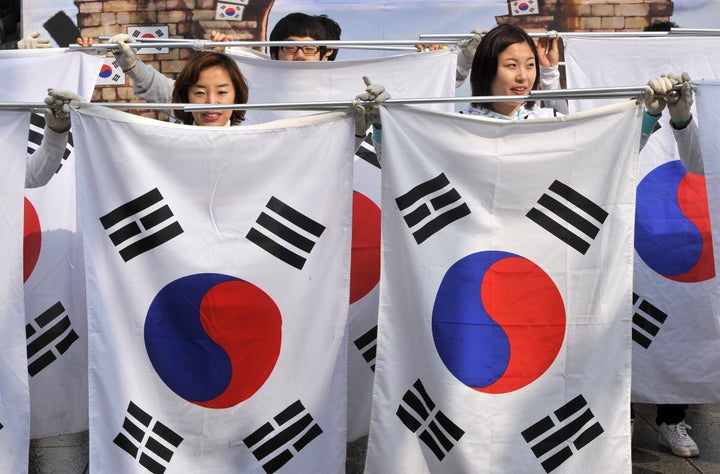 I just found out that Peace Corps Week is approaching fast, as March 1 is the anniversary of the day JFK created the Peace Corps. So I'm starting early, as I could easily blog solely about my Peace Corps years and not even get to the story about the night I spent in a brothel -- by accident, of course.
The nanosecond I graduated from college I applied to the Peace Corps. On the line that said, "preferred region," I had written "South America." And when the acceptance letter came, my first reaction was, "At least they got the South right." As in South Korea. My second reaction was, "Yay, I'm going to the tropics!" "Moron!" was the reaction from my friends, who asked if I had ever watched even one episode of M.A.S.H. Within days I boned up on my geography -- trying to raise it to a 3rd grade level -- and learned that Korea was on the same latitude as my hometown, just outside Boston. Only in Boston there was heat. And air conditioning. And bathrooms.
No bathrooms were among the details the Peace Corps Powers That Be chose not to tell us in advance. Smart move. Had I known half of the "adventures" that awaited me, I would have come up with a post-college Plan B. And had I done so, I would have lost out on, well, remember the slogan? "The Toughest Job You'll Ever Love."
Nothing tough about my first night in the Peace Corps, though. A group of 35 or so of us flew to Tokyo where we were put up in a plush hotel with silk bathrobes on bathroom hooks. "I LOVE the Peace Corps!" I remembering thinking.
Twenty-four hours later we were in Cheongju, Korea. As we toured the yogwan, or inn, where we would be staying during the summer months of training, me and three of my new girlfriends crowded around the only sink in the inn, calculating how long it would take to wash our hair with a faucet that averaged one drop every five seconds. The real showering would have to be done at the nearby public bathhouse. As we leaned in and stared at the sink, I looked up at the other three gals and held up two fingers, silently mouthing the words, "Two years." The length of Peace Corps service.
It turned out that two years wasn't long enough. Many friends extended their service while I taught a high school equivalency course on a U.S. Army base. (Anyone remember Karen Valentine in Room 222?)
But that first summer in particular is seared in my memory for the sheer magic it brought of learning something new every single day in my already-beloved adopted country. At 6 a.m. weekdays a few of us would head to a nearby gym to study Taekwondo. When our instructor wanted to say something to us in English, he would leaf though a dog-eared paperback of Everyday, Common English Expressions. One Friday as we were leaving the gym, we asked if he had weekend plans. He grabbed his book with an "I-thought-you'd-never-ask" sense of urgency and enthusiastically replied, "I have no Plans, Projects or Schemes!"
Perhaps the most powerful memory of that summer, before we would all be dispatched throughout the country to our respective sites, was a day trip we took to a watermelon patch. After traveling for miles and miles on dirt roads, we arrived at the watermelon patch. Acres and acres of watermelons and right in the middle was a very tall thatched hut on stilt-like legs. It was called a "wundumakee" and it was where a lookout would perch to make sure no poachers stole any watermelons. As we climbed the ladder onto the perch to chat with the patrol, I remember feeling that I was light years away from anyplace I had ever been. A place where time had stood still. It was 1974. The patrol was a young man around our age. Without a dog-eared copy of Everyday, Common English Expressions in sight, he looked right at us and asked, "What do you think the implications of Nixon's recent resignation will have on the rest of the world?"
There must have been Wi-Fi somewhere in that wundumakee.
Related
Popular in the Community