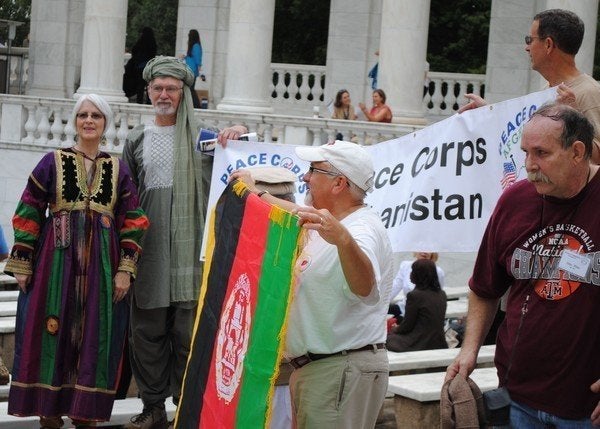 At the risk of sounding (only sometimes) about as deep as Real Housewives of New Jersey, here are my concluding memories of my Peace Corps years in Korea, in honor of this Sunday being the start of Peace Corps Week.
A few days ago a friend scanned and emailed all the letters I had written to her during my years in Korea. A motherlode of info written by a much-younger me.
I was mostly relieved to read the letter I wrote right after my two-week break in Japan. Relieved because it contained the following sentences which, for some reason, have stayed with me all these years: "Temples, temples, temples. I'm so fed up with all the temples! Where's the shopping?"
Those blasphemous words were spoken in Kyoto, arguably the most beautiful city in Japan. But guess what? I learned it wasn't me who said them! I may have agreed with them at the time, but it was an Israeli woman who spoke them (a woman who regained cred when she regaled me with tales about her military service.) My temporary anti-temple mood may have been because I was still smarting from a recent foray to a temple high in the Korean mountains.
The morning we arrived in that mountain town I scoured every cagay (Korean deli) in town for my daily morning breakfast: a Choco-pie, like the old Scooter pies of my youth. It was about the only packaged chocolate you could find; everything else looked like chocolate until you bit in and tasted a mouthful of bean curd. Feeling crabby and hungry that morning, I went to tour the temple and came across a 15-foot-tall Buddha. And in front of him were the day's offerings worshipers had brought him: A stack of Choco-pies reaching as high as his mouth.
On my return to Korea from Japan, here is what I told my fellow volunteers: "Japan is the coolest country! They have vending machines with beer on street corners!" Before you relegate me to New Jersey Housewives, keep in mind that in 1974 Korea, finding a beer after midnight was not possible because of the 12-4am curfew -- a curfew enforced due to the ever-present fear of an attack by the North Koreans.
Curfew. That brings me to my (accidental) night at the brothel. All I will say is that I missed the last bus back to Jeon-ju, my town, and had to find a room in the tough port city of Pusan. I chose a place to stay that reminded me of my Jeon-ju place, which is to say, a dive. But affordable on a Peace Corps stipend. When I walked in, it looked like a cozy tea room parlor. Several very sober women amidst of sea of not-at-all-sober men quickly whisked me upstairs to a room and closed the sliding door. A door with panes made of paper. Bad choice. They then hurriedly guided me to the grandmother's room down the hall -- off limits to all men. With my eyes wide-open till curfew ended and I could hop a bus back to Jeon-ju, I slept on the floor next to the grandmother thinking, "I will laugh at this. Someday."
I did, however, laugh many times at the stories told by a Belgian priest we used to visit who ran the only cheese factory in all of Korea. He had recently been arrested for participating in a demonstration in Seoul and showed me the areas of his house which were bugged. "I'm talking into the flowerpot now," he said, as he did just that. He told me that after the arrest he had applied for a five-year visa. The government gave him three months. Then he asked for a 20-year visa. They gave him three months. Then he asked for a 100-year visa. They gave him two months.
My own difficulties with Korean authorities were with the head of the Jeon-ju Board of Ed. He wanted us to teach English only in Jeon-ju, as it was the capital city of the province. His city. But I knew there were teachers up in remote mountain towns who could really benefit from learning English from a native speaker, albeit one with a Brooklyn accent. So I lobbied to teach up in a small town where no Peace Corps volunteer had ever been placed and finally the BOE head consented to allow me to teach there twice a week. When I told my co-workers at my school, their uniform comment was, "Oh, I know that town! The road up there is where all the bus accidents happen."
On my first bus trip up the winding-mountain-road-with-no-guardrail, I wondered how I would ever have the guts to make a second trip. Sure, I had written about the first house I shared with many rats that "the Pied Piper doesn't make house calls here." And I was accustomed to getting ill and even hospitalized with all kinds of gastro problems. But this was "I-think-I-may-die-on-this-bus kind of guts." I asked the Peace Corps doctor if there was something I could take during those trips to "take the edge off." Hello, little yellow pill. Hello, Valium.
When I'd arrive back in Jeon-ju and wake up and not be dead, I'd celebrate by heading to my favorite beer hall. On entering, the d.j. would welcome this American by announcing my name into his mike and then play my favorite song, "Midnight Train to Georgia." And I'd have a beer, toasting me. The alive me.
During those years, we experienced iconic U.S. events through the lens of our Korean co-workers and friends, as many or most of us were the only Americans in our town. (Unlike Seoul, where a group of "Cadillac" volunteers lived in skyscrapers with bathrooms.) Even cultural events, like the movie Rocky, were viewed with a Korean spin. The theater where I watched it showed the second reel after the third reel. No one seemed to mind. The Rocky scene that got the audience up on its feet? When Stallone broke the raw eggs (commonly eaten in Korea) into a glass and downed them in a few swallows.
What surprised me when I read and re-reread these letters my friend sent was just how scared I had been about the threat of war. I honestly hadn't remembered that. Watching the news about North Korea just today makes me afraid all over again. Here is what I wrote in one letter:
The Koreans are totally convinced the North will invade. Demos are everywhere. No longer do Koreans hypothesize to me, 'What would you do if a war comes here?' Now they ask, 'What will you do when the war comes?' The Peace Corps has an evacuation plan for us. Even if we were to escape, what about my Korean friends? Where would they escape to?
More than anything, the Peace Corps taught me to care deeply about, indeed to love, a country other than my own.
May the two Koreas find peace.
REAL LIFE. REAL NEWS. REAL VOICES.
Help us tell more of the stories that matter from voices that too often remain unheard.