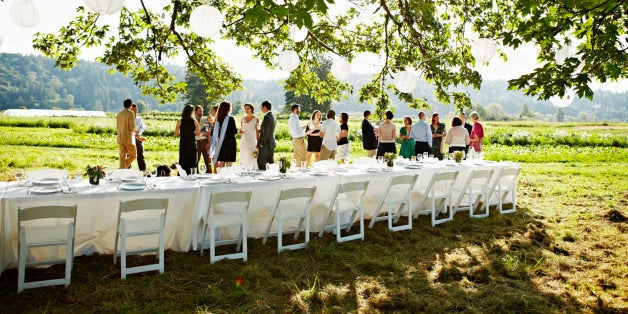 Wedding invitations can come fast and furious in our 20s and 30s. Most of the time, you're a guest and expected to bring a gift, which, depending on the happy couple, can vary greatly in price.
If a close friend or family member is getting married, you may have been upgraded to a member of the wedding party. On one hand, it's a great honor and will create wonderful memories. On the other hand, you may need to budget some extra money for the unexpected expenses of this commitment.
The average spending by bridesmaids and groomsmen can exceed $1,000 for clothing, wedding and shower gifts, bachelorette or bachelor party expenses and other incidentals. Add any number of factors - more expensive dresses, a purchased tuxedo, an upscale gift registry, a destination wedding - and suddenly, the cost of standing up for a friend's wedding can rival a rent payment, or beyond.
Even though couples are paying significantly more for the rest of the ceremony -- TheKnot.com says the latest national average cost of a wedding is now $32,641 -- it really does behoove the couple to think a bit more about what their wedding is costing their attendants. After all, high expenses for attendants can sometimes strain a friendship.
However, attendants might have some bargaining power too, so put your thinking cap on.
For example, as you consider your financial responsibilities as a member of the wedding party, tactfully gather as much information from the couple on what each item will cost. You'll have time to gather both intelligence and dollars as most engagements last six months to more than a year based on the availability of venues and the couple's own ability to finance the wedding or any number of other factors.
If you are maid or matron of honor or best man, depending on your friendship with the couple and your expected involvement in the ceremony, there's a chance you might be involved more closely in the overall planning. That might give you a little more influence in what the attendants might need to spend on clothing, gifts and what they need to chip in for event costs. With the right amount of finesse, the couple might appreciate another sharp eye on their overall wedding costs.
Here are suggestions you might try:
Clothing. Men luck out a bit in the tuxedo rental department because group discounts are often available for wedding parties. For men considering buying a tuxedo, the general rule of thumb is that unless you know you'll be wearing the suit four times or more, it's not worth the investment. Women can spend tens to even thousands of dollars on their dresses depending on how strict the couple is about what everyone needs to wear. Getting the couple to OK dress choices from second-hand shops and online resale sites can save an enormous amount of money as can having someone handy at sewing coordinated dresses for the women attendants.
Gifts. With more pre-wedding events going co-ed, men and women in wedding parties may be buying both shower and wedding gifts for the couple. How can you cut that cost? Brainstorm creative ideas with other guests for a bigger gift that can be split at a lower cost per person. If you're already investing a significant amount of money in the wedding, consider a more sentimental gift that won't cost as much but will still be meaningful. If you want an alternative to the typical registry gift, think about contributing to the couple's honeymoon fund.
Travel. If the wedding is out of town or if overnight stays become a necessity, driving or rooming with other attendants is an option. You can cut food costs by packing food for the drive. If other friends live at the wedding destination, ask if you can stay with them. A room-sharing service may also be an option if it puts you close to the party or wedding venues. After all, cabs and onsite rental car costs also add up, so it's wise to minimize travel distances. If the couple has negotiated hotel discounts at or near the wedding venue, make sure you make reservations early. Finally, if it's a destination wedding at a location where you wouldn't mind spending a few extra days, see if you can negotiate with the hotel or determine other wedding-related discounts for a brief vacation. As far as airfare is concerned, check airline and travel websites to see what competitive rates are available as soon as you get the invitation. Earlier booking is generally cheaper than waiting until the last minute.
Celebration. Bachelor and bachelorette parties are notorious for being over-the-top, but that doesn't mean you have to empty your savings to show the couple a good time. For safety and savings, consider locations with plenty of restaurants and bars close together so you can walk from place to place. You can also host pre-wedding events at one of the attendants' homes or apartments, or even double up with a shower that saves both money and transportation time.
Finally, if you can't afford to be part of the wedding, be honest with your friend. There are many ways to be involved in wedding festivities without being a part of the main planning party.
Bottom line: Being there for friends and family at their wedding is wonderful, but not if it's going to put your financial security at risk. Work with the happy couple to determine what your contribution is going to cost and if you can't afford it, graciously decline their offer to be part of the ceremony. You might still find creative ways to stay involved.

Nathaniel Sillin directs Visa's financial education programs. To follow Practical Money Skills on Twitter: www.twitter.com/PracticalMoney
This article is intended to provide general information and should not be considered legal, tax or financial advice. It's always a good idea to consult a legal, tax or financial advisor for specific information on how certain laws apply to you and about your individual financial situation.