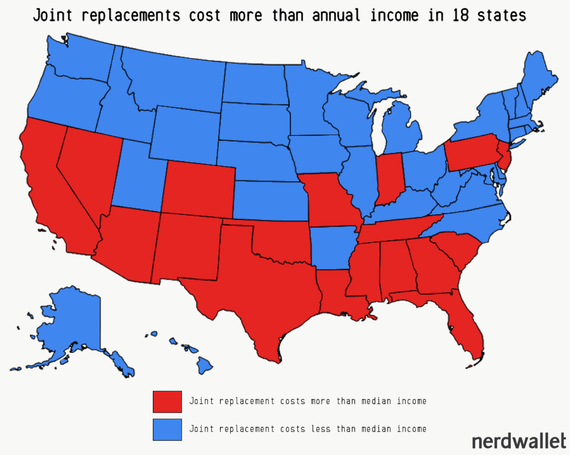 Knee and hip replacement surgeries are becoming more common among aging Americans, with more than seven million currently living with these artificial joints. That number is on the rise, with knee replacements increasing at a rate of eight percent each year and having doubled in the last decade. But with fewer Americans saving for retirement and the costs of such surgeries climbing to far above the average annual income in 18 states, many are likely to be left with bills they simply can't pay.
The cost of knee and hip replacement surgeries vary widely, but in 18 states -- the majority of which are in the southern half of the country -- those costs are far above the median annual household income. The average price across the country for such a procedure is $50,105. Monterey Park Hospital near Los Angeles charges the most ($223,373), while Chickasaw National Medical Center in Ada, Okla., charges only $5,303. For many of the millions of patients who will likely need the procedures in coming years, neither price is manageable.
Between 2000 and 2009, the number of hip and knee replacements jumped by more than 25 percent, according to the Organization for Economic Cooperation and Development. At an annual growth rate of eight percent, one in 12 adults over the age of 25 will one day have this surgery.
Increased knee and hip replacements paired with higher medical costs
The New York Times recently reported on a 67-year-old photographer who flew to Brussels for his hip replacement, where it cost him $13,660 compared with the estimated $65,000 at his U.S. hospital. Higher than average medical costs are not new for the U.S.; compared to other developed nations, medical spending in the U.S. is more than 60 percent higher, according to Aetna, and there are several factors to blame. Hospital costs make up just over 30 percent of total U.S. health care spending, followed by spending on physicians at 20 percent. Overall, health care expenditures rose four percent in 2012 and 4.1 percent in 2011, and out-of-pocket spending rose nearly five percent in 2012, according to the Health Care Cost Institute.
Another significant contributing factor to rising hospital costs is the growing consolidation of the hospital industry, where mergers and acquisitions grew 33 percent from 2009 to 2010 alone. In addition, doctors are charging more, accounting for nearly 20 percent of increasing health care costs over a five-year period. Improving medical technology, an aging population and unhealthy people are further driving costs up.
Retirement savings down as Americans struggle to pay medical bills
As medical costs climb, more than one-third (36 percent) of U.S. workers have less than $1,000 saved for retirement, according to a telephone survey from the Employee Benefit Research Institute and Greenwald and Associates. More than half (60 percent) have less than $25,000 put away. Experts have said we are standing on the precipice of a "retirement crisis" that will be faced in the next 20 years.
In 2013, NerdWallet estimated that some 56 million Americans under the age of 65 would struggle with their medical bills and more than 15 million would use all of their savings to cover such costs. Some would argue that the Affordable Care Act should make the problems of managing medical debt and unexpected costs easier, but as Christina LaMontagne, VP of Health at NerdWallet said, "Insurance is no silver bullet. Even with insurance coverage, we expect 10 million Americans will face bills they are unable to pay."
For retirees, the costs associated with a prosthetic knee or hip can wipe out savings -- even if they do have health insurance.
Fidelity estimates couples who retired in 2013 would need $220,000 to cover medical expenses through the end of life. A hip or knee replacement for the uninsured could account for one-quarter of these costs. While insured individuals will likely pay much less for a procedure, insurance certainly doesn't make costly procedures free.
For many, finding a way to save for retirement is a challenge when paying the bills leaves you with little left. But whether you are making upwards of $200,000 or less than $50,000, there are ways to plan for the future -- beginning with acknowledging the need for retirement savings, including medical expenses, and the willingness to make sacrifices for your future.
For sources and methods, see original post here.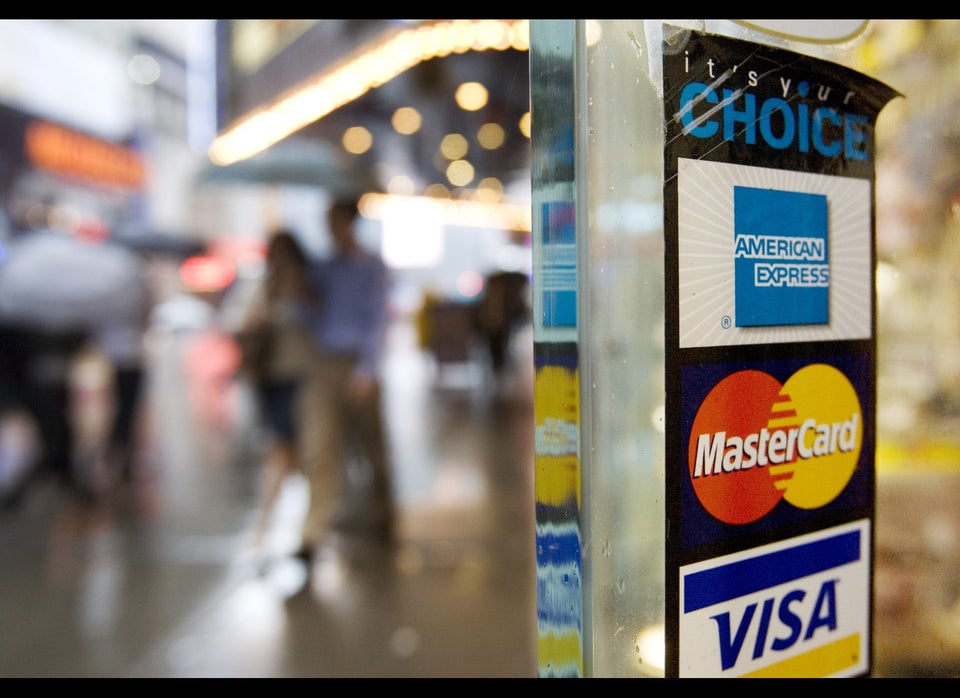 Top 8 Financial Worries Of Americans