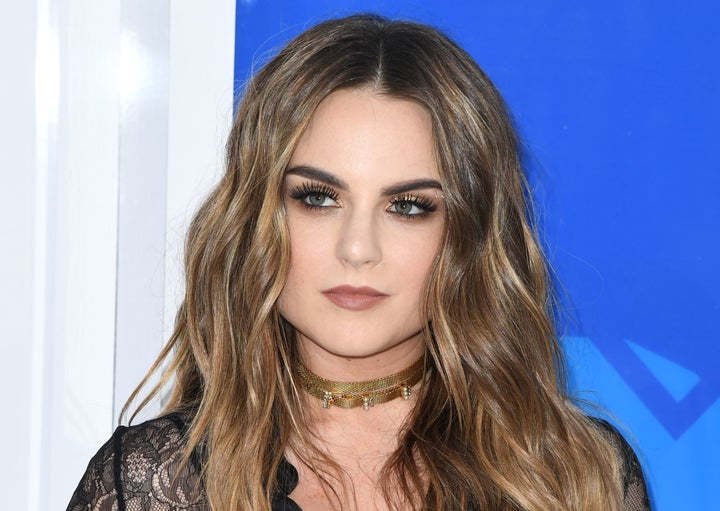 Singer JoJo's break up anthem "Leave (Get Out)" became the go-to song for scorned lovers in the early aughts, but its message could've easily been directed at her former record label. 
After years spent in pop star purgatory, fighting for control of her voice and career, the 25-year-old is set to drop her first album in almost a decade this October. But the road to musical independence was paved by experiences that, in the singer's own words, "ended up messing with me psychologically." 
 "I was under a lot of pressure with a company I was at previously, and they wanted me to lose weight fast," she explained to PopSugar in a revealing new interview. "So they got me with a nutritionist and had me … on all these supplements, and I was injecting myself — this is a common thing 'the girls' do, by the way — it makes your body only need certain calories, so I ate 500 calories a day. It was the most unhealthy thing I've ever done."
Stories of female artists being manipulated and even abused by record executives are all too common, but few have been so explicit about the specifics of the behind-the-scenes pressures. 
After the release of "JoJo" (2004) and "The High Road" (2006), which boasted chart-topping singles like "Baby It's You" and "Too Little Too Late," she tried to wrestle control from her record label, which resulted in a contentious lawsuit that restricted the singer from releasing music for years.  
"I felt like, 'If I don't do this, my album won't come out.' Which it didn't! So it's not like it even worked!" the singer revealed.
"I felt terrible about myself, and I was upset that I even subscribed to the standard they wanted me to be at," she said, explaining that after all was said and done she ended up "gaining all the weight back." 
In the years since then, JoJo was continued to record music and maintain a connection to a league of fans who've grown up alongside her, hoping that one day she'll be able to release her own music on her own terms.
"I was kind of messed up from it, and I'm still repairing myself from that," she told The Huffington Post about battling her record label for control. "It's helped me realize that you just have to keep pushing forward and it made me realize that I don't do this for money and I don't do this for fame, I do this because I really love it. If I was doing it for those reasons then I'm not doing it right. I love this. It made me realize that I love music more than I hate the industry."
Watch the full interview with PopSugar below: 
Calling all HuffPost superfans!
Sign up for membership to become a founding member and help shape HuffPost's next chapter
BEFORE YOU GO
PHOTO GALLERY
Celebrity News & Photos