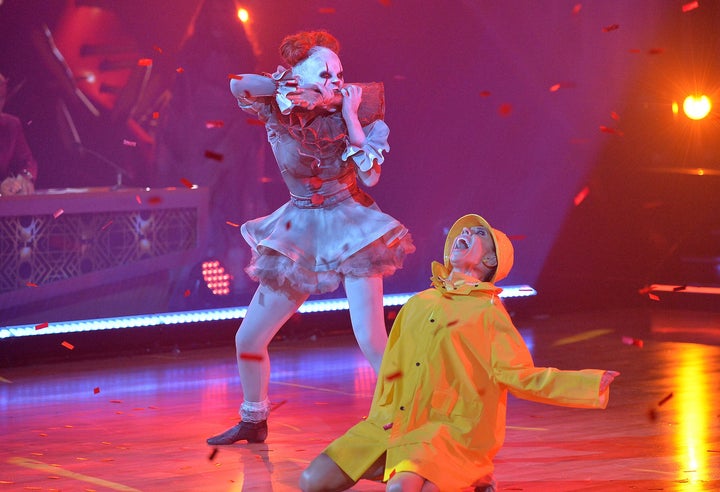 On nearly every level, a dance performance featuring the evil clown from Stephen King's "It" and one of his child victims set to the tune of a Broadway score shouldn't work.
And yet, here's JoJo Siwa in full Pennywise drag delivering an absolutely deranged and downright genius performance to the tune of Cole Porter's "Anything Goes" on "Dancing With the Stars" Monday night.
Fully understanding the assignment of "Horror Night" for the reality competition series' Halloween episode, the "Dance Moms" alum performed a jazz routine alongside pro Jenna Johnson ― dressed in a children's rain costume with a big red balloon, naturally ― to a creepy remix of the song by District 78 featuring Patrice Covington.
Despite her relentlessly positive demeanor off the dance floor, Siwa managed to capture exactly what makes Stephen King's creation so menacing. Keeping low to the ground and bouncing on one leg at a time, she tapped into her inner Pennywise, all while showcasing her well-established killer dance skills.
The performance ended with Siwa grabbing Johnson by the throat, ripping off her fake hand and then chomping on it, as the song came to a close with a blood-curdling scream.
The judges uniformly lavished praise upon the star, who for the second week in a row earned a perfect score.
"It. Is. Terrifying. And absolutely brilliant. You turned a nightmare into a work of art," remarked Bruno Tonioli. "The quality of your dances — the thing you did in there, combining jazz, ballet, contemporary, acrobatics. I'm telling you, you are a terrific talent."
Carrie Ann Inaba said, "What I loved about this performance is you pushed yourself further," while Len Goodman added, "If ever a dance captured the flavor of a book, that was it."
Siwa, who's made history on the series as the first contestant to be paired with a same-sex partner, is now the clear front-runner to win the Mirrorball Trophy.
Her performance also stirred up plenty of reactions on social media, with fans watching along and celebrating the delightfully unhinged dance.
While Siwa managed to survive another week unscathed, "Real Housewives of Atlanta" star Kenya Moore and her partner, Brandon Armstrong, finished in the bottom two and were axed from the competition.
Watch Siwa's performance above.
Popular in the Community