At a recent dinner party, guests were asked to bring an item they were proud of and could share with others. While some may have paused to think about what to take, Mrs. Jolie Altman immediately grabbed her passport and her Mt. Kilimanjaro certificate. The certificate documents a successful summit climb of the highest peak in Africa. "What I'm most proud of besides my family is my passport and my Mt. Kili certificate. Both of those things have opened doors for me."
On a whim in 2009, Altman decided to take on the summit challenge. With no previous training, the then 42-year-old signed up with Road Monkey for the expedition, and then told her husband. The summit hike was beyond grueling. It is hard to imagine the very petite Altman climbing the Uhuru Peak. "We hiked for up to eight hours a day, six days straight, and this included some nights. I knew no one when I signed up, but I knew that I was going to meet like minded people. You help each other climb to the top and I couldn't have been happier. " Altman still glows with a sense of accomplishment when she looks back at that journey. After the summit climb, Altman spent time in Africa, with the other climbers, completing a community service project. "I slept in a hut under netting, bugs crawling on the wall, and no water. And it was beautiful."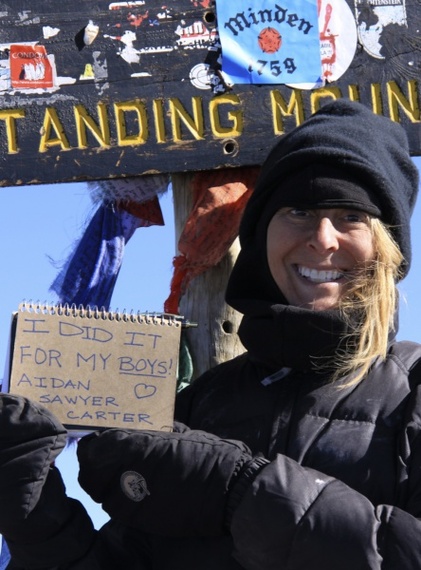 Jolie Altman's shout out on Mt. Kili. Photo used with permission. Photo credit: Paul von Zielbauer for Road Monkey
Beautiful is also a word many in the area have used to describe Altman's spacious home that she shares with her husband Dr. David Altman and their three sons. The couple has noteworthy art collections of everything from modern to vintage. Their home has been featured in various press entities. Altman is clear that she chooses pieces based not on the designer, but their artistic quality. Her collection has everything from vintage carnival knock down dolls to a child's framed drawing to things she found at an airport. At La Guarida airport, Altman spotted two large pieces of wall art. "This (pointing to the oversize modern art) was at the airport and they were going to get rid of it. Just as I was picking it up, I heard a woman say, 'There's something for everyone.' I don't care what people think. If I like it, I'll purchase it."
This confidence has translated well into growing her jewelry business. Altman is becoming well known for her original African design necklaces and bracelets. She only uses authentic materials, and each piece is original. What is remarkable is that Altman acquires everything she uses and frequently travels. "I go to Africa and Amsterdam and find things for my jewelry." She pauses thinking about her growing success. "I have quietly gotten into many of the top stores in the country simply by making jewelry."
One of those top stores that Altman is referring to is Bergdorf Goodman. She recalls, "I was wearing my things in Bergdorf Goodman's a while back and someone noticed them." Within hours, Altman had a meeting, and Bergdorf Goodman agreed to carry Altman's jewelry. "A lot of it is word of mouth or people see things at some of my shows, and want to carry it at their stores. I have quietly gotten into many of the top stores in the country simply by making jewelry. "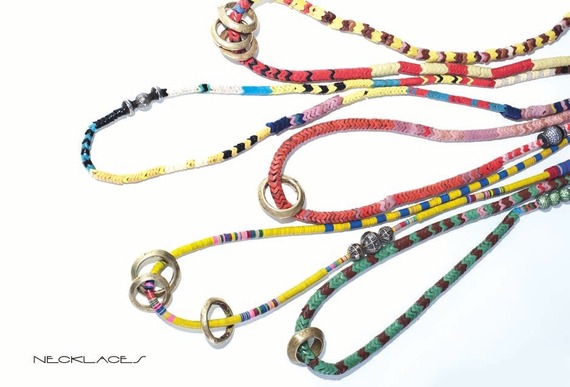 Semi precious and precious gems jewelry. Photo taken by Boswell and used with permission by Jolie Altman
Altman's husband of 25 years, Dr. David Altman, also noticed this wasn't just a simple outlet for her creative energy. Altman says, "David told me that my hobby is no longer a hobby. I had to put my big girl pants on and open a bank account, get a Square (allows for remote transactions), pay taxes, and meet with an accountant. I really love to create but not calculate." Altman's designs are now carried by Ikram, Kitson, and Anthropologie.
Since Altman was a young child she has created items. Long before it was popular for top designers to make African jewelry, Altman's mother was designing her own African necklaces. Some of her mother's necklaces hang in Altman's home office as inspiration. "I've always done some sort of artwork. I especially remember on Sundays growing up, I used to create all sorts of things: paintings, clothing, jewelry."
However, Altman's educational background does not reflect her passion for art. She graduated with a degree in political science. After doing some volunteer tutoring work at the University of Michigan hospital, she decided to pursue a graduate degree in education. She taught until the birth of her first son. "I encourage our children to be creative, open, to learn. I want my boys to be independent. I climbed Mt. Kilimanjaro for my boys to set an example. "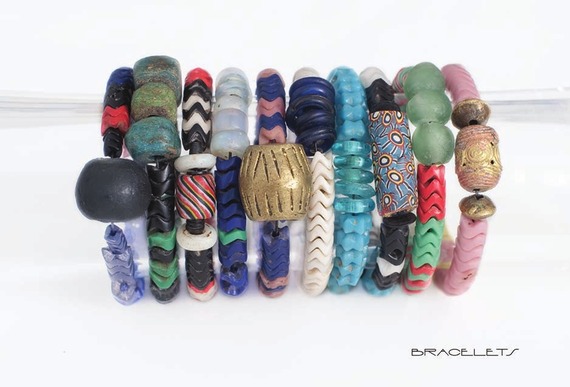 Photo Credit: Boswell. Photo permission given by Jolie Altman
Despite being surrounded by one-of-a-kind art, Altman is incredibly down to earth. While sharing her parenting philosophy and business plans, she is open and is clear to admit what she doesn't know. It's also clear that she exercises, but shuns diets. Altman is high energy and very thoughtful. She's is the type of person that is so open she can appear vulnerable. In her early business days, she says she learned a few surprising, yet valuable lessons. However, she is not jaded by these experiences. If anything, she is quite sincere about working directly with everyone. "I make all of my jewelry. It would be difficult to have the traditional line sheet because I am constantly creating mostly one-of-a-kind pieces. Although it is often difficult to do trade shows, I am proud of the fact that I have created a business that is all mine."
Related