Paradigm Shifters is a series of interviews with a select group of women and men from eclectic walks of life. It will highlight unspoken, real-life insights on how they have been able to turn weakness into strength. A naked soul point of view of how their breakdowns were really a preparation for breakthroughs. They are your quintessential paradigm shifters; internal shifts converted into genuine change.
Everything I have ever done has been focused on this underlying theme of shifting the paradigm because, "What we think determines what we feel and what we feel determines what we do." Hence, why Empowered by You takes lingerie, which has traditionally been seen merely as a tool of seduction and redirected that energy as a tool of empowerment.
I hope from these stories you will look at your own situations, struggles and accomplishments through a different lens. At the very least you will be more equipped with real life tools to change your own paradigm. At the end of the day, we are our own Alchemist turning the silver we were born with into the gold we are destined to become.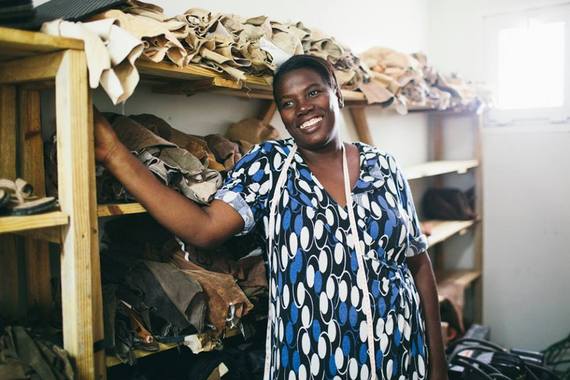 Jolina Auguste -- Production Manager and Shareholder -- Deux Mains
What was your life like before you began working for Deux Mains? Did you ever imagine you would be designing shoes?
Before I started working for Deux Mains, I had a life, but there is a big difference between the way I lived before, versus the way my life is now. Life has gotten much better for me; for example, I used to rent a house, but now I've been able to buy a piece of land and I have my own home. If I didn't have a full-time job, I would not be able to own my own home. The reason I couldn't buy a house before was because I wasn't able to budget and save well. I made little money each day from my sales at the market, and it was difficult to predict and manage. Now, I receive large sums of money every fifteen days and it helps me to manage my spending and saving.
Also, before working at Deux Mains, when I was selling at the market, there were days when I made money, and days that I didn't. Full time work is much better. When I used to sell, I would get up in the morning and go to work, and wouldn't be sure if I would come home with any money in my pocket. Your life transforms when you have full time work. Every fifteen days I have hope in the knowledge that I will be paid, and I can regulate my finances well. For example, before, it was difficult for me to save enough money to pay school fees on time and my children would often be sent home from school. But now, it's easier for me to save money to pay on time, and my kids have not been sent home from school since I started working full time at Deux Mains. Not once in five years.
I never imagined I would be making and designing sandals as I had no knowledge of shoemaking. It never even crossed my mind. That's why I always say, "You never know what can happen in life." Sometimes we don't understand life, but I think we're not necessarily supposed to. Look at me today: I am a manager in a sandal-making workshop. This is a great source of pride for me. Through my employment, I haven't just learned how to make sandals -- I've had a lot of other incredible experiences at Deux Mains. Many things I didn't understand before, I've come to understand. For example, before I really did not understand business, but because Deux Mains sent me to a business course, I know how to run a small business, and how to be a good manager. I even started my own business and employ three women making peanut butter!"
Deux Mains was born out of the 2010 Earthquake disaster. How did the company find its inspiration amidst so much strife and find a way to do good by others?
In the aftermath of the earthquake, I think of the day that I met Julie Colombino (Founder/CEO of Rebuild Globally) as a day that was planned by God. It's something I never could have predicted.
When Julie first came to Haiti, I didn't think she would stay as long as she did. Julie wanted to create jobs, but I still wasn't sure she would carry on and create this business with me. I know that my advice helped Julie to understand that if she gave me rice, beans and oil, I might be able to feed my family for a month. By creating a job for me, however, she would allow me to buy those things for my own family. Just look at me now! Five years later, I own a home and I feed my family every day.
You went from being the very first Rebuild Globally employee and are now a shareholder, how has this affected your life?
Again, you never know what will happen in life. Before, when I used to see businesses in Haiti that were owned by shareholders, I had no idea what that meant. Now, that same person, just a few short years later, is a shareholder in a Haitian business. I've come to understand what that means, because this business belongs to me. I manage this business. Deux Mains is a reflection of me. Now I feel like if the business has a problem, it's my own personal problem.
What are you most passionate about?
My work, is something that I'm very passionate about. Being a part of this business has provided an important lesson for me in my life. Every morning when I get up, grab my work bag, and head to the workshop, I am filled with tremendous pride. While I'm putting on my uniform and getting ready to go to work, my husband is busy brushing our daughters' hair as they get ready for school.
That's one of the reasons why I'm so passionate about my work - it has given me a new found respect in my household. Imagine if I woke up every morning and had nothing purposeful to spend my day doing. What my life would be like? After my love and devotion to God, my job is the thing I'm most passionate about in my life.
What are the biggest challenges you face and what keeps you pushing forward?
Before Deux Mains, one of the greatest challenges that I faced was the fact that I didn't own a home. I had to pay someone else to rent a house that didn't belong to me. Now, I am a home-owner because of my ability to save money. I have many more dreams for my future, and because I have a full-time job, I'm allowed to have these dreams. These hopes I have for myself and my family are not in vain. One of my goals is to travel to other parts of the world. Another is to own a car.
It's important to understand, however, that the fact that I haven't yet reached these dreams doesn't create problems for me, because I know I can achieve them. It's a process. If I didn't have hope that I could reach my goals, then these things would be problems, not goals."

Why is social enterprise important? How would you encourage someone who is interested in social enterprise to come to Haiti?
I think social enterprise is important because, if I take Deux Mains as an example, our work life has become our family life. We are a family here. Among all the work experiences I have had, this is the first time I've felt that. We understand and support each other in a different way. If we need to borrow money, or if we have a problem, we know that our work will support us.
If somebody else wanted to come start a social enterprise in Haiti, I would encourage them to do so because we are lacking work opportunities in Haiti. Unemployment is a huge issue. If everybody was busy at work, a lot of things would change in this country -- there would be fewer robberies and less violence because people would be busy working and making money. There would be more respect.

What is the most inspiring thing about the people of Haiti? What do you wish the world knew about Haiti that the mainstream media fails to display?
Something I love about Haitian people is our hospitable nature. As a Haitian woman, I'm proud of the way I accepted and encouraged Julie. If I hadn't been so hospitable, maybe we would not have started working together. Haitian people always smile and have joyful hearts. We are a respectful people. After the earthquake we all worked together to create shelter, and to get people off the streets. We all helped each other through that difficult time.
Even in despair, we've lived a beautiful life by helping each other. Our country is a beautiful country. It's very, very beautiful.It will always be my home. I love Haiti so much. When I see the beautiful beaches in my country, I always think to myself, 'we are living the good life.' My country is beautiful. I want the world to know that.
What has been your biggest breakdown to breakthrough moment?
One of the lowest points in my life was when my father became very sick. I was at work, and my sister called to tell me that he had become ill very suddenly. When I had last visited him, he was fine, but he became ill all at once, and we were all very scared for his health. I remember it was a Friday, and I needed to go take care of him. Coincidentally it was the same day that collected money from our workshops' savings plan (in Haiti, we refer to this as a 'SOL').
I was able to immediately rush to his side, so the money helped my family so much. I was empowered to give him the care he needed to make him better, and it's one of the greatest sources of pride in my life.
What kind of legacy do you wish to leave behind?
I hope that people will remember me and say "when Jolina had something she didn't keep it for herself -- she always shared everything she had". In my community, people always know that if they need something they can come to me because I am always very generous with everything I have.
In terms of Deux Mains' legacy, as a shareholder I would like us to build more workshops and provide more jobs in my country. I hope people will remember me as somebody who helped make this happen.
On the fifth anniversary of the earthquake, Kenneth Cole launched is collaboration with Rebuild Globally http://rebuildglobally.org and Deux Mains http://deuxmains.com/ a social enterprise that uses upcycled tires and locally sourced leathers to make one-of-a-kind sandals. In collaboration with their artisans, Kenneth designed "The Love-Haiti Sandals" to support the local community.
REAL LIFE. REAL NEWS. REAL VOICES.
Help us tell more of the stories that matter from voices that too often remain unheard.