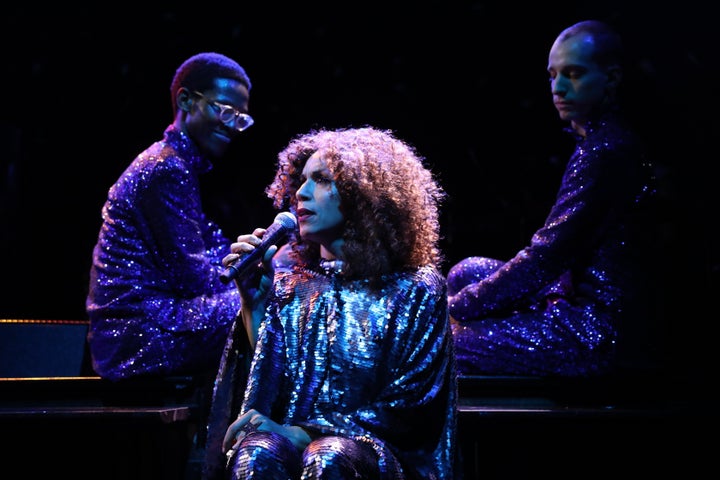 For the past month, Daniel Alexander Jones has been dazzling audiences as a legendary rock, R&B and disco songstress in the immersive musical spectacle "Black Light."
To do so, Jones ― who spends his days as head of Fordham University's playwriting program ― embodies his female alter ego, Jomama Jones.
Jomama, he said, is an "aggregate of an incredible pantheon of singers" such as Diana Ross, Tina Turner and Dionne Warwick. Much like her idols, she sings and dances alongside two backup performers she has deemed her "vibrations." She doesn't skimp on the costumes, either, emerging onstage in five sequined gowns over the course of the 12-song show.
Despite all of his gender-bending, Jones doesn't identify as a drag queen. He has a "tremendous love and respect for drag," but nonetheless sees Jomama as a spiritual entity, much like Beyoncé's Sasha Fierce or Lady Gaga's Jo Calderone.
"It's a little hard for people to believe that she isn't a character," Jones told HuffPost. "It's been an interesting journey for me in terms of gender expression. While I identify as a man and I'm in the body of a [cisgender] man, I experience this expansion around gender in relationship to her. … I'm dealing with two spirits in one body. I have Daniel, and then I have Jo who comes, and when she comes, I make way for her."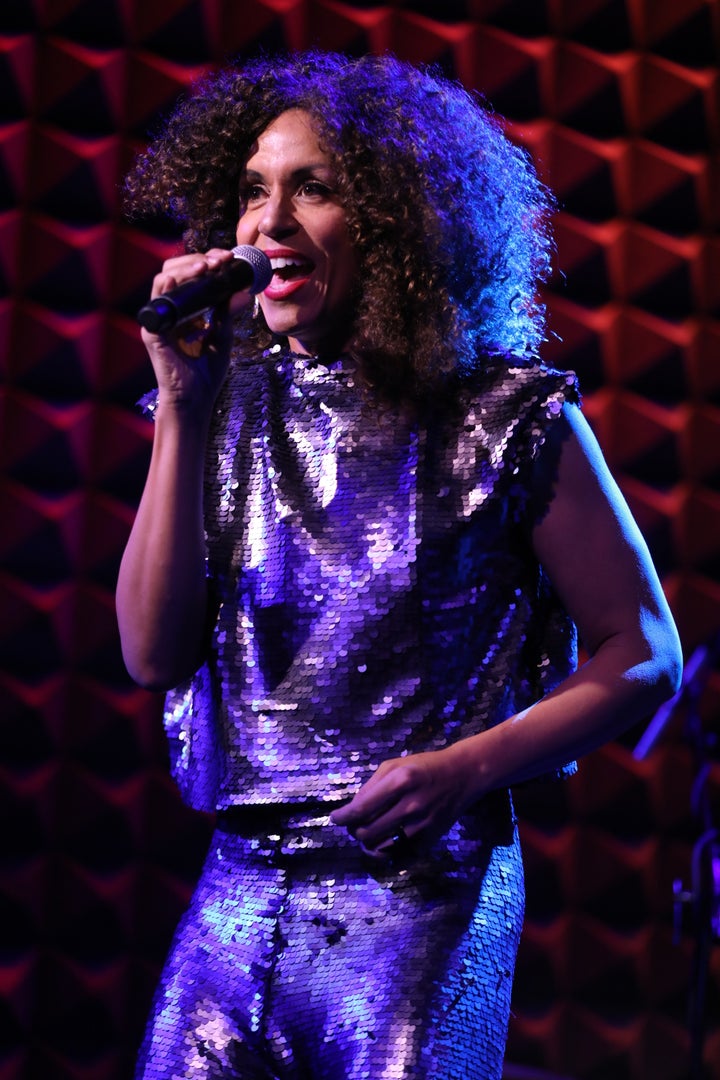 "Black Light," which opened last month at Joe's Pub at the Public Theater in New York City, is billed as a "revival for turbulent times" that explores race, queerness and identity. The show has earned Jones critical acclaim, both as a performance artist and as a singer-songwriter. The New Yorker called Jomama "an homage to the transformative power of black style," while the Daily Beast praised Jones' performance as "a little slice of magic."
Jones' primary goal with "Black Light" is to entertain, but the current political climate in the U.S. also plays a significant role in the show.
"I think what [Jomama]'s asking us to do with this show is to take a very clear look at what's at stake ― what we're dealing with emotionally, internally, personally ― and what we might put forward as the questions or the options in front of us," Jones said. "So it's kind of a meditation on the crossroads right now."
"It's been an interesting journey for me in terms of gender expression. I have Daniel, and then I have Jo who comes, and when she comes, I make way for her."
Jones first began developing ― well, channeling ― his alter ego for 1996's "Blood: Shock: Boogie." Jomama, he said, was initially borne out of his nostalgia for "Soul Train" performances of the past, and took cues from Ross, Turner and Warwick, as well as Sade and disco queen Donna Summer.
Still, Jones was adamant that Jomama sing original music, not cover songs. He worked with Bobby Halvorson, Laura Jean Anderson, Dylan Meek and Josh Quat to write 12 new songs for "Black Light."
"She has things she wants to express in her own way," Jones said.
Since the debut of "Blood: Shock: Boogie," Jones has recorded three independent albums as Jomama, including 2017's "Flowering." He said his Fordham students love Jomama's music and are "incredibly supportive" of their professor's glamorous, downtown persona.
"They get her," he said. "Some were like, 'Can she come teach our class instead?' They don't need to put her in a box; they don't need to put me in a box."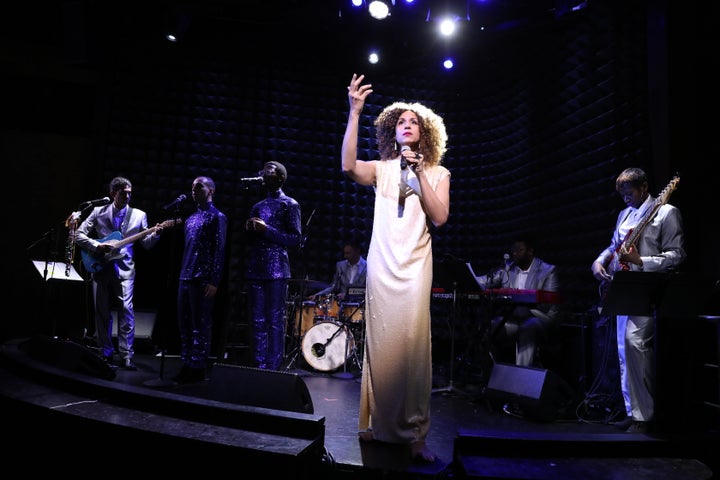 Jomama, too, has evolved from her 1980s and '90s pop star heyday to a mature diva; Jones sees her as having decamped to Switzerland, where she lived with goats for a while. These days, Jones said, Jomama splits her time between her Swiss chalet, New York and Los Angeles, and serves as a sort of "high priestess of the questions that we have at any given time."
"If you don't know her, if you've never seen her, you're going to be in the presence of somebody who has a lot of joy and magic and flirtation around her, but also has a lot of wisdom," he said. "It's wisdom that, honestly, Daniel doesn't have, but she seems to have."
Popular in the Community