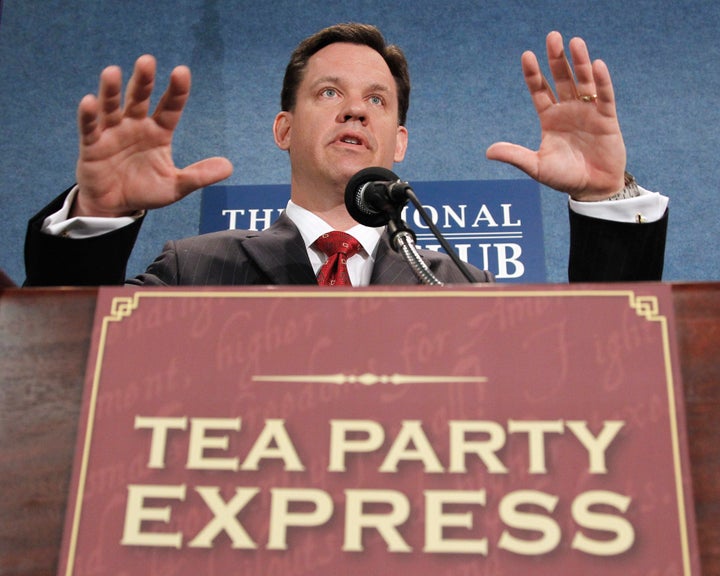 The GOP primary contest for Nebraska's U.S. Senate seat turned personal on Tuesday, when one of the candidates accused the other of being "creepy" for requesting to follow his 14-year-old daughter on Twitter.
The fireworks began when State Treasurer Don Stenberg (R) went after Attorney General Jon Bruning (R) for supporting President Barack Obama's nomination of Eric Holder to the office of U.S. attorney general.
Bruning then attacked Stenberg for his Twitter activities:
Let me ask you this, Don. This Sunday, my daughter walks in, and she says, "Don Stenberg's trying to follow me on Twitter." My daughter's 14 years old. Now you tell me -- I'd like to know, why does a 62-year-old man want to follow a 14-year-old girl on Twitter? I'd really like to know. She said, "Dad, that's kind of creepy."
Stenberg said he doesn't run his own Twitter account and blamed one of his staffers, Dan Parsons.
"Quite honestly, I don't do my own Twitter," he said. "Dan Parsons does it for me. We've got thousands and thousands of folks, and as soon as we get done here, I'll call Dan and make sure that's taken off. I don't think it's appropriate."
"Well, she's 14, Don," said Bruning.
"Yeah," replied Stenberg, shrugging and looking uncomfortable.
Parsons told the Omaha World-Herald that he did not remember requesting to follow Bruning's daughter. The paper notes that her Twitter account is locked, meaning it cannot be viewed without her permission. Parsons said it could have happened "inadvertently," because they "use several search engines to follow people, and we follow thousands."
The winner of the GOP primary will likely be facing off against former Democratic Senator Bob Kerrey, who is currently trailing the Republicans in the polls.
It was the first major debate of the U.S. Senate campaign. Besides Bruning and Stenberg, former insurance salesman Pat Flynn was at the debate. A fourth candidate, State Sen. Deb Fischer (R-Valentine), did not attend.
Popular in the Community