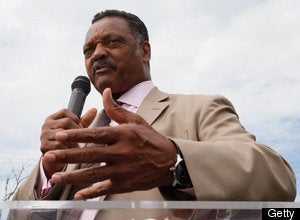 Last week, Chicago's Pension Police Board voted to allow convicted police lieutenant Jon Burge to keep his $3,000-a-month pension. But one civil rights leader plans to fight that ruling tooth and nail.
Rev. Jesse Jackson, one of the elder statesmen of the civil rights movement and a major political force in the city and nation-wide, has announced his plans to file a lawsuit to keep Burge from receiving his pension, according to CBS.
As Jackson points out, state law says that pensions are not to be paid to any official "convicted of any felony relating to or arising out of or in connection with service."
Burge is believed to have tortured and overseen the torture of dozens, if not hundreds, of suspects during his time as the commander at Area 2, in an attempt to extract confessions. He has become a notorious figure in the city's battle with police brutality, as many of his former victims have been exonerated by DNA evidence and have told stories of his and his subordinates' abuse.
Last summer, Burge was convicted of perjury, for saying under oath in a 2003 civil suit that he had no knowledge of torture taking place on his watch. He was sentenced to four and a half years in prison.
It seems immediately apparent that his felony was "relating to or arising out of" his time on the force. But by a 4-4 vote, the Board allowed him to keep receiving it -- it requires a majority of votes to strip an officer of his pension.
The four board members who voted in Burge's favor are current or former cops elected by Chicago police officers: Kenneth Hauser, Michael Lazzaro, James Maloney, and Michael Shields. The four who voted against Burge were appointed by Mayor Richard Daley: Michael Conway, Steven Lux, Stephanie Neely and Gene Saffold.

Since the vote, many have expressed outrage that Burge will continue to receive a check from the pension fund. Mayoral candidate Miguel del Valle spoke out against the ruling in an interview last Thursday. "I thought it was a terrible decision, a terrible decision," he said. "Awful, awful, awful. I think it sends the wrong message. There are a lot of people who lost their pension -- you've got a governor in jail who lost his pension, a governor of the state of Illinois. For this man to keep his pension after what he did... I think the individuals who voted for that made a big mistake."
And Police Superintendent Jody Weis wasn't too fond of the vote, either. "You had Burge arguing that he should be defended by the city and by the union because his actions took place when he was a police officer," Weis said to CBS. "Now the pension board seems to have overlooked that ... and says well this stuff took place after the fact and had nothing to do with his service has a police officer."
This marks a rare confluence of opinions: Rev. Jackson is a backer of Carol Moseley Braun, del Valle's opponent, and a longtime critic of Jody Weis. But Jon Burge seems to be the one issue on which all three can find consensus.
Popular in the Community