"Any musician or artist who can find a way to be free, and then express it--dude, that's what we're all looking for." ~ Jon Butcher
Jon Butcher is a recognized American rock and blues guitarist and songwriter from the Boston music scene whose career has spanned more than thirty years. I caught up with Jon and talked about the songwriters who have inspired him, the difference in writing for himself vs. writing for television and movies, and his newest CD titled 2ROADS EAST.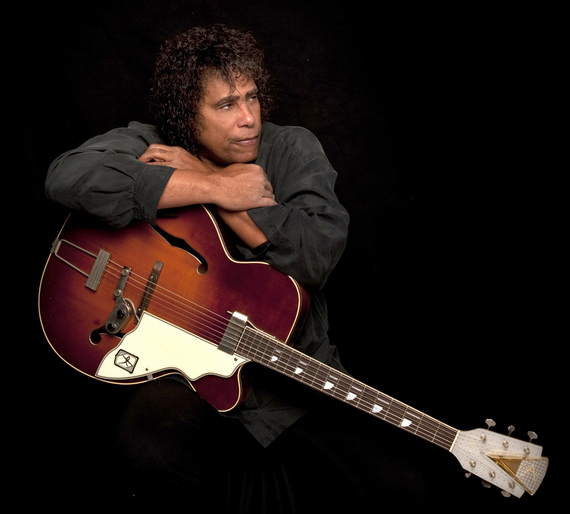 Jason Landry: Who gave you your first guitar and what was it?
Jon Butcher: My mom. When I was a little boy, Sears Roebuck sold a guitar and amp combination, so when you opened up the guitar case there was a speaker on one side. It was called a Silvertone, made by Danelectro. Those guitars are quite collectible now.
JL: Do you remember the moment when you knew that this, being a musician, was what you wanted to do for the rest of your life?
JB: In Philadelphia, Pennsylvania there was a club called The Electric Factory. I wasn't old enough to get in at the time, but Jimi Hendrix played there and I snuck around back and listened to the sound check. And that was life changing. That was it--right there. At that moment, I knew that I wanted to be in that room playing guitar on a stage instead of listening at the back door.
JL: In 2014 you covered and recorded a group of Jimi Hendrix songs that you released under the title "Experienced" It's pretty evident that Hendrix' music made a lasting effect on you. Can you pinpoint a few specific things that drew you to his music?
JB: Yeah. Jimi, unlike any other guitar players, had a way of playing and singing where the two things were joined and inner-locked. Up until that point, a guitar player would play chords and sing over the top of the chords that they were playing--and that was that. But Jimi managed to find a way to play lyrically so that his guitar and the lyrics and vocals were weaved into one. And to my knowledge, that was the first time I had ever heard that before.
JL: So you are more than just a guitar player----you sing and write your own material. What songwriters have inspired you?
JB: That's easy. John Lennon, Joni Mitchell, Paul McCartney--they're all terrific songwriters. I've probably been influenced by the same musicians as you have. Great writing is great writing, and those three come to mind right away.
JL: You were recently back in the studio working on a new album. How do you go about your writing process? Do you start with lyrics, or do you start with a lick or riff?
JB: All of it is fair game. I really don't have a particular mode. I find that sometimes a melody will come to me, and I'll grab my iPhone and sing into it. Sometimes I don't know what the lyrics are going to be, so I'll moon, spoon, and june them--I make up words that go long with the melody. I know to go back to that melody and sort it out. So I don't think I have a predisposed method. I really just wait for the muse to strike.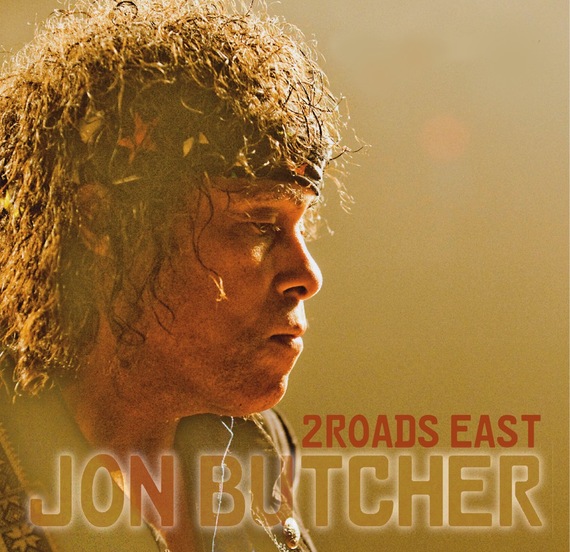 JL: And your new CD is called 2ROADS EAST. How did you come up with the title?
JB: The CD title 2ROADS EAST references my deliverance from bondage (Los Angeles) to the Promised Land (Boston) in 2009. I'd determined that I was leaving L.A. by one road or by another, but was leaving L.A. regardless--a failed marriage/ divorce, the dissolution of my business Electric Factory, the passing of my dog Buck. L.A. and specifically Sylmar, California had begun to represent a chapter that badly needed changing.
JL: You also write for television and movies, correct? How do you find that writing process? Do you find it similar or different than when you write for your own albums?
JB: That's a good question. It's different because in many of the situations that I have written for movies, you're literally writing to a scene, or you're writing to a requirement. The director may say, look, we need something soft and gentle and blah, blah, blah. And so you cater what you write to the desires of the director or producer. So it's a little different.
JL: When it's just you and your guitar, do you find it harder to write a song with lyrics or an instrumental?
JB: I think they are equal. For me, a successful instrumental is one that doesn't need a lyric to make it work--that somehow the guitar is lyrical and melodic.
JL: Have you ever had any musicians give you any advice or words of wisdom when you were just starting out?
JB: When I did my first big international tour opening for the J. Geils Band on their Freeze Frame tour, and I was just coming out with my first record. Peter Wolf came into the dressing room before we played the first gig--I was scared to death. We were playing at Cobo Hall, three nights in Detroit. And I was honestly petrified--I didn't know what to think of it. And he came in and gave me the best advice that I've ever heard, he said, "Don't worry about them. Play for yourself. If you're digging it, they will too," as apposed to trying to play to please. That never works. What you really have to do is find what it is that you like and do that, and that will draw people in.
JL: Are there any guitar players that you have played with in the last few years that really amazed you?
JB: Jeff Beck. He's my favorite living guitar player. The guy is an inspiration to me even at this moment. He's free--he plays like he's free. He's not encumbered by what he can't do, or some technique that he hasn't mastered. He's completely free. Any musician or artist who can find a way to be free, and then express it--dude, that's what we're all looking for.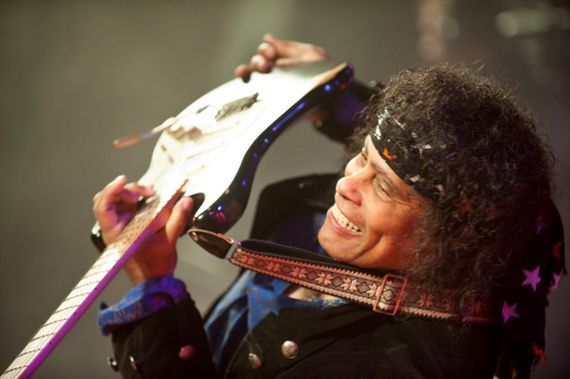 JL: If you weren't a musician you would be_____________________?
JB: A cowboy. Not a real cowboy, but the kind that don't have to work, and just ride around, and get the girl, and play guitar on horseback.
JL: Craziest guitar related story that you can remember.
JB: I remember getting all my gear stolen before a gig once. Somebody drove off with our equipment truck. We were getting ready to load-in at sound check, the roadies went out in the alley and they say, where's the truck?-----GONE.
JL: With so many things changing in the music industry, what would be your best advice or inspirational message for new musicians that are trying to make a name for themselves?
JB: That's easy--Find your truth. I don't mean that in the esoteric vague sense, I mean literally, find the thing that is true in you. If you're angry, or if you're one of those people who are never angry, find that truth and write music that speaks that, because if you do that, it'll be real and honest. If you don't find your truth, then you're just sort of mouthing it and faking it, and everyone can tell. I find for me that if I'm truthful with the things that I like, and the music that I understand and can embrace, other people will like it.
Jon's newest CD will be available soon in stores, on iTunes, Amazon.com, and on his website: jonbutcher.com
Calling all HuffPost superfans!
Sign up for membership to become a founding member and help shape HuffPost's next chapter