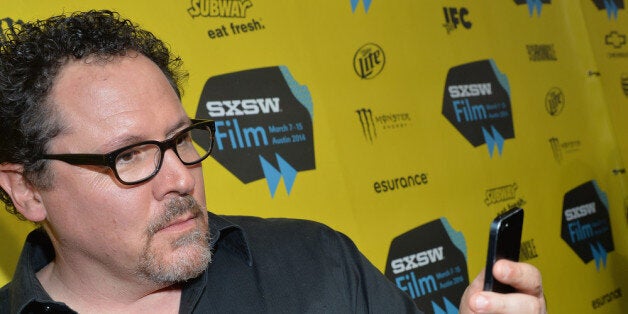 "I think it's honestly more about the relationship to the things that are important to you in your life: your family, your kid, your craft," Favreau said during an interview with HuffPost Entertainment at celebrity chef Paul Qui's eponymous restaurant in Austin, Texas on Saturday afternoon. "I'm most proud of the fact that it shows there's a recipe for success if you dial into the shit that is going to make your life better. It's counterintuitive, but if you take time away from your career and invest it in your personal life, your career flourishes. That's a lesson I've learned a decade ago. That was the real underlying message of the movie."
"Chef" marks Favreau's return to the indie world after spending most of the last decade directing blockbusters ("Iron Man," "Iron Man 2" and "Cowboys & Aliens") and television pilots. (His last indie was 2001's "Made," Favreau's feature directorial debut following the success of "Swingers.") The result of his DIY labor focuses on Carl Casper (Favreau), a former indie wunderkind chef who finds success and fame working at a swanky Los Angeles restaurant. Things unravel for Carl, though, after a negative review sets off a chain reaction of events that include a Twitter flame war, a viral video and eventual unemployment. It's then that Carl takes to the road with his son (Emjay Anthony) in a restored food truck to find his passion again. Sofia Vergara, Oliver Platt, John Leguizamo, Dustin Hoffman and Bobby Cannavale all co-star, with Favreau's Marvel pals, Scarlett Johansson and Robert Downey Jr., making what amount to extended cameo appearances.
Favreau, who will next direct "The Jungle Book" for Disney, spoke to HuffPost Entertainment about "Chef" (out in theaters on May 9), his relationship with studio movies and the pros and cons of critical discourse.
Did you anticipate the amount of preparation involved with becoming a believable onscreen chef while writing the script? No! No, when I wrote it there was a much more romantic view of the culinary world. The first thing Roy Choi [who trained Favreau for the film] said was, "This scene, when you walk into the farmer's market with a chef's coat, smelling the ingredients. That's bullshit. You'd look like a douche bag walking around in your chef's coat. A chef would never wear his chef coat on the street unless he's trying to show off. You don't walk through a farmer's market like Belle in 'Beauty in the the Beast,' smelling things and singing. You get what you need and you get out." There's tremendous passion, however, for the product. So you have these really gruff guys who swear like sailors, but they're complete food nerds. They are completely falling over themselves over the ramps.
There have been some films and television series about chefs, but not in this way. "Chef" kind of reminds me of how "Rounders" hit poker right as it was going to explode. Were you surprised no one had jumped on this world yet? Right after I write the script, I'll watch all the movies that are close. With "Chef," it was "Jiro Dreams of Sushi," although that's a documentary. That really hits the world. It's a great movie. Chefs really like "Ratatouille," too. A cartoon is one they really point to as a bench mark. You have to sort of dip around. "Mostly Martha," they like -- it's a German one that "No Reservations" [with Catherine Zeta-Jones and Aaron Eckhart] was based on. That's part of why I did this independent. If I did it in a studio, it would have been a PG-13 movie, and you can't make a PG-13 movie about a kitchen. I'm not saying it's vulgar, but the language is different, the sensibility is different. This is going to end up being a soft R, and a studio would never let me do that.
That's one of the more intriguing aspects of the film, especially with your background directing blockbuster films for Marvel and Universal: an individual artist trying to make things work inside a corporate structure. Was there a specific moment during the last few years where you decided to write this script? If you look at the position the guy is in at the beginning, it's misleading. I like doing big movies. I like compromising with people and collaborating, if that's part of what you're doing. You get to play with really big toys and you have a big safety net of everybody working with you. So, I don't want to misrepresent myself. However, there is something wonderful about being able to write exactly what you want, do it with exactly who you want and shoot it where you want, so long as you do it for a price. I direct pilots. When you do a pilot, the network tells you what hat the person should wear, who you should cast. They have the last word creatively. There's something good about it, but there's also a lot bad about it. I do commercials. You could not be more interfered with on commercials. I enjoy them! There's something to be garnered from it. But after working on big franchises and pilots and commercials, it's nice to go back to the way I started. Let's talk about parenthood, let's talk about divorce. I was a child of a divorce. I related very much to how the kid feels.
And you love the food world as well. On the one hand, you had a type of character I wanted to do something about. On the other, you have a very cinematic expression of creativity, which making a movie about the movie business would never offer. The metaphor is a lot simpler with a chef, because the fame is unanticipated, the wounds cut deeper, the critics are more powerful and the audience is right there in your face, sending the food back. The rock-star status is greater than most directors experience. It's not like, as a director, that I'm a sex symbol. The closest thing is that there's a speech writer who has the same name as me and women think he's hot. Sometimes people accidentally tweet me the wrong thing. That's flattering. For him [laughs].
You mention critics: in "Chef," your character goes off on a critic who gave him a bad review. It reminded me a little of the fight Samuel L. Jackson and A.O. Scott had when "Marvel's The Avengers" came out, which focused on how critics sometimes aren't the audience. Do you think there should be a more nuanced approach to film criticism? In the food world, the individual critics are very important. In [film], it's really more about the blogosphere. In "Chef," I don't completely disagree with Dustin Hoffman [who plays Carl's boss] and I don't disagree with Oliver Platt [who plays the critic]. They're no more flawed than the lead. When you get to the bottom of it, most people you run into are just trying to get through their gig in the best way they can. So, if you're a critic, you want to be honest. It's good not to take delight in things, but if someone is going to engage with you on Twitter in what you think is a fun flame war, that's theater. You're drawing attention to yourself and they engage. I think there is some truth to what's out there in the blogosphere, but there's also a lot of people who say things maybe not fully aware that people who read it are generally more sensitive than the population. It's hurts them tremendously. What you learn very quickly is that you just don't look at that stuff.
This interview has been edited and condensed.
Calling all HuffPost superfans!
Sign up for membership to become a founding member and help shape HuffPost's next chapter
BEFORE YOU GO
PHOTO GALLERY
"Chef" At SXSW