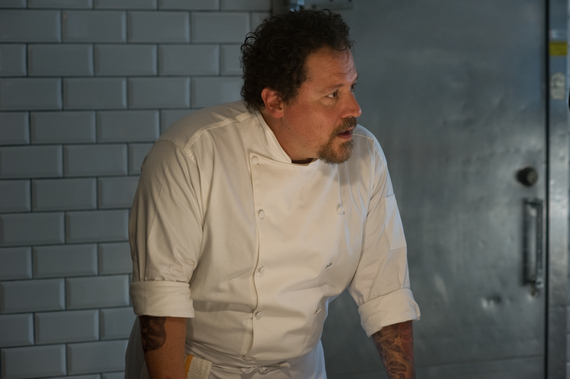 Making a good film is art. Making good food is art. Put them together and you have Jon Favreau's newest film Chef, which hits theaters May 9th. Favreau, best known for directing Elf, Iron Man 1 & 2, and for roles in films like Swingers, The Break-Up and The Wolf of Wall Street, took a few minutes to talk to us about his new passion for food.
The film follows Carl Casper, a passionate chef who feels stuck working under the direction of his restaurant owner boss. Carl's boss, played by Dustin Hoffman does not want him to venture from the current menu despite its ill reception. Favreau says of Hoffman's character, "He's not wrong, he's actually on it. I go out of my way to make sure that the antagonist has a defensible position. I don't disagree with what he says in the film." What is it that he says? "Be an artist on your own time, don't mess with my business," says Favreau. When Carl receives a bad review not only does he engage in a hilarious Twitter battle with a food critic (played by Oliver Platt), but subsequently leaves his post at the restaurant.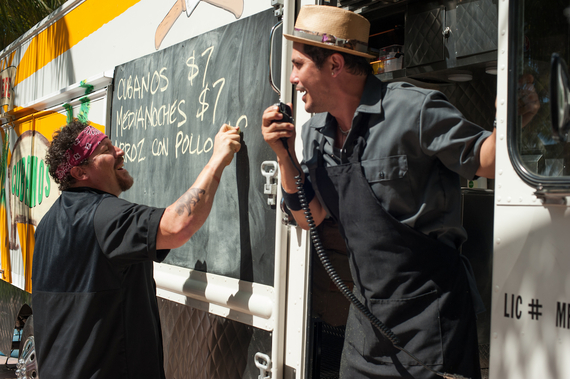 Carl's personal life is also not at its best. He is absent to his son Percy (Emjay Anthony), who wants nothing more than to get close to his father and share in his passion for cooking food. We find Casper at rock bottom, disappointing his family, unemployed and not sure what he really wants to do with his artistry. His very understanding ex-wife Inez (Sophia Vergara) steps with a plan for him to get back in the kitchen and back on his feet. She has him meet with her second ex-husband (Robert Downey Jr.), who offers him an old beat-up food truck.
This is where the adventure begins. Teaming up with his pal Martin (John Leguizamo) and his young son, the three take their food truck "El Jefe Cubanos" to Miami, New Orleans, Austin and eventually back to Los Angeles. The star-studded cast brings in much laughs and heart-warming moments as we follow Casper on a culinary adventure that not only brings him closer to his art, but also closer to his family. "As much as it is about food, it's really about a father and son. The food just becomes a device," he says. "You take a character who could not be more out of touch with what's really driving him and where his passions are and by connecting to the people and the art of what he is doing, he saves himself."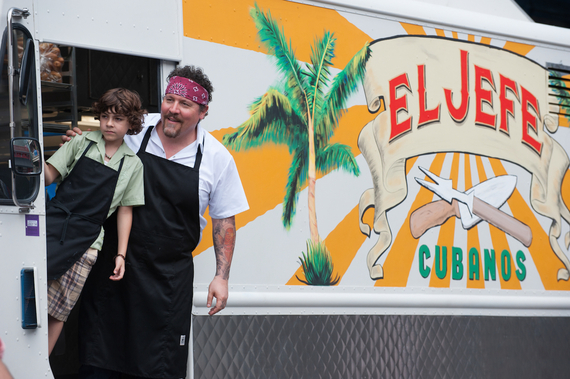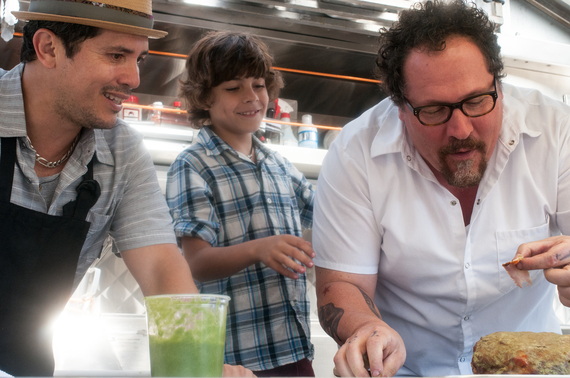 In preparation for the film Favreau apprenticed under master chef Roy Choi, famed for his Kogi food truck fleet in Los Angeles "I tasted his food for the first time when Gwyneth Paltrow, who was on the set for Iron Man 2, brought in a food truck as kind of a 'thank you' to the crew. Kogi was a serious name at the time and you had to hunt them down on Twitter to find out where they were. Of course, she always has her ear to the ground with her website Goop.com and she somehow got this popular truck to magically appear." Choi's "tricked out" Korean food really wowed Favreau. "It was amazing and everyone liked it. It wasn't just the foodies, it was the grips, the crew members. I mean, everyone loved it."
Years later, after writing the script, Favreau teamed up with Choi to properly learn his way around the kitchen. "He (Choi) first set me up with traditional French culinary training for a foundation and then he let me do some prep-work. Eventually I was working the line in his restaurant." Working with Choi not only expanded his knowledge in the kitchen but also opened him up to trying new foods. "I always liked eating, but I was never an adventurous foodie type. I was a pretty picky eater, but from learning about making dishes you learn to appreciate them in a more substantial way."
Favreau is now permanently passionate for cooking. He is currently installing a commercial kitchen in his house. He also keeps in touch with Choi. "Now that the movie is over I miss working with him. I cook with him whenever I can or whenever he will let me." He also notes, "Thankfully I now have access to all these great master chefs and they give me little pointers along the way." Will he ever open up his own restaurant? "It's not a smart bet, but its a fun one. I would do it if I had a good chef partner. I know enough to know what I don't know. It would be fun, just as it's fun to make a movie. In the end you are sharing an experience with people."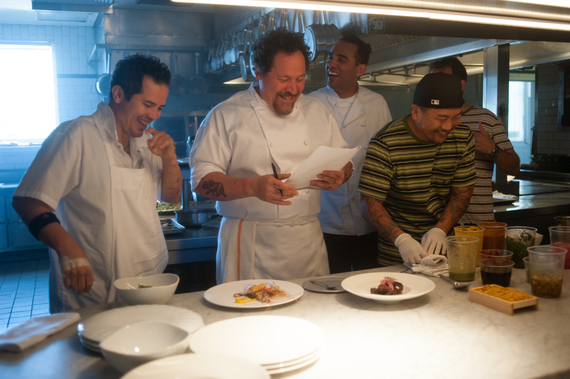 So, what are some things Favreau likes to cook? "I can cook the shit out of a grilled cheese," he jokes. Really though he isn't joking. "You have to cook it right to the edge, right before it's burnt and you have to use the right cheese. If you burn it, you've missed it. You've missed the perfect moment," he says. This "perfect moment" is what Favreau says the key to preparing great food. "It's about mindfulness and being present in the specific moment. That food is only good for that one moment when it's at peak flavor." He further explains this idea noting that if you let french fries sit for ten minutes they are no longer good, or how the temperature of the rice can affect the quality of the sushi.
Not only should you be mindful and present when at the helms of a kitchen, but also when you are eating. "It's all about creating food right and having the person receive and honor it by having it the right way," he says. "It's about stopping to really taste your food and to connect with those dining with you or who prepared it. I hope this is what the movie really captures." Furthermore, he contends that some of the negativities and problems associated with food are because people aren't taking the time to be conscientious when it comes to food. "If people only ate the food that is worth their while and ate when they were only hungry, so many problems we associate with food would be gone. People are eating on the run, and eating food they don't care about. They end up just stuffing themselves as opposed to taking a moment to stop and connect with the people around them and whoever prepared the meal. If we took some time to be present in the experience that is food we would all be healthier."
Favreau has been definitely taking the stop and appreciate food and its preparation. When asked his favorite dining experience, he gives a shout-out to the famed Franklin Barbecue in Austin, Texas. "If I had to pick one restaurant to go for a meal, it's Franklin." Having filmed a scene at the restaurant he became quite inspired by their brisket and the man behind it, Aaron Franklin. "It's magical what that guy can do with just brisket, salt, pepper, heat and time. Just three ingredients. I've really grown to appreciate Texas barbecue because of its simplicity. It's all about the alchemy of getting the meat to change and caramelize and for all the flavors to come through. You're taking the toughest cut of meat and turning it into the most delicious food you've ever eaten. It's pretty fascinating. I've spent many a night cooking brisket since my visit," he says.
In the end, Favreau says that making food isn't a whole different than filmmaking. "It's always a balancing act with filmmaking and certainly in food culture where you want to be ambitious and break off from a secure position, but that's where the most interesting stories always come from. What's so exciting about the chef character is that there is such passion and he's walking a fine line of how he can do something unique and still run a business. Making films is no different."
* EXCLUSIVE RECIPE FROM CHEF *
Percy's Mojo Pork Cubanos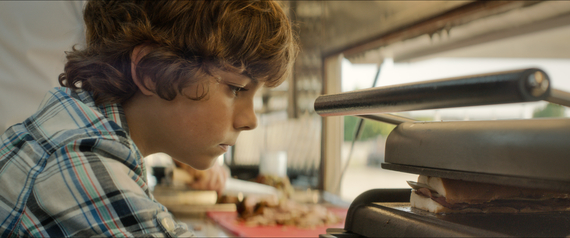 6 ounces thinly sliced boiled ham
Softened butter, for brushing
Six 6-inch-long soft baguettes or heros, split lengthwise
Yellow mustard, for brushing
3/4 pound thinly sliced Mojo-Marinated Pork Shoulder, or store-bought roast pork
1/2 pound thinly sliced Swiss cheese
3 half-sour dill pickles, thinly sliced lengthwise
Heat a large cast-iron griddle or panini press. Add the ham slices to the griddle and cook over moderate heat, turning once, until browned in spots, about 1 minute. Transfer the ham to a plate.
Generously butter the cut sides of each baguette and toast on the griddle over moderate heat until lightly browned, 1 to 2 minutes. Transfer the baguettes to a work surface and generously brush the cut sides with mustard. Layer the ham, pork, Swiss cheese and pickles on the baguette and close the sandwiches.
Generously brush the out-side of the sandwiches with butter and set them on the griddle or press; if using a griddle, top the sandwiches with a large baking sheet and weigh it down with heavy cans or a cast-iron skillet. Cook the sandwiches over moderate heat until they're browned and crisp on the outside and the cheese is melted, 3 minutes per side on a griddle or 3 minutes total in a press. Cut the cubanos in half and serve hot.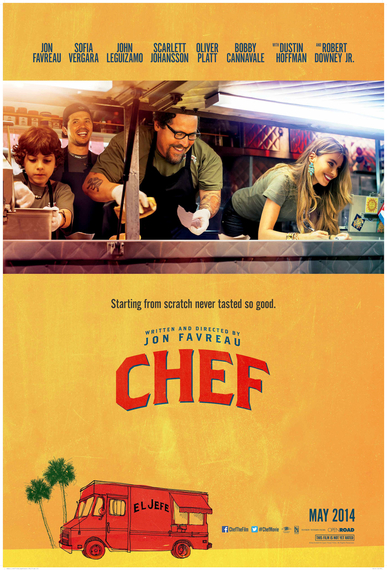 Image Rights Open Road Films. Assoc. production Leigh Kosloski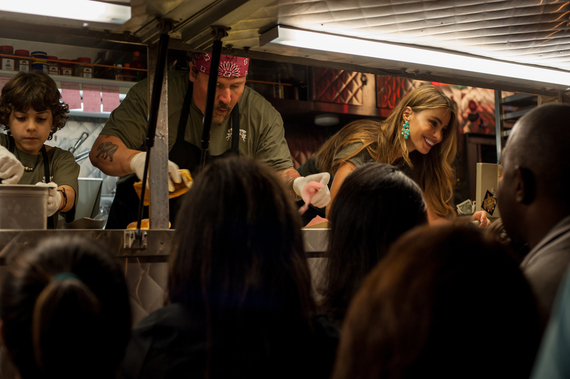 Hungry for more? Be sure to catch CHEF in theaters on May 9th!