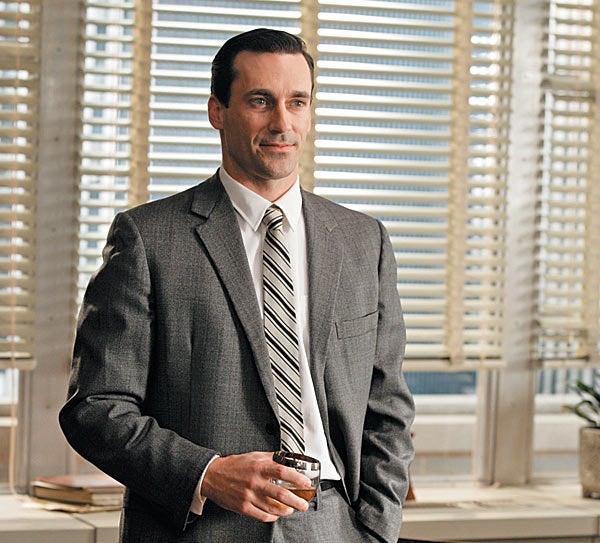 Four Best Actor Emmy nods later, Matthew Weiner and the producers behind "Mad Men" look like geniuses for casting Jon Hamm in the lead role of Don Draper. What they haven't told you? They got lucky.
Appearing as a guest on Marc Maron's WTF podcast, Hamm took some time off from talking about lady grooming to discuss the genesis of his role on the AMC hit. He suddenly went from arcs on shows such as "CSI: Miami," "Providence" and "What About Brian" (as well as his first role, a bit part on "Ally McBeal" for which he is credited as Gorgeous Guy At The Bar) to national sensation.
"I started, literally, on the very, very bottom -- I couldn't have had less heat on me," he said. "Nobody knew who I was. The casting directors didn't know who I was. I wasn't on anybody's lists. ... The funny thing was, I think they went to Thomas Jane for it, and they were told that Thomas Jane does not do television."
Jane, of course, is now the star of HBO's "Hung," in which he plays a divorced man who has sex with lots of women. So he got a little Draper in his life, after all.
As Hamm tells it, Jane's passing made sense at the time; "Mad Men" was a very unlikely hit.
"Why did it hit the way it hit? If you look at it, in a vacuum, there's no way that that show should have been successful," Hamm said. "It was on a network that no one had heard of for scripted television, they went there to watch reruns of 'Diehard,' or whatever. And it's a very think-y show, which is all not necessarily high up on our current cultural needs."
Hamm, of course, has gone on to major stardom even beyond "Mad Men." He featured in the crime drama "The Town," the Kristen Wiig comedy, "Bridesmaids," will again star as Wiig's love interest in "Friends With Kids," and will feature this season in "The Increasingly Poor Decisions of Todd Margaret."
Popular in the Community