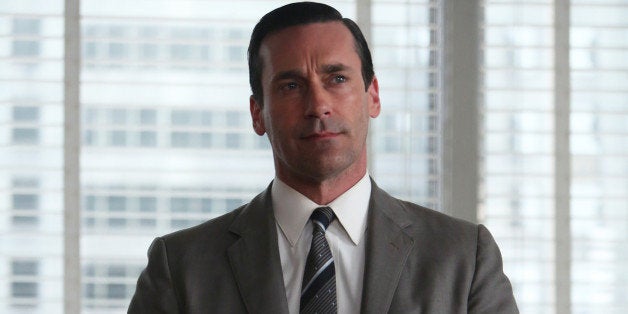 "I am very cognizant that I am playing a character," Hamm told The Observer. "Don Draper is a pretty dismal, despicable guy, so why I would want to take him home with me I don't know ... It's a strange thing. People tell me they look up to Don, like they look up to Tony Soprano or Walter White [in 'Breaking Bad']. People have these weird fascinations with people who in reality you would not want to be for a second. There seems to be that vicarious thrill. Maybe it is the fact of doing everything wrong and getting away with it."
"It has been a solid 25 percent of my existence on the planet. But that's enough, I think." Hamm said of "Mad Men's" conclusion. "Will it be sad? Absolutely. I have made a lot of very close friends on the show. You know, I am feeling pretty zen about it just now, but probably next year I will be crying my eyes out."
Hamm's "Mad Men" co-star Elisabeth Moss is on the other end of the spectrum about the show's swan song and said she'd be OK with doing more.
"I loved when 'Breaking Bad' did it. I'm a huge fan of that and I thought they did it beautifully. I never want a show to end," Moss told EW about "Mad Men's" final season. "I didn't want 'Breaking Bad' to end, so for me as a viewer and as a fan of the show I think it's great — we get to see more of it. We get to extend it. We get to have a little bit of a longer life. After six seasons it's nice to take a little breather and allow people to absorb the first half and then absorb the second half and have a moment to really enjoy it. Why not? I'd be perfectly happy if it went on for more than the seventh season. I think it's a good decision and 'Breaking Bad' has set a good example of how to do it well."