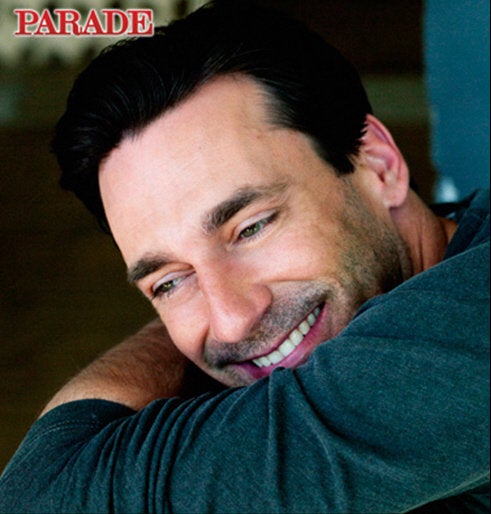 Jon Hamm covers this weekend's Parade magazine, and in the interview he talks about his parents, his childhood and how he doesn't plan to marry Jennifer Westfeldt, his longtime girlfriend and the "love of his life." Here are some excerpts, read a longer preview here.
At a party in 1997, he met Westfeldt, best known for co-writing and starring in the 2001 comedy Kissing Jessica Stein. Later he helped her rehearse lines for an audition.
"She didn't get the part, which may be my fault, but she got the guy."
Why they're not in a hurry to get married.
"I don't have the marriage chip, and neither of us have the greatest examples of marriages in our families. But Jen is the love of my life, and we've already been together four times longer than my parents were married."
Nor is he rushing to have children.
"I like kids but I also like the option to close the door. Becoming a parent is a whole other life, and it doesn't stop."
How he and Westfeldt deal with the attention he gets as a sex symbol.
"That kind of stuff is only present if you give it attention. If it's not reflected back, it goes away. It's not like I'm Justin Bieber or anything."
Popular in the Community