 Jon Hamm has been all over the place in 2014. The 43-year-old has appeared on magazine covers, podcasts, the season finale of "Parks and Recreation" and even at a wax museum. Since April, he's been killing it, once again, as Don Draper on the final season of "Mad Men"; this stare alone is better than what some of Hamm's contemporaries have accomplished in the last four months. As if all that weren't enough, Hamm's also set to hit the multiplex: He's the lead in Disney's "Million Dollar Arm," a PG-rated drama about baseball that focuses on a real-life sports agent, J.B. Bernstein, and the title reality show competition he helped create in India.
"It's not a baseball movie so much as it's an incredible story set against the backdrop of baseball," Hamm told HuffPost Entertainment about the film, which lists ESPN kingpin Bill Simmons as one of its executive producers. "The fact that it's true is kind of mind-blowing to me. I can't believe that this actually happened."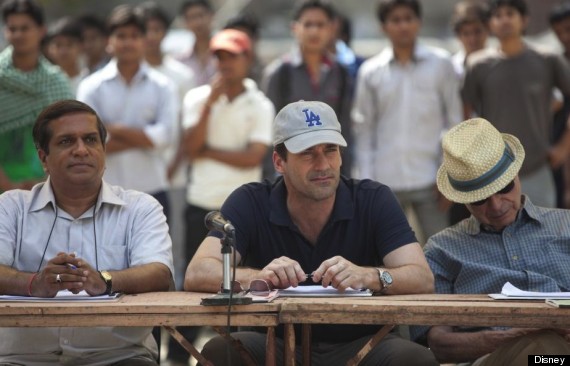 Hamm's right about the story. Even die-hard baseball fans, a group who would count Hamm as a member (he roots for the St. Louis Cardinals), are likely unfamiliar with what happened with Bernstein's "Million Dollar Arm" in 2008. The game show, which the agent helped start while at a career crossroads, was a sensation in India, and produced two pitchers, Rinku Singh and Dinesh Patel, neither of whom had ever thrown a baseball prior to meeting Bernstein. (Read more about what happens to Singh and Patel here, or just see "Million Dollar Arm.")
"I was blown away that it had somehow escaped my radar," Hamm said. "To get the opportunity to kind of tell this story is really cool."
When Hamm says that "Million Dollar Arm" is not a baseball movie, he's not necessarily spinning. While there is a lot of baseball in the film, "Million Dollar Arm" is more about Bernstein and his turn from a work-first agent to a family man (Lake Bell plays Hamm's onscreen love interest) and mentor.
"I think I had him pegged pretty good by the time we met," said Hamm, who didn't meet Bernstein until the film's production headed to India, where the real-life agent was working on the newest season of the reality show. "There's a lot of similarities between being an agent and being an actor. There's the false confidence you need to have all the time. The charisma, where you have to fake it until you make it. There's a lot of that in what I do for a living and certainly a lot of that in what J.B. does for a living. I realized that it was a really good fit [for me]."
As was "Million Dollar Arm" itself. Hamm cited director Craig Gillespie ("Lars and the Real Girl") and screenwriter Tom McCarthy ("Win Win") as part of the reason he was so confident in the project. The two indie stalwarts helped, in Hamm's words, keep the Disney film from having "too much Disney."
"Craig did a wonderful job controlling the tone of the movie and not letting it veer into sentimentality land," Hamm said. "I thought I was in good hands, and thought it was a good project for me. I thought it was something I would really look back on with fondness and something that I could be really proud of. That's what happened."
It would be an understatement to say Hamm is also proud of "Mad Men." The acclaimed series put him on the map as a leading man, and undoubtedly led to opportunities like "Million Dollar Arm." Hamm's tenure as Don Draper will come to an end in early July, however, when production on the final season of "Mad Men" wraps. (Those episodes won't air on AMC until 2015.)
"It's been a big, big, big part of my life. I've got a lot of really good friends in the cast and crew. It's going to be tricky [to see it end]," Hamm said of the show's final episodes. "I'm not going to say I wish it wouldn't end, because everything has to end, but it is what it is. We're going to have an emotional journey once we wrap it up. We'll walk away and lock the door."
Before You Go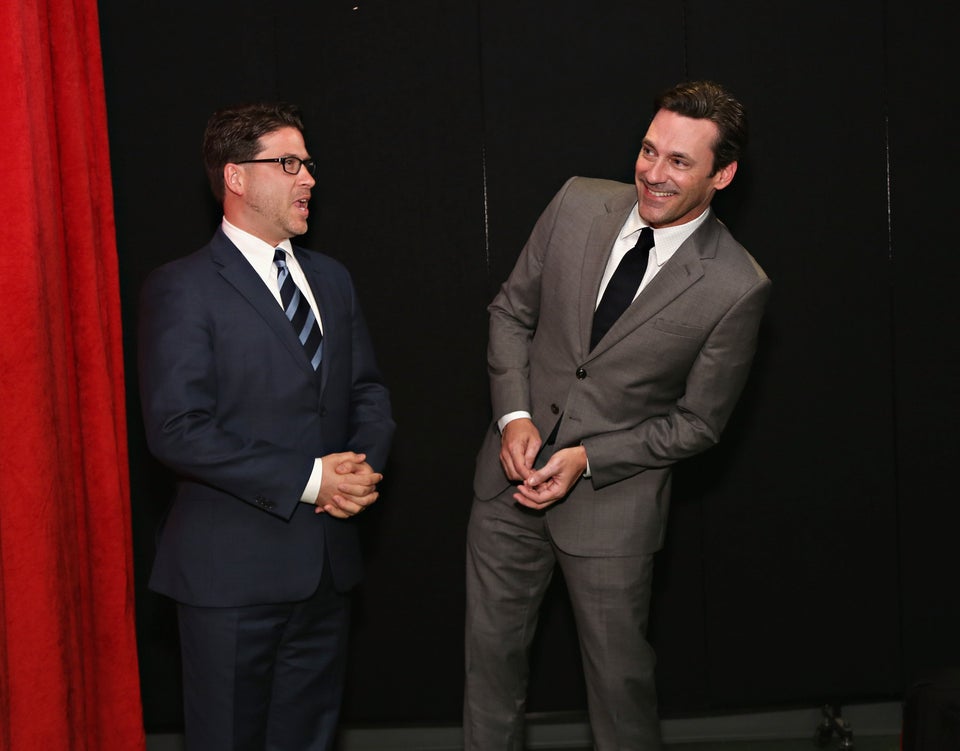 Jon Hamm Having Fun
Popular in the Community