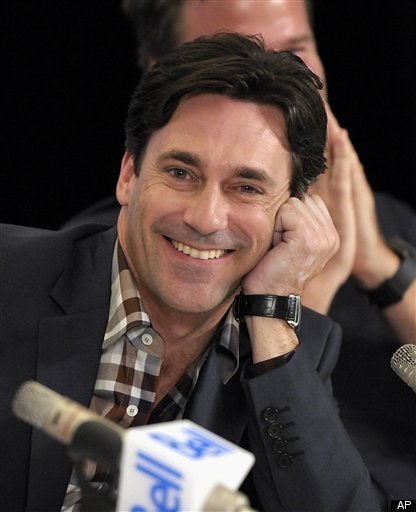 At a standing room-only show at the Bell House in Brooklyn last night, Jon Glaser's new book "My Dead Dad Was In ZZ Top" got the star treatment from a few of the author's friends, including Jon Hamm, Paul Rudd and John Hodgman.
The book, a collection of 100% real (i.e. 100% fake) documents from the world of rock and roll focuses on secret scandals that could have informed the work and careers of many of our favorite artists. Notable examples include, the entire Bob Seger catalog being based upon the artist's struggle with being a werewolf; Meg White actually being Jack's mother and their band the product of a time travel experiment; and ZZ Top becoming a long-bearded three-piece only after the author's keyboardist father left the band in protest over the name.
Highlights from last night's reading included Hodgman affecting a Spanish-ish accent as Pablo Picasso and making the case that he had in fact been called an "asshole" on many occasions; Rudd as Jay Leno, respectfully declining Interpol's request to become his house band; and audience-favorite, Hamm, reading the following piece about the origin of The Butthole Surfers name.
WATCH:
Thanks to audience member and YouTube user CaiteeRose2013 for posting.
Calling all HuffPost superfans!
Sign up for membership to become a founding member and help shape HuffPost's next chapter