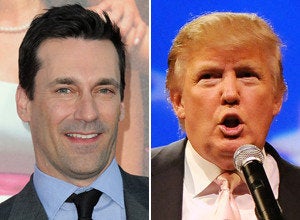 Donald Draper vs. The Donald. One is charismatic, a genius businessman and has terrific hair. Another may or may not be running for president.
Jon Hamm, the serious star of "Mad Men" who brings the funny in the upcoming film "Bridesmaids," sat down with Conan O'Brien last night to dish on a whole host of subjects, including his experience at the White House Correspondents Dinner. The Emmy-nominee had nothing but praise for the comedic stylings of President Obama, especially when it came to his celebrated takedowns of Trump, who had spent the preceding weeks dredging up rumors and speculation about Obama's birth certificate.
"[Obama] was amazing. And I had kind of the best seat the house because I was sitting sort of right behind Donald Trump's table," Hamm revealed. "And watching that dude who has no problem telling people what to do and giving people trouble, he didn't take it very well. Laugh!"
Of course, of all people to be sitting with, Hamm had to be sitting with perhaps the most hilariously awkward man in Hollywood -- which only made things rougher on The Donald.
"That was a rough table. I was actually sitting next to Zach Galifianakis and we were laughing very loudly to the point where I kind of checked in with him and I was like, can we kind of tone it down? These are funny jokes but he's right there."
Hamm also spoke about his own dealings with the public -- which, for Conan's purposes, largely consist of picking up his dog's droppings on the sidewalk. That and get plastered on girly drinks while in London.
Turns out, Don Draper is not actually drinking hard alcohol while the cameras are rolling on "Mad Men."
WATCH
:
Popular in the Community