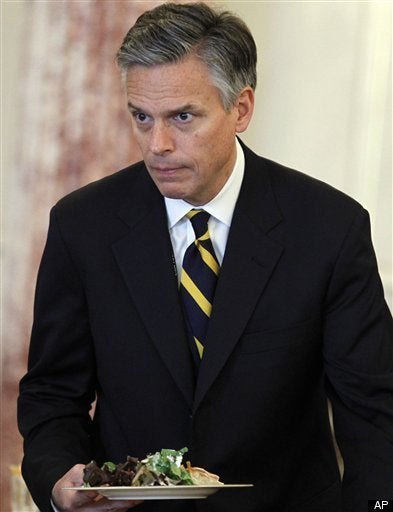 Ben Smith pulls Playbook's summary of the recent "staffing up" that the nascent Jon Huntsman presidential campaign is doing. Here's a detail that caught my eye, because of what it suggests about the direction a Huntsman candidacy might take:
--Jake Suski, 27, was adviser and spokesman for Chris Dudley's campaign for Oregon governor; deputy comms director for Gov. Schwarzenegger; and comms director for Rick Snyder primary race for Michigan governor. Suski (a Matt David guy!) worked for Terry Nelson and was a regional finance director for the McCain primary campaign. He's in Portland for a few more weeks, then back to Cally for a bit. Twitter: @jakesuski
Rick Snyder's win in the 2010 primary (he went on to win the gubernatorial race) is an underreported success story. During a campaign season when most of the GOP's candidates were either retrenching establishment incumbents or charging Tea Party insurgents, Snyder plotted a middle course and defeated both the establishment favorite, Pete Hoekstra, and the Tea Party candidate, Mike Cox.
As you know, I'm bearish on Huntsman's chances in 2012, given the political climate. That said, if you want to have a chance at winning in this political climate, what do you do? You hire Jake Suski.
[Would you like to follow me on Twitter? Because why not? Also, please send tips to tv@huffingtonpost.com -- learn more about our media monitoring project here.]

Popular in the Community