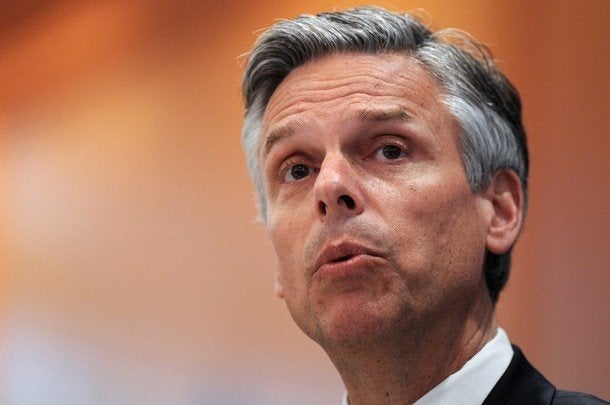 WASHINGTON -- Jon Huntsman may be stepping into the shoes of Haley Barbour and Mike Huckabee, becoming a top-tier candidate skeptical of current U.S. foreign policy and calling for the withdrawal of U.S. troops in Afghanistan.
"In terms of foreign policy, we have a generational opportunity, George, to reset our position in the world," Huntsman said in an interview with George Stephanopoulos that aired Friday on "Good Morning America." "And it must be done based upon our deployments in all corners of the world, wherever we find ourselves, how affordable those deployments are, whether it's a good use of our young men and women. Whether it's in our core national security and interest. We're fighting an enemy that is far different than any we have got before. It's a nontraditional kind of war, and I think we need to step back, recalibrate how we go about protecting our borders and protecting our people, and resetting our position in the world."
On Afghanistan, Huntsman did not specify an exact withdrawal date, although he expressed skepticism that having 100,000 U.S. troops on the ground there was the best decision.
"I would tell you that we have to evaluate very carefully our presence in Afghanistan," he said. "And my inclination would be to say that it is a heavy and very expensive presence we have on the ground. That at a point in time where we need to be looking at our asymmetrical threats, what we have in Afghanistan today is not consistent with how we ought to be responding."
The comments are similar to ones the former Utah governor made in New Hampshire on Thursday, when he called a drawdown of U.S. troops "inevitable."
"The deployments are mighty expensive," he said. 'We've got to ensure that going forward into our new world that we have a foreign policy that is an extension of our core national interests. And does that mean that we're going to have to look at the map at some point and reset our level of engagement and our deployments in some corners of the world. Absolutely it does."
He added that there would likely be a civil war in Afghanistan when the U.S. pulls out, but said that there's not "a whole lot we can do about that."
Barbour and Huckabee have taken themselves out of the running for 2012. But two other GOP presidential contenders have also called for the withdrawal of U.S. troops from Afghanistan, although they are considered long shots to win the nomination. Rep. Ron Paul (R-Texas) is one of Congress' most forceful voices advocating an end to the war, and former New Mexico governor Gary Johnson has made clear that he believes the country should draw down immediately.
Other candidates have been more tentative. Former Minnesota governor Tim Pawlenty (R) recently said he believes U.S. troops could be withdrawn from Afghanistan over the next two years if conditions are right, although he defers to the military for specific recommendations. Speaking at the National Press Club in Washington, D.C. in April, former Senator Rick Santorum (R-Pa.) criticized Obama for laying out a withdrawal plan that was more rapid than what some in the military were advocating.
Popular in the Community