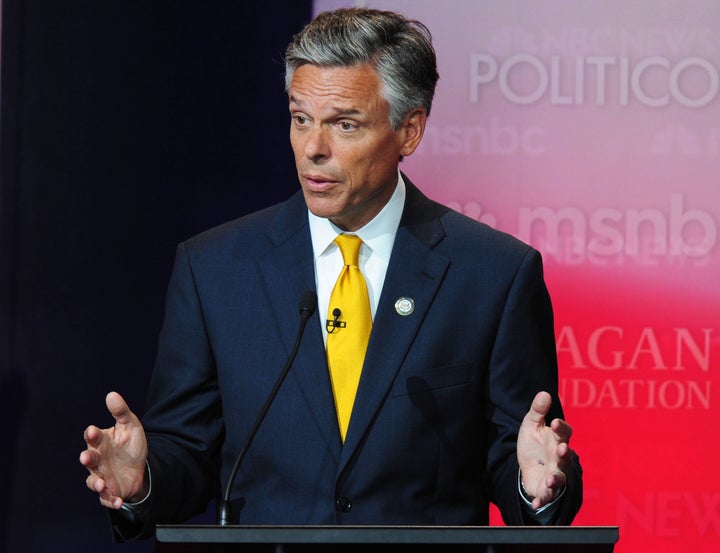 During Wednesday night's Republican presidential debate, former Utah governor Jon Huntsman suggested it's time the country bring the remaining United States troops stationed in Afghanistan home.
"I think we've lost our confidence as a country," he explained. "I think we have had our innocence shattered. I think, ten years later, we look at the situation and we say, we have 100,000 troops in Afghanistan. This is not about nation-building in Afghanistan. This is about nation-building at home."
The GOP presidential contender continued, "Our core is broken. We are weak. We have got to strengthen ourselves. I say we've got to bring those troops home."
The remarks from Huntsman came in response to a question on whether he believes the country is safer today as a result of the nation's counter-terrorism efforts in a post-9/11 era. Looking ahead to the ten year anniversary of the tragic day he said, "I think one way to commemorate our ten-year anniversary of 9/11, remembering the 3,000-plus people who died in New York and in Pennsylvania and in Washington, is to say it's time for this country to set a goal for ourselves: We're going to get our core fixed. We're going to do some nation-building right here at home."
It's not the first time the former governor has raised doubt over the country's ongoing military presence in Afghanistan. HuffPost's Amanda Terkel reported on what the Republican hopeful had to say on the issue during an interview that aired on ABC's "Good Morning America" in May:
On Afghanistan, Huntsman did not specify an exact withdrawal date, although he expressed skepticism that having 100,000 U.S. troops on the ground there was the best decision.

"I would tell you that we have to evaluate very carefully our presence in Afghanistan," he said. "And my inclination would be to say that it is a heavy and very expensive presence we have on the ground. That at a point in time where we need to be looking at our asymmetrical threats, what we have in Afghanistan today is not consistent with how we ought to be responding."

The comments are similar to ones the former Utah governor made in New Hampshire on Thursday, when he called a drawdown of U.S. troops "inevitable."
During an appearance on CNN's "State of the Union" earlier this summer, Huntsman questioned President Barack Obama's timeline for withdrawing U.S. forces from Afghanistan and said, "My hunch is the American people want to be out of there as quickly as we can get it done."
Below, a video of highlights from Wednesday night's debate.
Calling all HuffPost superfans!
Sign up for membership to become a founding member and help shape HuffPost's next chapter