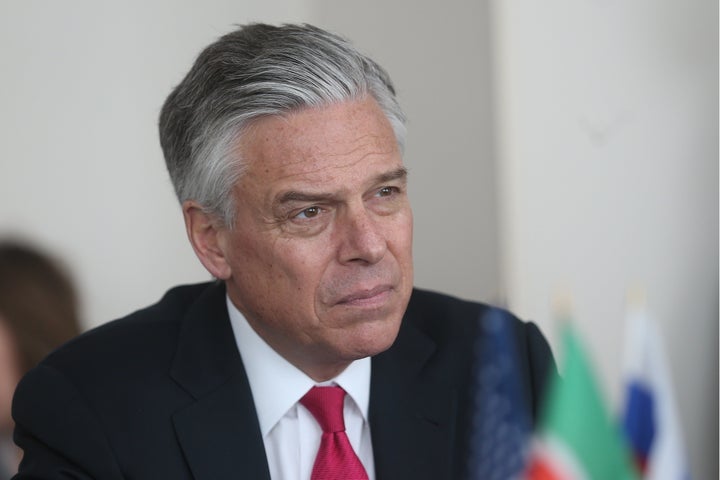 Trump made a muddled attempt to walk back those comments on Tuesday, but the damage had been done. Huntsman's former colleagues and even family members suggested the ambassador was wasting his time trying to represent U.S. interests in Russia under Trump.
"Resign, if you have any honor," John Weaver, a political consultant who worked on Huntsman's 2012 Republican presidential campaign, tweeted.
"You work for a pawn, not a president. It's time to come home," wrote a columnist at the Salt Lake Tribune — a paper owned and published by Huntsman's brother Paul.
Even Huntsman's own daughter weighed in. "No negotiation is worth throwing your own people and country under the bus," Abby Huntsman, who is also a Fox News anchor, tweeted in response to Trump's comments.
Huntsman was always a surprising pick for the ambassadorship under Trump. The former Utah governor has spent decades cultivating a reputation as a reasonable Republican — a pragmatist who believes in climate change and who could serve effectively under a Democratic president. When Trump's "grab 'em by the pussy" tape became public weeks before the election, Huntsman called on him to drop out of the race.
Trump tapped Huntsman for the high-profile post last summer as the president was coming under increasing scrutiny for his stance toward Russia. The Justice Department had appointed special counsel Robert Mueller two months earlier to investigate whether the Trump campaign colluded with Russia to sway the election. Huntsman was a safe choice who wouldn't open Trump up to more criticism that he was soft on Putin.
During his confirmation hearing, Huntsman broke with Trump and stated unequivocally that the Russian government interfered in the 2016 election. He was easily confirmed, and a bipartisan crowd of foreign policy wonks cautiously hoped he would find a way to counter Russian influence in Ukraine and Syria while building cooperation in areas where the two countries' interests align.
But nine months into his tenure, there's not much evidence Huntsman has had any ability to shape the president's view of Putin's government. Trump is notoriously averse to dissenting opinions — and even if he doesn't have the political capital to fire Huntsman, there's nothing stopping him from sidelining the ambassador on key policy decisions. That has even some of Huntsman's longtime defenders urging him to quit before his own reputation becomes enmeshed with the president's.
"If you don't do the right thing and speak out against this man, then you're complicit and you will have that stain for the rest of your life."
Some career officials, facing similar predicaments, have already opted to quit their jobs rather than watch helplessly from inside the administration. Former U.S. Ambassador to Qatar Dana Shell Smith stepped down last year shortly after tweeting from her professional account: "Increasingly difficult to wake up overseas to news from home, knowing I will spend today explaining our democracy and institutions." John Feeley, the former ambassador to Panama, decided he could no longer serve in the Trump administration when the president failed to single out neo-Nazis and white supremacists for criticism after the Charlottesville, Virginia, rally last year, he wrote in The Washington Post. Both Smith and Feeley worked under Democratic and Republican presidents.
In the early days of the Trump administration, some of the staunchest critics of the president, the so-called Never Trumpers, said they felt a sense of duty to country to serve in the government if asked. At best, they argued, they'd be able to effect change from the inside. And at the very least, they'd prevent Trump from hiring a candidate more ideologically extreme.
According to some, this argument still holds true. It is "not in our national security interest" for the most reasonable people in government to resign in order to make a statement, Senate Foreign Relations Committee chairman Bob Corker (R-Tenn.), a frequent critic of Trump, said Tuesday. "I mean it's cutting your nose off in spite of your face when you have people who at least are giving good advice, whether the president takes it or not."
To Weaver, the former campaign aide who called on Huntsman to resign, the argument that people like Huntsman can prevent Trump from doing dangerous things presents a false choice. "They have no influence over him," Weaver said in an interview.
"There's no middle ground — if you don't do the right thing and speak out against this man, then you're complicit and you will have that stain for the rest of your life."
Igor Bobic contributed reporting.
Popular in the Community