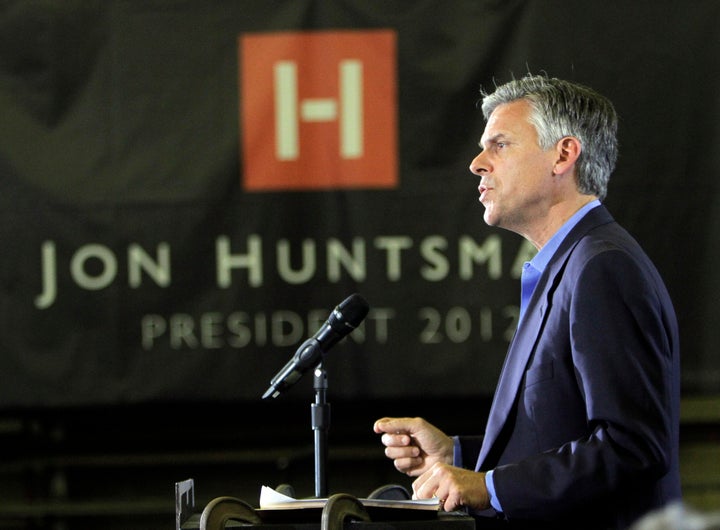 Republican presidential candidate Jon Huntsman has fired his New Hampshire campaign manager, local station WMUR reports.
Huntsman replaced Ethan Eilon -- who reportedly had no previous experience working in New Hampshire -- with Sarah Crawford Stewart, who worked in the state as Deputy Campaign Manager for John McCain in 2008. More recently, she was working on Tim Pawlenty's political operation until the former Minnesota governor dropped out of the presidential race.
Eilon's departure is not the first shake-up experienced by the Huntsman campaign this election season.
Susie Wiles left her position as Huntsman's campaign manager in July. She was replaced by Huntsman's communications director, Matt David.
Brushing off bad poll numbers, Huntsman has predicted he'll win the New Hampshire primary.
The former Utah governor set high expectations Thursday at the popular Politics and Eggs discussion series. His comments came in the same week he earned just 1 percent in two national polls.
He says polls are meaningless this early.
Huntsman also offered a subtle jab at Texas Gov. Rick Perry, his Republican opponent and someone he later called a friend. Huntsman said he brought only his wife to the packed event, instead of a large entourage or the Texas Rangers, a reference to Perry's security detail.
Huntsman met with voters a day after calling for lowering corporate tax rates and ending loopholes.
Appearing earlier Thursday on NBC's "Today," Huntsman criticized his GOP rivals, saying "we're getting drama but not solutions."
Asked if Perry and Michele Bachmann are too far to the right to beat Obama in 2012, he said voters "don't want politics at the extreme ends."
Below, video of what Huntsman had to say on NBC on Thursday morning.
Calling all HuffPost superfans!
Sign up for membership to become a founding member and help shape HuffPost's next chapter