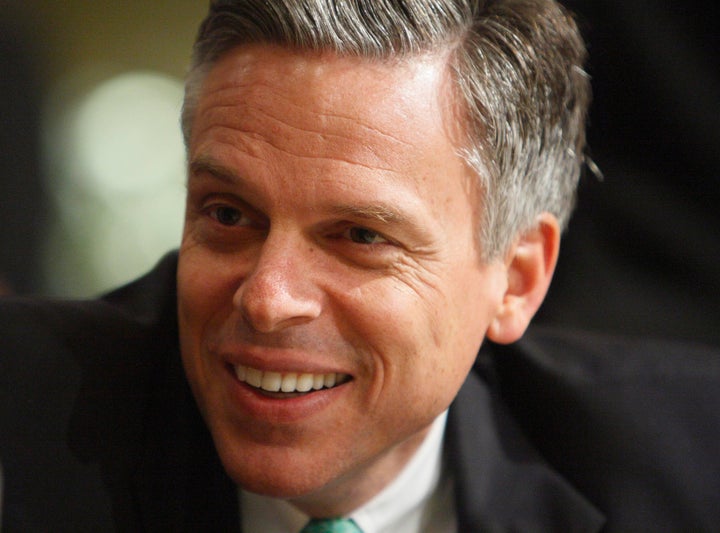 WASHINGTON -- Back in 2008, when he was governor of Utah, likely GOP presidential hopeful Jon Huntsman instituted a novel experiment in human-resource management.

Facing a tight budget, Huntsman signed an order reducing state employees' workweeks from five to four days. The employees wouldn't work any fewer hours, but instead of clocking in for eight hours a day Monday through Friday, they would work 10 hours a day Monday through Thursday, leaving them with a three-day weekend. Many state offices would be closed on Friday, though they would have extended hours the rest of the week.
Huntsman had two primary goals: boost employee satisfaction and save the state money on energy costs.
Two and a half years later, Huntsman's experiment has come to an end, with current Gov. Gary Herbert (R) informing state employees last week that they should prepare to revert to the old five-day schedule after Labor Day.
But Huntsman's unusual shakeup was something of a success, and it may tell us something about the management style of a Republican candidate with a history of heading in unexpected directions.
When it came to employee morale, Huntsman's "four-tens," as the shortened workweeks were known, ended up being more loved than loathed.
"There was a lot of concern about how it would impact young families," said Todd Sutton, a worker representative for the Utah Public Employees Association, which advocates for public workers. "But after it was instituted, and workers committed to a pretty big schedule change, it had an 85 percent approval rating."
The new schedule wasn't without its problems. A lot of workers, for instance, wound up missing their kids' afternoon soccer games or having to find daycare centers that stayed open late, since work ran until 6 p.m. But according to surveys conducted after the switch, a majority of employees said they preferred the new schedule to the old one and that they were saving money on commuting costs because of it. And because state workers were commuting a touch earlier in the morning and later in the afternoon, the roads in Salt Lake City were less crowded at the heart of rush hour.
Among the less obvious benefits that materialized, many state workers found themselves doing more community service on their Fridays off, according to the surveys.
The four-tens were less successful when it came to state savings. Huntsman had hoped that closing some state buildings on Fridays would lead to annual savings of about $3 million, but the number wound up closer to $1 million.
Enough lawmakers felt that the Friday closures were an inconvenience to constituents and businesses that they backed a bill earlier this year to go back to the old model. Gov. Herbert, a personal fan of Huntsman's schedule, vetoed the legislation, but his veto was overridden by a legislature intent on bringing back five-day weeks.
"Most certainly, this decision will generate mixed feelings," Herbert wrote in a letter to workers last week, adding that going back to five-tens is "the best alternative to balance both customer and employee needs."
State Rep. Mike Noel (R), who sponsored the legislation, said the four-tens didn't work out well for the citizens in his part of Southern Utah. Many residents in rural areas do not use the internet for state services, and some people would simply rather have a face-to-face encounter at the DMV on a Friday, according to Noel.
"The biggest concerns came from people who had to access services on Friday," Noel told HuffPost. "The business community didn't like it, and the court system didn't like it at all. ... The whole idea, it just didn't work very well."
"I think there is a place for flexible schedules," Noel went on, "but you've got to be very, very careful and make sure the public's needs are met."
Jeff Herring, head of the state's Department of Human Resources, says the governor has told department heads and managers to give their employees as much flexibility as possible, so that workers who would prefer to work four-day weeks can still do so. That said, many front-line workers who serve customers won't have much of a choice.
"We'll get done what we need to get done," said Herring. "We're just repackaging 40 hours."
A spokesman for Huntsman said the presidential hopeful would not comment on the workweek issue. But judging from an interview he did with NPR in 2009, Huntsman probably wouldn't mind the state reverting to five-day workweeks. He described the four-tens not as a permanent change so much as a temporary study, and he seemed to relish some of its unexpected findings, like a decrease in state workers taking sick leave.
"I promised the citizens of the state that we would at least give it a year, and then look at some of the underlying metrics and make a decision," Huntsman said at the time. "I'd have to say that we're finding some interesting things to have taken place that we would not have anticipated."
Debbie McBride works on Medicaid policy in the Utah Department of Health and agrees that Huntsman's experiment was an interesting one. She estimates about 70 percent of her colleagues came to like the four-tens once they adjusted, though McBride herself would prefer to see four-day weeks as an option rather than a mandate. She isn't sure yet what her schedule will look like after Labor Day.
"If I can do four-tens, then I probably will," said McBride. "But I'm getting older, and maybe getting off work earlier wouldn't be bad, either."
Popular in the Community