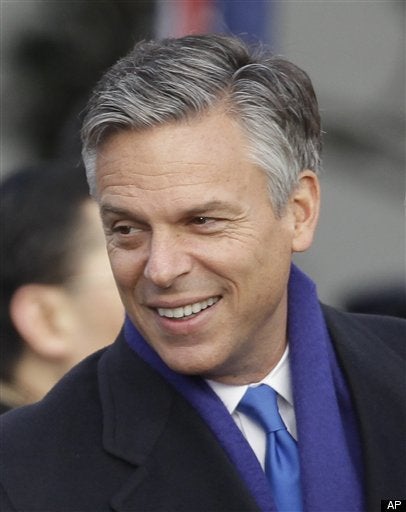 WASHINGTON -- While President Obama is dealing with the pivotal foreign crisis of his tenure -- Egypt -- something crucial happened on the home front: A Republican contender emerged who could give him a real run in 2012.
I've spent some time with Jon Huntsman Jr. and can report that the former governor of Utah -- heir to a vast industrial fortune, a fluent Mandarin speaker and, as of today, the outgoing ambassador to China -- is a formidable political and personal talent. He is not well known but has a sky-high upside not unlike the man he's worked for.
Huntsman is a Mormon, a Utah native, a social conservative and a free-market-loving businessman -- all good credentials for a run for the Republican presidential nomination in 2012 -- but he has worked hard and succeeded at defying the usual GOP stereotypes.
He is a culturally sophisticated, laid back guy with a winsome manner, progressive environmental views and a non-judgmental, socially tolerant air. When we met in DC two years ago, he picked the place: a hip-retro lunch counter joint in the Soho-style Adams Morgan part of town. The message: I am comfortable in a place where the waitresses have rings in unusual places.
Put it this way: As governor of Utah, he was as much Park City and Sundance as Church of the Latter Day Saints.
Huntsman's plan for a '12 run -- farther along than outsiders think -- is made easier by the single fact that he and his family, which made its fortune in pre-formed plastic consumer items (egg crates and McDonalds cases), is worth BILLIONS. He could self-finance to beat the band.
He is essentially Mitt Romney with a more user-friendly personality, way more money, international experience and a Western base. Huntsman also did not champion an Obama-style health-care plan.
Huntsman has Ivy-League ties back East, including close relations with the University of Pennsylvania, whose Wharton School he attended and which features as a premier offering the Huntsman Program, which combines liberal arts and business education for Penn's top students.
Huntsman's friends are starting a PAC and he has a key DC ally in Rep. Jason Chaffetz of Utah, a shrewd and rising GOP star who served as his gubernatorial campaign manager back in 2004.
Huntsman is a low-tax, anti-regulatory Republican of the current GOP school, and his Mormonism is deep. He is pro-life, but conveys a sense of moderation on that and other social issues. His affable, familiar style and worldliness make him a cross-over possibility in the age of Obama.
When I had lunch with him the other year it was clear what he was up to -- figuring out how and whether he could run. This was pre-Palin and pre-Tea Party.
The question is whether he has the toughness and the conservative cred to make his way through the minefields of the early conservative vetting process in Iowa, New Hampshire and South Carolina. But if he does and if he somehow ends up as the GOP candidate, then Obama should look out.
If he gets that far, Huntsman will be very much for real.