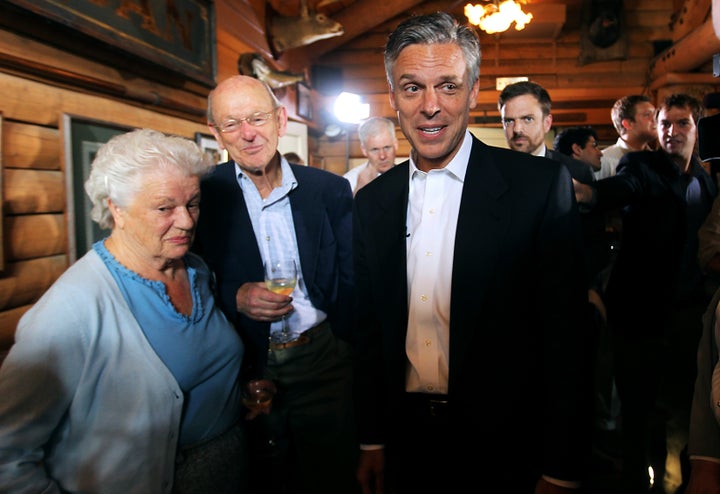 This article has been updated to include additional reporting.
HANOVER, N.H. -– The political insider's dark horse in the GOP presidential primary, former U.S. Ambassador to China Jon Huntsman, launched his effort Thursday to see if high brow admiration and a gold-plated resume can translate into grassroots enthusiasm with regular voters.
Huntsman, largely unknown by most Republican voters, made the first of what is scheduled to be 12 public appearances over five days here in the Granite State, his maiden trip here since returning from his post in Beijing at the end of April.
The overriding impression of Huntsman was that of a politician moving cautiously.
"We are in the early stages of due diligence," Huntsman told a crowd of about 50 or 60 voters at Jesse's Restaurant, in the middle of its annual month long crab feast here in this university town, where Dartmouth undergrads on a quarter system still roamed the downtown.
Huntsman faced a big audience, in large part because of press interest. The roughly 100 people that crowded into the restaurant's backroom was split nearly evenly between actual voters and reporters, as this trip will go a long way toward determining whether Huntsman could be a real factor in the 2012 GOP primary or not.
"Maybe the media will make sure that voters can get a view at least," said Nancy Merrill, the former mayor of nearby Lebanon who organized the event, as she quieted the crowd to let Huntsman speak.
Huntsman was governor of Utah for one term and was reelected to a second before accepting President Obama's request to take the ambassadorship in 2009. Viewed as the most moderate of the 2012 GOP field, he has done little to downplay his slightly more liberal views on social issues such as civil unions for gay couples, but is trying to carve out a niche as a centrist candidate with strong conservative economic credentials.
One of the first questions addressed to him, from 22-year-old Dartmouth senior Derek Summerville, was about whether he was, in fact, a "moderate" and whether he would continue to support cap and trade policies to regulate carbon emissions, like he has in the past -- one of several positions that will turn off many conservative voters.
Huntsman's answer implicitly endorsed the idea that global warming is a major concern that needs to be addressed.
"We need to work on initiatives that deal with emissions. There's no doubt about that," Huntsman said. "We also need to remember that first and foremost in today's environment is economic strength and economic growth. And we cannot rush into policy choices that are going to have an adverse effect on economic growth."
"Now our marketplace is so innovative that whatever people call cap and trade is likely to morph into four or five other things downstream that will recognize market realities," he added. "And let's let the innovative market place deal with where we go on the whole emissions problem."
It was a slightly softer answer than his May 16 interview with Time magazine, in which he said bluntly: "Cap-and-trade ideas aren't working."
He was not asked after his remarks about Rep. Paul Ryan's proposal to overhaul Medicare, but said in a smaller group of reporters and voters afterwards that "there's a lot that's part of the Ryan plan that needs to be considered."
And Huntsman got a nice boost from Mississippi Gov. Haley Barbour, who endorsed his conservative bona fides in an interview on CNN.
"While we don't agree on some issues there's no question that he's a conservative. He's way to the right of Barack Obama for goodness sake," Barbour said. "But yeah I consider Jon a conservative … If you ask me is Jon Huntsman qualified to be the Republican nominee for president of the United States, the answer is of course he is."
The potential candidate's pitch relied in large part on his experience in China. He said that while there is "a sense of giddiness" in China at the country's long-term economic growth prospects, in the U.S. "we're a little depressed."
"This country ought to be a little more hopeful," Huntsman said. "We just need to realign our priorities."
When asked about the war in Afghanistan, he even managed to come back to how any change in U.S. policy would affect China. But he also appeared to claim some of the space in the primary previously occupied by Barbour, who before he decided not to run had questioned the value of the nation's troop commitment in Afghanistan. But he did so in the vaguest of terms.
"The deployments are mighty expensive," he said. "We've got to ensure that going forward into our new world that we have a foreign policy that is an extension of our core national interests. And does that mean that we're going to have to look at the map at some point and reset our level of engagement and our deployments in some corners of the world. Absolutely it does."
He did call a drawdown "inevitable" and said there would likely be civil war in Afghanistan when a U.S. withdrawal created a vacuum. "And I'm not sure there's a whole lot we can do about that," he said, while also pointing out that such a conflagration would test China's longstanding policy of nonintervention.
Huntsman presented himself as a family man, arriving with his wife, Mary Kaye, and two of his seven children, daughter Elizabeth, 22, and Gracie Mei, adopted from China, who was celebrating her 12th birthday. Huntsman supporters brought out a cake for the birthday girl and sang "Happy Birthday."
Mrs. Huntsman said she was overcoming first day jitters by focusing on her husband's competence.
"Because I know, how prepared he is, he could step into it tomorrow and do an incredible job, it takes away the stress," she told reporters. "And I also think that because he's such a positive, glass half full type of guy, you just try not to let the hard part get you down."
She also said, quoting one of her daughters, that Huntsman's time as ambassador in China, was "a prep school" for a run for president.
The response from audience members centered mostly on Huntsman's credentials. Many spoke about his background in business, world economics, China and his experience as a governor.
"I knew nothing about him. I know a little bit more," said Jerry Mitchell, an 82-year-old former Marine pilot who flew missions in the Korean War who added he liked Huntsman's character and his emphasis on the U.S. advantage over China in its national values.
Merrill, the event host and a long time fixture in New Hampshire Republican politics, is not committed to any candidate but said that Huntsman "brings something to the table that is interesting: his background in commerce and trade at this particular point in time."
As for the several major questions marks about his record, Merrill said "people in New Hampshire are going to listen to him, like they are listening to all those potential candidates."
"They'll question him," she said. "We'll see how he does with those."
Greg Slayton, a business professor at Dartmouth who is also a GOP fundraiser and is supporting former Minnesota Gov. Tim Pawlenty, pointed out that Huntsman had avoided direct criticisms of Obama. And so far, that has been consistent with Huntsman's approach.
For William Breed, an 81-year-old retiree, that was all part of an attractive package.
"We need more people like you," Breed told Huntsman when the potential candidate came to shake his hand, adding to reporters afterward, "I'm looking for a statesman, not a politician."

Calling all HuffPost superfans!
Sign up for membership to become a founding member and help shape HuffPost's next chapter