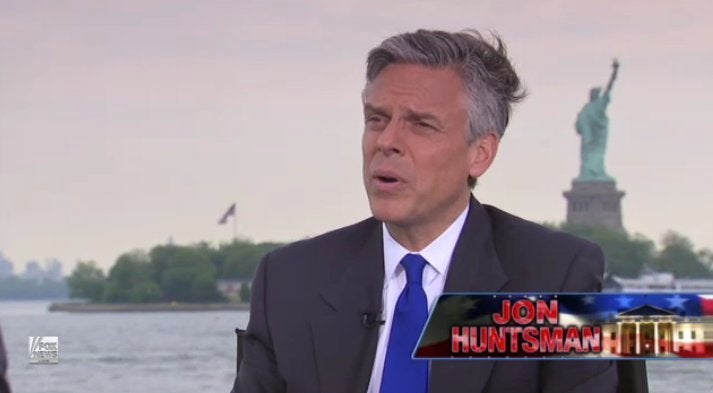 Republican presidential candidate Jon Huntsman defended calling President Barack Obama a "remarkable leader" during an interview that aired on Fox News' "Hannity" on Tuesday night.
Huntsman made the positive reference about the president in a letter after Obama appointed him to serve as his administration's U.S. ambassador to China. Huntsman, who formally launched his campaign for the White House on Tuesday, resigned from the post earlier this year.
Asked if he would characterize the president as a "remarkable leader" today, Huntsman said, "No. I think he has failed in a number of ways both in terms of economic governance and stewardship and also internationally." The Republican hopeful continued, "I wrote that after I was appointed. I thought he was a remarkable leader for appointing a Republican to a position as important and sensitive as the U.S. ambassadorship to China."
Polls show Huntsman starting in the low single digits in a field including Romney, former Minnesota Gov. Tim Pawlenty, former House Speaker Newt Gingrich of Georgia and Minnesota Rep. Michele Bachmann. Texas Gov. Rick Perry is exploring a possible bid as well.

With his service in the Obama administration and moderate positions on some social issues, Huntsman may be a hard sell among Republican voters who have grown markedly more conservative in recent years. He supported legislation allowing same-sex civil unions in Utah and signed a climate initiative with other Western governors aimed at reducing global warming.

But Huntsman is gambling that GOP voters eager to replace Obama will warm to a centrist candidate who could appeal to independents and some Democrats in the general election in November 2012.
Below, a video clip of the interview with Huntsman that aired on Fox News.
Popular in the Community