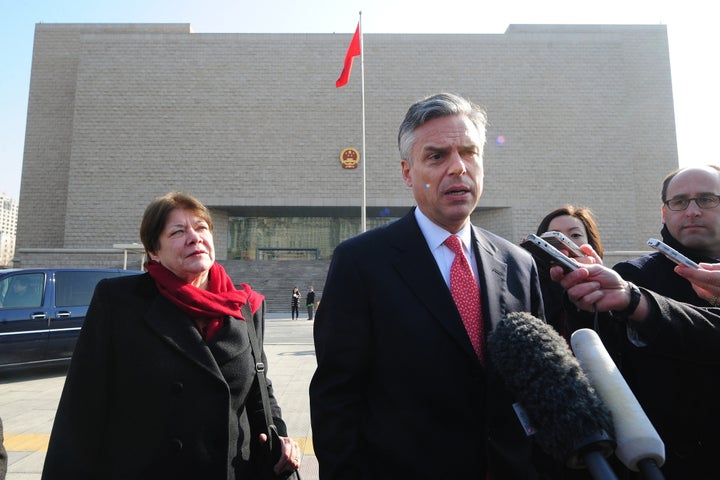 WASHINGTON -- Former U.S. Ambassador to China Jon Huntsman usually speaks about that country in general terms: China is rising; America must reform to stay ahead.
But in a private conference call with a handful of university students around the country last week, the Republican presidential candidate predicted "major problems" ahead for China, as a rising standard of living increases awareness of political oppression and intensifies resistance to the government's control.
"There's still that great divide between the economic class and the political class," Huntsman said, according to a recording of the call obtained by The Huffington Post. "And at some point, as you get 300 and 400 million people who now become members of what will be the largest middle class in the world, they're going to have to make some really tough choices about how you bridge the economic and the political chasm, which is not easily done."
"If they don't do it, they're likely to have some sort of head-on collision, I would say four or five years into the future."
While China's economy has become more open, Huntsman said, the country's internal political system lags far behind.
"If you do not have political freedoms that run in parallel with economic development and reform -- if you don't have political reform -- at some point you're going to find yourself in a pretty precarious situation, one that will force you to address it as opposed to allowing you to evolve," he said.
Beijing's centralized control of the political system through the nine-member Politburo Standing Committee, Huntsman said, has enabled China's leaders to stay "singularly focused" on building the country into an economic and military superpower.
But, he said, "longer term, you're going to find real problems."
"So look at the economic model of China, but make sure that any analysis you do is caveated with where people are politically -- lack of political reform, liberalization, lack of real market opening reforms -- where you still have a lot of what I would consider to be crony capitalism and markets that are showing favoritism to certain groups within the country," he said.
The call was organized by Students for Solvency, a group that grew out of Students for Daniels, which had hoped that Indiana Gov. Mitch Daniels would run for president. After Daniels declined to jump in the race, about 38 of the group's 68 chapters united behind Huntsman. The chapters range in size from a few members to as many as 20 people.
Huntsman returned at the end of April from Beijing, after serving as ambassador for a little less than two years. Prior to his foreign service, he was governor of Utah. He is set to officially launch his campaign for president on Tuesday with a speech in front of the Statue of Liberty in New York, and will then travel to New Hampshire.
But in his comments to the students on the call, Huntsman also painted a dire picture of America's trajectory if nothing is done to reduce the U.S. government's mounting debt.
"You just extrapolate the numbers to 2022 and you all can do the math. You can kind of see what you're likely to inherit if you move along in your professional careers. You're basically kissing goodbye to the end of the American century," Huntsman said.
As for how to rein in the debt, Huntsman did not mention entitlement spending, but did say he favors an amendment to the Constitution requiring a balanced federal budget each year, a proposal is also being championed by Sen. Jim DeMint (R-S.C.).
"We're going to have to fight for a balanced budget amendment," Huntsman said. "Every governor in this country has a balanced budget amendment. It keeps everybody honest. It's the best safeguard imaginable."
He also said the federal budget should be "more like 18 or 19 percent" of gross domestic product, rather than the current rate of 25 percent.
Students on the call asked Huntsman which books had most influenced his views on governance. His answer: Alexis de Tocqueville's "Democracy in America," Kuan Yew Lee's "From Third World To First: The Singapore Story: 1965-2000" and Ronald Reagan's memoirs.
One student did not like what the book selections reflected.
"He strikes me as a pro-business technocrat, a la [Mitt] Romney, and not a conservative of conviction and political courage," Jeremy Rozansky, a rising senior at the University of Chicago who is policy director of Students for Solvency, told The Huffington Post. "I was especially dismayed by his three books answer. 'Third World to First' is not the story of the success of conservative principles but of the success of smart economic cronyism."
But others were impressed with Huntsman.
"Our generation is more pessimistic than ever about the future of their country and Governor Huntsman projects an attitude of confidence and optimism that is largely absent from the GOP discussion of austerity," said Merrill Anovick, a rising sophomore at Johns Hopkins University. "More than any of the other candidates on either side of the aisle, Huntsman speaks to the issue that most concerns our generation: unsustainable debt and deficits."
Matthew Kidd, a Texas Tech student who was on the call, called Huntsman "the best candidate in the Republican field."
Polls, however, show Huntsman with a very steep hill to climb to overcome negative perceptions of his affiliation with Obama and some of his more centrist positions.
When asked about those polls on the call, Huntsman said, "Polls that are taken at this stage are very fickle ... subject to immediate change."
The Huffington Post wants to know about the campaign ads, town halls, robocalls, mailings and other election news happening where you live. E-mail us your tips, videos and photos to offthebus@huffingtonpost.com.
Popular in the Community