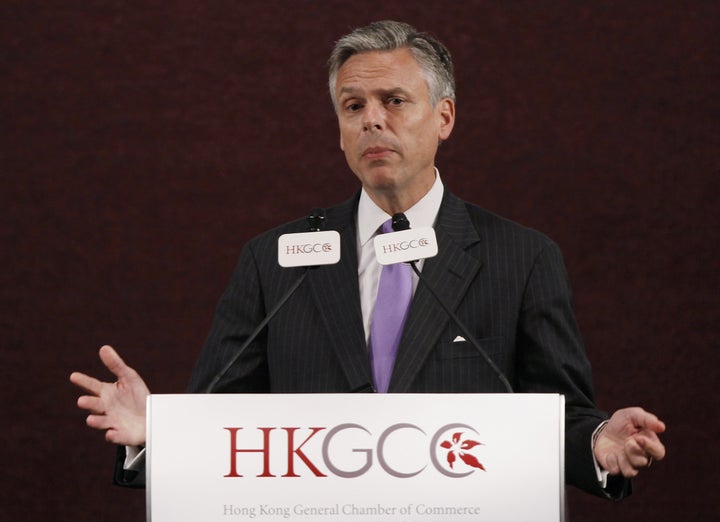 Speculation that U.S. Ambassador to China Jon Huntsman could mount a Republican run for president in 2012 is heating up Thursday, with news that he's assembling a crack team of political operatives that could potentially be implemented to help coordinate fundraising and a ground game in anticipation of a campaign for the White House.
As HuffPost wrote earlier this month when the "Huntsman for president" whispers first started buzzing:
In May 2009 -- prior to Huntsman's appointment as ambassador -- President Obama's presidential campaign chief David Plouffe claimed that the Utah Republican was the one potential 2012 GOP presidential candidate who made him feel a "wee bit queasy...I think he's really out there speaking a lot of truth about the direction of the party." Indeed, when Obama selected Huntsman for the ambassadorial role, it was viewed as an effort to handicap Huntsman's ability to throw his hat in the presidential ring.
But when Obama was asked recently about his feelings on a possible challenge from Huntsman, the president appeared almost to take comfort in the prospect that his colleague could be in the GOP field.
"I'm sure the fact that him having worked so well with me will be a great asset in any Republican primary," Obama said at a press conference, pointing out that his position as an agent of a Democratic administration would likely not be of any help.
Despite all the hyperactivity of the rumor-mill, however, Huntsman has still yet to address the speculation.
Check out the Washington Post's coverage for a full breakdown of Huntsman's inner circle, which according to the report, is "a group that speaks regularly about the when, where and how of a presidential bid."
Think you predicted correctly? Make predictions for other potential contenders here.
Calling all HuffPost superfans!
Sign up for membership to become a founding member and help shape HuffPost's next chapter