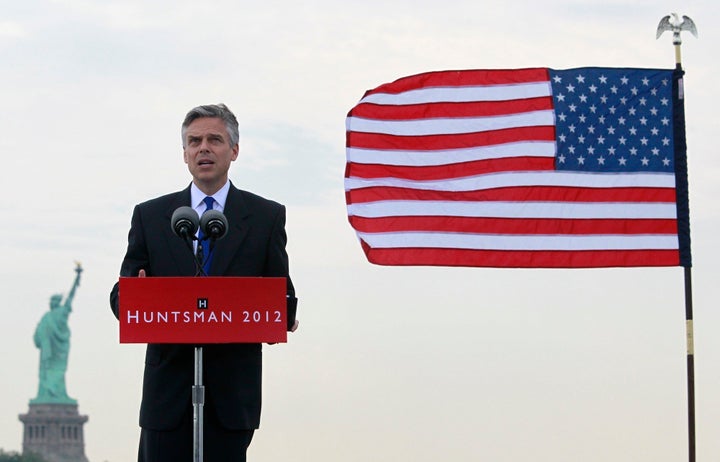 NEW YORK -- As he stood among a throng of reporters toward the end of a Continental aircraft in mid-flight from New Hampshire to New Jersey, Jon Huntsman, who just hours ago had announced his candidacy for president, pondered life to come.
"I think there is always a lot of hype on the first day," said the former Utah governor turned Obama ambassador turned White House aspirant. "Everybody dumps on you. It is a combination of hype and hyperbole and being dumped on. And you kind of make it through the first day hopefully without making too many mistakes because if you do you are pretty much toast in short order."
Toast he did not become. While mistakes were made during the course of Tuesday's events -- which included a formal announcement in the shadow of the Statue of Liberty, a quick jaunt to Exeter, N.H., and a flight back for a fundraiser in New York City -- what defined Huntsman's first day on the trail was the overt anxiety over making them. As he turned away from the gaggle of reporters on the campaign plane minutes later, Huntsman held a half eaten stick of string cheese in his left hand. He hadn't eaten the rest, he told The Huffington Post, because he didn't want the cameras capturing an awkward shot.
Presidential campaigns are built on an abundance of stagecraft. It is the ability to make the setting -- and the candidate -- seem sincere that, to a large degree, sets them apart. In this regard, Huntsman faces a different type of challenge than his competitors. Despite a substance-heavy record from his time as governor, notable foreign policy chops, and business acumen, he remains an untouched canvas for most voters. And so, a cadre of advisers, many of them self-described campaign gypsies and others simply big-moneyed Republicans, have begun to paint in a meticulous, almost panicked fashion.
On Tuesday morning, they chose quintessential American scenery: the Statue of Liberty backdrop, the flags perched on each side of the stage, and a business-savvy campaign logo to boot.
"I had to move the statue over a few feet," joked Lanny Wiles, a legendary Republican advance man who organized the event.
It was sarcasm. But one gets the sense he would have done the deed if he'd had to. The affair felt inherently manipulated. Reporters outnumbered the crowd, despite a busload of College Republicans being shipped in to populate the event. As Hunstman and his family walked to the stage over a long grassy field -- stopping conspicuously to admire a statue on the lawn -- a group of those College Republicans giggled.
"Fred Davis is behind this for sure," said one, in reference to the zany ad-maker employed by the Huntsman campaign. "I might cry," he added, sarcastically.
Even up in New Hampshire, onlookers were marveling at the attention to detail paid by the planners. "It's one of the most produced productions I've seen," said Alex Talcott, a local political consultant who has made it a mission to see all of the Republican candidates' speeches.
This isn't a pejorative statement. Talcott was referring to the signs, paraphernalia, even the local band that had been brought in to accompany the launch. The crowd, he noted, had much more of a New Hampshire primary flair (see: elderly voters) than, say, Rep. Ron Paul's events (which are populated by enthusiastic youth).
Those who saw Huntsman, as mellow and machinated as he may be, came away with good vibes. At a fundraiser on Tuesday night, he raised $1.2 million from New York City donors. At Exeter, earlier in the day, he successfully worked a very different type of crowd.
"I was impressed," said Elizabeth Gouchoe, a New Hampshire Republican who had waited two or three hours to see the former governor. "He's got to get out there more … People have to see him."
As they do, the question ultimately becomes how authentic can Huntsman be in selling his 'authenticity.' His speech hit all the right notes for the Granite State: smaller government footprints, market-based approaches to health care, drawing down troops in Afghanistan. Even a line urging respect for his former boss, the president, elicited applause. Away from the crowds, he comes off even more sincere, from waxing in detail about fiscal policy to explaining how he would have loved to have been the one riding the motocross in the video series that preceded his campaign announcement.
But if you survey Republican consultants, the expectations are that he simply can't occupy the stage built for him -- whether by the press or his own advisers -- and that the speed at which he is launching a national campaign simply doesn't allow him to earn the affection of voters.
"He has won the magazine profile primary," said one GOP operative who is advising a rival campaign. "The one thing I'm always struck by with him is that there is this canyon between the press story and any real excitement or interest in him in the early states or, really, anywhere within the Republican electorate."
More specifically, there is a persisting sense that, among the acts Huntsman is trying to pull off, the primary one will be to convince people he's actually a conservative. His calls for political civility and his past support for the stimulus package, the individual mandate and cap-and-trade, have evoked now-cliché analogies to John McCain's first run for the White House, as has his employment of John Weaver, formerly a top adviser to the Arizona Republican.
This isn't a recipe for political disaster. McCain's first run made him into a prominent national figure, which in turn allowed for a decidedly different, but ultimately successful, second attempt at the nomination. Still, Huntsman and his advisers don't want the comparison. As they painstakingly craft the campaign ahead, it's Ronald Reagan they seek to evoke. Like Huntsman, the former president was governor of a Western State, had a presidential look and a quasi-Democratic past. He too launched his campaign at Liberty State Park in New Jersey. But there, protectors of the Reagan legacy stress for now, the resemblances end.
"Huntsman is emerging as the choice of the political elites, the insiders, which Reagan never was," said Craig Shirley, author of "Rendezvous with Destiny: Ronald Reagan and the Campaign That Changed America," a book that includes a shot of Reagan at the Statue of Liberty campaign launch. "Don't forget, Reagan had 30 years of creating an ideological and philosophical suit of armor than enabled him to run a different type of campaign than traditional Republicans. Huntsman does not possess this reservoir of committed conservative, populist followers."

Support HuffPost
The Stakes Have Never Been Higher
Popular in the Community