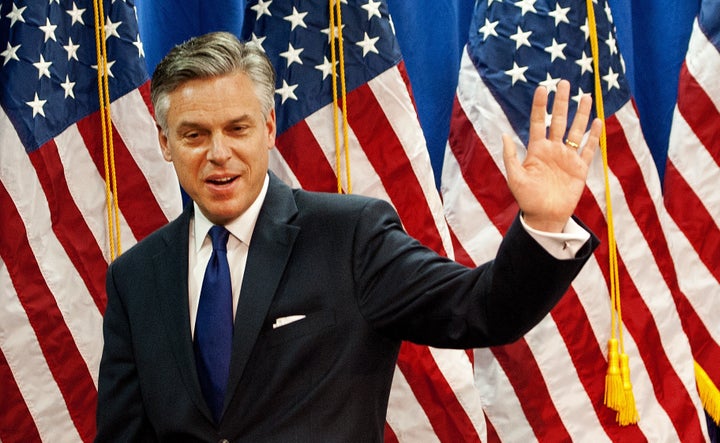 WASHINGTON -- Jon Huntsman's run for president was widely anticipated but ultimately brief. The former Utah governor and U.S. ambassador to China urged the Republican Party to be more open-minded on social issues, less ambitious in military policy and marginally willing to negotiate. The crowds weren't too receptive.
Viewed as the toughest general-election threat by the president's political advisers, Huntsman nevertheless finished third in the New Hampshire primary. He bowed out of the race shortly thereafter. But with the GOP now licking its wounds from the 2012 election loss, he has maintained a steady presence in the political conversation.
In an interview with The Huffington Post, Huntsman laid out his vision for the Republican Party going forward. He called for neo-conservatism to be sidelined, for states' rights on issues like gay marriage to be respected, for comprehensive immigration reform to be pursued. He also said the party had to be open to compromise, including on the idea of raising marginal tax rates (as a last resort).
His sharpest words were directed not to the future of the GOP but at the not-so-distant past. Huntsman described the Republican primary process as corrosive, producing pledge-signing, cookie-cutter candidates more interested in money and publicity than policy. Recalling one particular debate, Huntsman described the sensation he felt observing his fellow White House aspirants.
"Some do it professionally. Some were entertainers," he said of the Republican presidential field. "I looked down the debate stage, and half of them were probably on Fox contracts at one point in their career. You do that. You write some books. You go out and you sell some more. You get a radio gig or a TV gig out of it or something. And it's like, you say to yourself, the barriers of entry to this game are pretty damn low."
He chuckled a bit when reminded that a pizza conglomerate, in the person of Herman Cain, had led the Iowa caucus polls at one point. "It wasn't a period where rational thinking or any kind of commitment to reality or truth or optimism necessarily prevailed," Huntsman said. "It was how can you eviscerate the opposition."
The process engulfed him too. During one such debate in August 2011, Huntsman joined the chorus of opposition to a hypothetical deficit-reduction deal that had $10 of spending cuts for every $1 in revenue hikes. It was, he said now, "pretty much the low point of [my] campaign."
"That was my first debate I had ever attended in an auditorium of revved-up partisans," he said. "They had already dinged me up once on civil unions. Four people in the back had clapped for my answer. And I thought it was a completely nongermane question. ... They give you three seconds to respond, and you get to thinking, 'OK, I've never raised taxes in my career. I delivered the largest tax cut in the history of the state of Utah. ... Do I want to go out and have to defend my tax policy now because of this possible misfire?' So all that goes through your head in about three seconds."
More than 15 months later, Huntsman openly embraces a balanced deficit deal. He wants comprehensive tax reform alongside entitlement reform, something in the vein of Simpson-Bowles. But as part of the negotiating process, he's not willing to shut the door entirely on raising tax rates for the wealthy.
"In my party, compromise cannot be seen as analogous to treason, which it has been recently," he said. "You will have to have some compromise built in, and perhaps even on the marginal rates going up for a certain income category. My going-in position would be: Let's work on phasing out all the deductions and loopholes. There is a trillion dollars there. Let's see where that leaves us and move forward before you start willy-nilly raising taxes."
This might seem like the policy bulwark of an increasingly centrist-minded Republican. Huntsman announced on Wednesday that he was joining No Labels, a nonpartisan group hoping to drum up support for bi- or post-partisanship. But in discussing the future of the GOP and how it adjusts to the country's changing demographics, he insisted Republicans "don't need to shift our ideology," just rediscover that "libertarian streak."
Take, for instance, gay marriage:
"States ought to be entitled to do whatever they want," he said.
"We weren't coming from a position of strength [in 2012]," he said. "We sounded like hypocrites talking about spending when that was all we did under George W. Bush."
"We used to be the party that put out wars: Eisenhower, Korea; Nixon, Vietnam; Reagan, the Cold War. And here we talk about starting wars. That's all Republicans on the defense side seem to want to talk about -- not negotiating a way forward diplomatically, as we had under earlier Republican administrations, but always falling back on the war option as if we haven't had enough over the past 12 years."

Tonally as well, Huntsman insisted his party has to evolve. The cultivation of knee-jerk conflict, he argued, has produced remarkably little fruit. For four years, the goal was to "thwart the opposition, stymie the opposition, obfuscate, be a flamethrower, go out there and destroy the system, and here we are," he said. "We have seen the results of that mentality."
Because his primary run embodied much of the approach he feels Republicans need to embrace, it stands to reason that Huntsman is contemplating another entry into electoral politics. He said upon entering the 2012 race that he had one more run in him. When asked if that still held true, he mustered little objection to the tea-leaf readers.
"Who knows?" he said. "Life is full of serendipity. This is a total BS way of answering it, but I never would have guessed I'd be a governor. I never would have guessed I'd go to China as ambassador. I never would have guessed I'd run for president."

Before You Go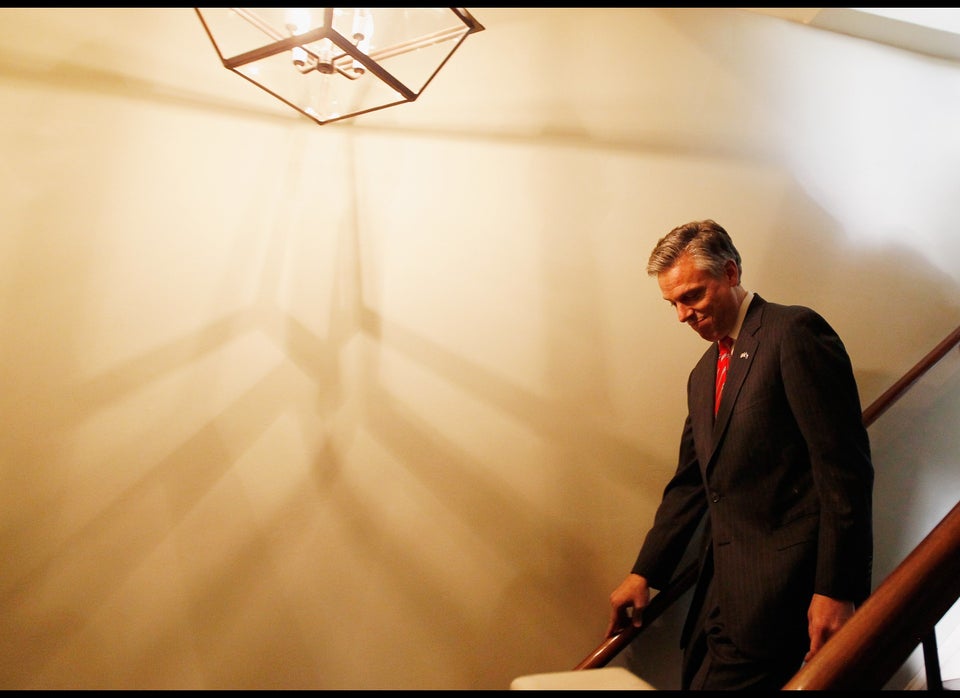 Jon Huntsman
Popular in the Community