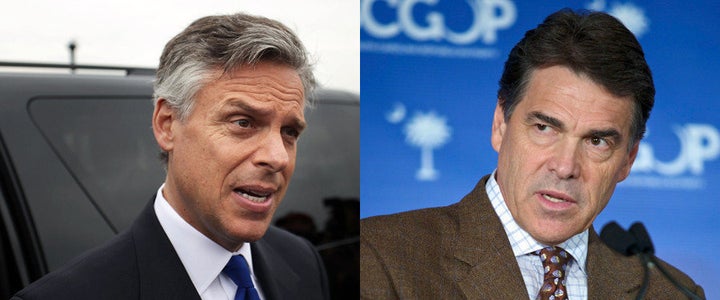 WASHINGTON (AP/The Huffington Post) -- Presidential candidate Jon Huntsman is pounding away at rival Rick Perry's skepticism of manmade global warming and criticism of the nation's central banker, saying those stands hurt the GOP and make the Texas governor come off as a not so serious national figure.
Huntsman, a former Utah governor who was President Barack Obama's first ambassador to China, has trailed in early polls nationally and in early voting states, leading his campaign to pledge more aggressive attacks on the top candidates.
Perry, who entered the race last weekend and has surged to a prominent role, has provided Huntsman with an ample opening to take shots.
Perry said in New Hampshire this past week that he didn't believe in manmade global warming, branding it an unproven scientific theory. He also defended the teaching of creationism in schools because evolution "has some gaps to it."
Huntsman responded in a tweet, saying "To be clear, I believe in evolution and trust scientists on global warming. Call me crazy."
"When we take a position that isn't willing to embrace evolution, when we take a position that basically runs counter to what 98 of 100 climate scientists have said, what the National Academy of Science has said about what is causing climate change and man's contribution to it, I think we find ourselves on the wrong side of science, and, therefore, in a losing position," Huntsman told ABC's "This Week."
Huntsman said he couldn't remember a time when "we actually were willing to shun science and become a party that was antithetical to science. I'm not sure that's good for our future and it's not a winning formula," according to interview excerpts released Saturday ABC. The full interview is set to air Sunday.
Campaigning in Rock Hill, S.C., on Saturday, Perry didn't back down, saying he believes the Earth's temperature "has been moving up and down for millenniums now and there are enough scientists out there that are skeptical about the reasons for it."
Many conservatives question the evidence that shows climate change is happening and the government solutions to stem it.
Perry also took on the Federal Reserve and its chairman, Ben Bernanke, when he said the central bank's leader would be committing a "treasonous" act if he decided to "print more money to boost the economy." Such action, the governor told a crowd in Iowa, would amount to a political maneuver aimed at helping President Barack Obama win re-election.
Huntsman said he wasn't sure that "the average voter out there is going to hear that treasonous remark and say that sounds like a presidential candidate, that sounds like someone who is serious on the issues."
Perry said Saturday voters are worried about monetary policy. "I'm about representing the American people out here and the American people are really concerned and scared."
Trying to put Perry's broadside against Bernanke in context, Huntsman said "people are crying out for us to get back to some level of sensibility and this just kind of perpetuates the name-calling and the finger-pointing and the blame game where we want solutions."
"These sideshows," Huntsman said, take "us that much farther off the ball" from the focus of fixing the economy and creating jobs.

Popular in the Community