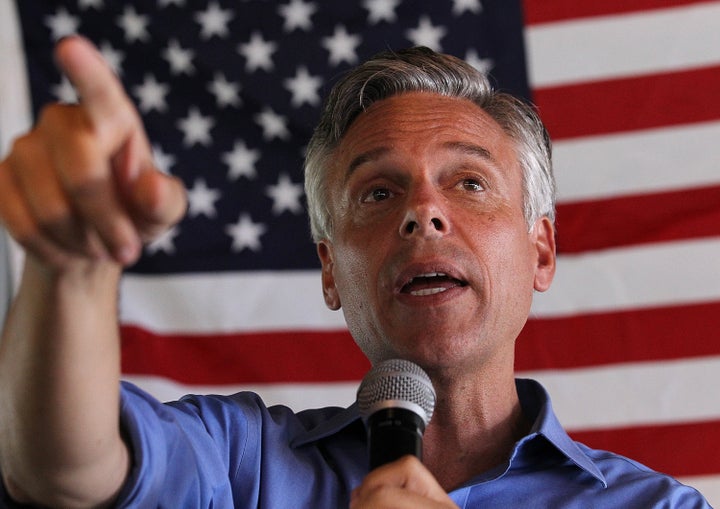 Whether or not Jon Huntsman will face off against President Obama in the 2012 presidential race remains to be seen, but if all had gone according to plan, the 51-year-old GOP candidate would've actually been rocking a much different type of arena.
As NPR is reporting, Huntsman -- a former Utah governor and Obama-appointed U.S. ambassador to China -- originally dropped out of high school to be a rock 'n' roll star with a garage band called Wizard. The man who's been described as "a conservative technocrat-optimist with moderate positions" has certainly made no secret of his adolescent passion ("My initial passion in life was to be a rock 'n' roll musician," Huntsman is quoted by The Los Angeles Times as having told graduates at the University of South Carolina). But now, his former bandmates are coming forward, telling NPR that Huntsman, a devout Mormon, found ways of adapting his passion for rock music with the guidelines of his religion.
"We knew we couldn't sing certain songs, so we'd have to change the words to them," bass player Eric Malmquist, now a construction manager in California, is quoted as saying. "We'd play Eric Clapton's 'Cocaine.' But instead of singing 'cocaine,' which you probably wouldn't do in church, we'd change the word to 'propane.' "
Though Huntsman came from a upper class background -- his father, Jon Sr., established what is now a multibillion-dollar chemical conglomerate -- bandmates say the future politician never acted privileged or arrogant. "If you didn't know Jon was Jon, he was like one of the guys," Malmquist said. "That was one of the things that was neat about him. He obviously knew he had wealth...but he didn't flaunt it. He'd go out and get dirty with anybody. He was a really grounded kid."
Based on Huntman's self-deprecating description of teenage self, we're inclined to argue he's chosen a more appropriate field. "My hair was Rod Stewart shaggy," he is quoted by The Atlantic as saying. "I wouldn't wear anything but super skinny jeans...We crawled in the ugliest green Econoline van you could ever imagine, with fold-up chairs in the back."
Calling all HuffPost superfans!
Sign up for membership to become a founding member and help shape HuffPost's next chapter
BEFORE YOU GO