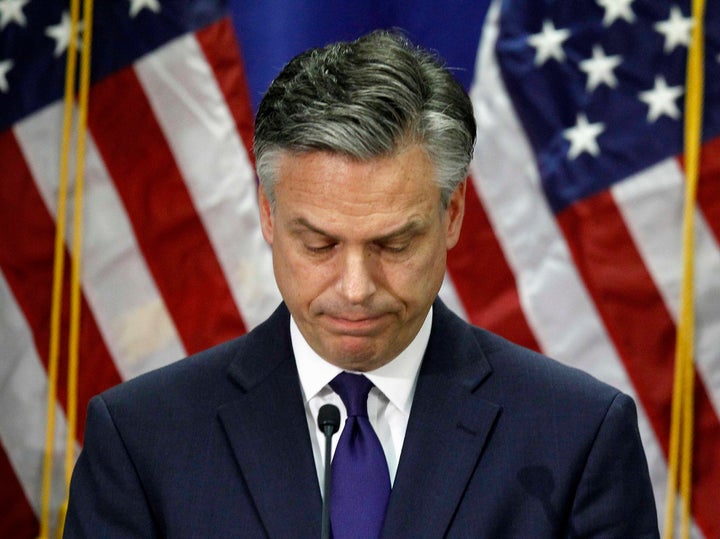 WASHINGTON -- As Jon Huntsman and his family last weekend discussed the future of his campaign, one surprising topic kept coming up, according to a top Republican source. "They were worried that he would be compared to Stephen Colbert," said this high-ranking source, who declined to be quoted by name because of his friendship with the family and the former candidate. "They were risking being a laughingstock and wanted to preserve some dignity at the end."
Colbert is attempting to run in South Carolina as a write-in candidate, but cannot get official votes: he's not on the ballot and there is no space for write-ins. But he has run even with Huntsman in some polling and it was that comparison that the family wanted to avoid, according to the GOP source.
"That's stupid," said Huntsman spokesman Tim Miller, denying the Republican insider's account. "There were a lot of reasons he (Huntsman) made this decision. Beating Obama was at the top. Stephen Colbert was not on the list."
Insiders in the Romney and Huntsman campaigns describe a drama-less process by which the latter bowed out in favor of the former.
The former Utah governor, who finished an undramatic third in New Hampshire -- where he'd practically lived for a year -- talked things over with advisors and family starting Friday and going through the weekend. According to Miller, they decided that there was no path to victory and that Huntsman was just siphoning votes from Romney, and the final decision was made Sunday.
As the news leaked Sunday night, Miller said Huntsman called Romney. They spoke for a few minutes about the state of the race and how Huntsman could help.
On Monday, after bowing out and endorsing Romney, Huntsman agreed to do an "autodial" phone ad for Mitt, to targeted South Carolina voters.
Romney aides denied that they had sought the Huntsman moves, and said that they were surprised to get the first ground-laying call Sunday from Huntsman aide Jon Weaver.