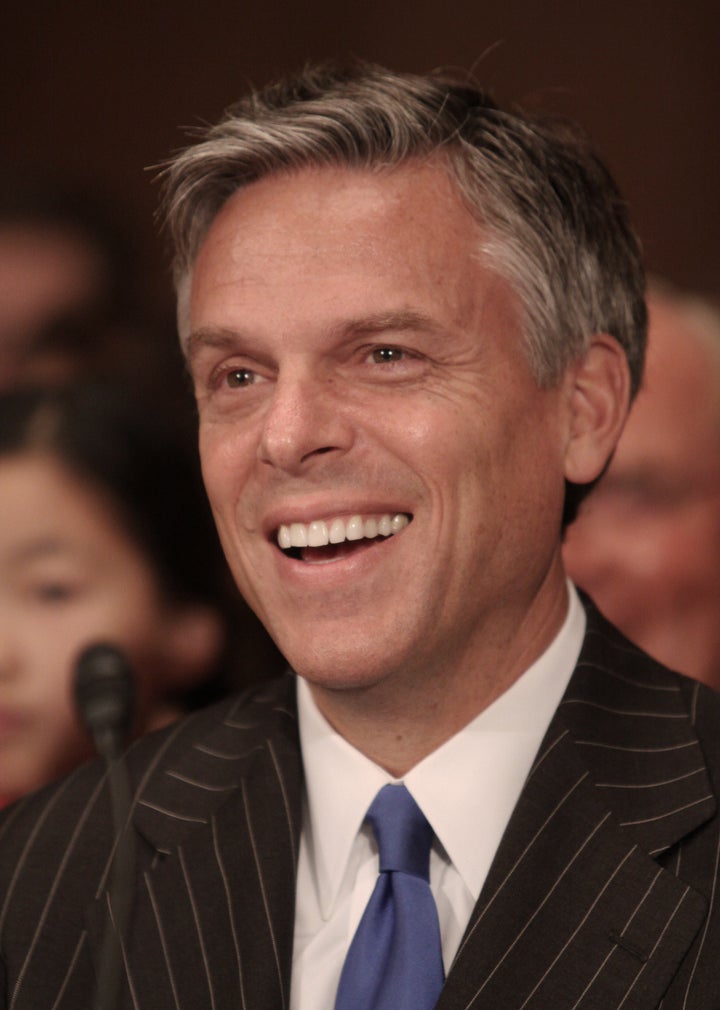 This article has been updated.
COLUMBIA, S.C. -- Likely Republican presidential candidate Jon Huntsman addressed his connection to President Obama directly on Saturday, in an attempt to head off what will be one of his top two political challenges in the 2012 GOP presidential primary.
Speaking to a commencement ceremony crowd of several thousand at the University of South Carolina, Huntsman cast his decision to serve as U.S. ambassador to China for Obama as a patriotic one, grounded in an attitude of national service.
"Give back. As much as you're able. Work to keep America great," Huntsman said. "Serve her, if asked," he added, noting, "I was -- by a president of a different political party."
"But in the end, while we might not all be of one party, we are all part of one nation, a nation that needs your generational gift of energy and confidence," he said.
In his first turn on the big state of a potential presidential run, Huntsman highlighted key details of his bio, noting that he and his wife Mary Kaye have seven children, one adopted girl from China and one adopted girl from India.
He also sought to appeal to the youth vote.
Huntsman, who served as governor of Utah for one term and was reelected before taking his ambassadorial post, admitted he had made mistakes, though was not specific about which mistakes he was referring to. To make his point, he quoted musician Ben Folds, from the song "The Luckiest":
"I don't get many things right the first time. In fact, I am told that a lot. Now I know all the wrong turns, the stumbles and falls brought me here. And I know that I am the luckiest," Huntsman said.
It was one of several such cultural references intended to position Huntsman as a more worldly-wise, sophisticated and even somewhat hip version of the modern conservative.
Huntsman told the students that his "initial passion in life was to be a rock and roll musician" and told the students: "never forget to rock and roll." And he closed his remarks by speaking three words in Mandarin: "Go, fight, win." The students finished off the chant they yell at the kickoff of every football game with: "Kick ass!"
Taylor Cain, a USC student and former student body vice president, wrote on her Twitter feed, "I just got to yell 'kick ass' at my commencement. Here's to senior year! Here's to you, Jon Huntsman!"
Huntsman was also very tough in criticizing the state of personal freedoms and civil liberties in China. He described his meeting with a dissident up against "a government with the most formidably security apparatus in the world determined to keep her silent."
"I know there are many in China who think their time has come, that America's best days are over. And, there are probably some in this country who have lost confidence and think that China is the next best thing," he said. "But these people aren't seeing things from my earlier vantage point of 10,000 miles away. The way I saw it from overseas, America's passion remains as strong today as ever."
"We live in the greatest most freedom-loving place on earth," he said.
Huntsman's address marked one week to the day after he officially left his ambassadorship. He met with Wall Street donors in New York earlier this week, and he met Friday with South Carolina Gov. Nikki Haley (R). In an interview Friday night Haley said that Huntsman "looks like he's going to be an impressive candidate if he gets in."
Huntsman is traveling with a full staff in the Palmetto state, including veteran GOP consultants Jon Weaver, Fred Davis and Lanny Wiles, as well as senior aides Matt David and Tim Miller. He was accompanied to meetings on Friday by longtime South Carolina consultant Richard Quinn.
In addition to the Obama connection, Huntsman will face questions about whether he is conservative enough, given his positions on social issues such as same-sex marriage. Huntsman said in 2009 that he supported civil unions for same-sex couples. He will seek to counter this with a focus on his conservative fiscal record.

Popular in the Community