Former Utah Gov. Jon Huntsman (R) on Friday called on GOP nominee Donald Trump to drop out of the presidential race after The Washington Post published an explicit recording from 2005 in which the New York businessman speaks about women in lewd and derogatory terms.
Responding to the tape, Huntsman said it was time for Indiana Gov. Mike Pence, Trump's vice presidential running mate, to assume the GOP nomination.
"In a campaign cycle that has been nothing but a race to the bottom — at such a critical moment for our nation — and with so many who have tried to be respectful of a record primary vote, the time has come for Governor Pence to lead the ticket," Huntsman told The Salt Lake Tribune.
Huntsman, who ran for president in 2012, said last week he was planning on voting for Trump even though the two men disagree on a "range of issues."
In a video posted to Facebook early Saturday, Sen. Mike Lee (R-Utah) said Trump should drop out, calling the controversy a distraction for the party.
Sen. Mark Kirk (R-Ill.), a vulnerable Republican facing re-election this year who has already said he would not vote for Trump in November, also called on Trump to drop out Friday night.
Rep. Mike Coffman (R-Co.), who is facing a competitive re-election fight over the suburbs of Denver, called on Trump to step aside for "the good of the country." Describing the remarks as "disgusting, vile, and disqualifying," Rep. Barbara Comstock (R-Va.) did the same late Friday night. Neither previously endorsed Trump.
Former New York governor George Pataki, who ran for the GOP nomination last year, said he was "horrified" by Trump's "poisonous mix of bigotry [and] ignorance" and called on him to relinquish the nomination.
Sen. Joni Ernst (R-Iowa) called Trump's comments "lewd and insulting."
Rob Engstrom, the national political director of the U.S. Chamber of Commerce, said Trump should step down "immediately."
A few other Republicans followed suit. A.J. Spiker, a former chairman of the Iowa Republican Party who was previously critical of Trump, echoed the call for Trump to resign and called him "unfit for public office."
So too did former Ronald Reagan administration official Linda Chavez, who called Trump's remarks "vile" during an interview on MSNBC.
Garrett Jackson, a former aide to 2012 GOP nominee Mitt Romney, also called on Mike Pence to assume the nomination, tweeting that "any decent human can beat Clinton."
GOP strategist and Trump critic Ana Navarro joined the chorus of voices Friday evening calling on Trump to resign, adding that "he is not fit to be called a man."
HUFFPOST READERS: What's happening in your state or district? The Huffington Post wants to know about all the campaign ads, mailers, robocalls, candidate appearances and other interesting campaign news happening by you. Email any tips, videos, audio files or photos to scoops@huffingtonpost.com.

Editor's note: Donald Trump regularly incites political violence and is a serial liar, rampant xenophobe, racist, misogynist and birther who has repeatedly pledged to ban all Muslims — 1.6 billion members of an entire religion — from entering the U.S.
Correction: This article incorrectly identified Linda Chavez as the Secretary of Labor under George W. Bush. She was nominated, but later withdrew after allegations emerged that she had employed an undocumented immigrant.
This story has been updated to include comments from Ernst.
Before You Go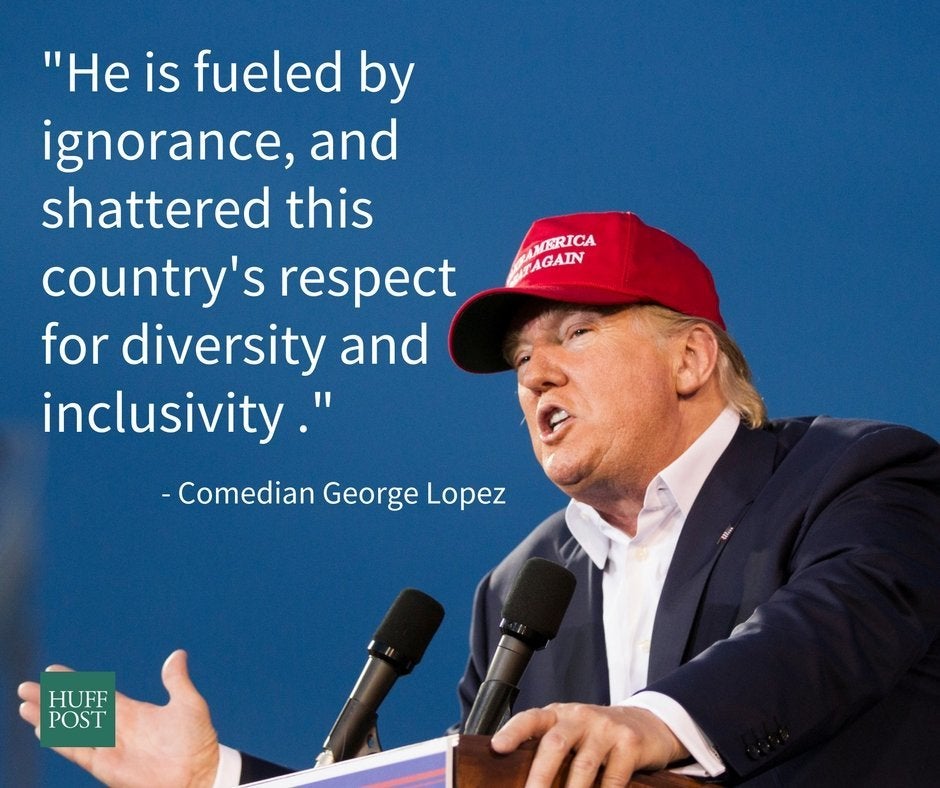 31 Latinos Share Their Most Eloquent Thoughts On Donald Trump
Popular in the Community